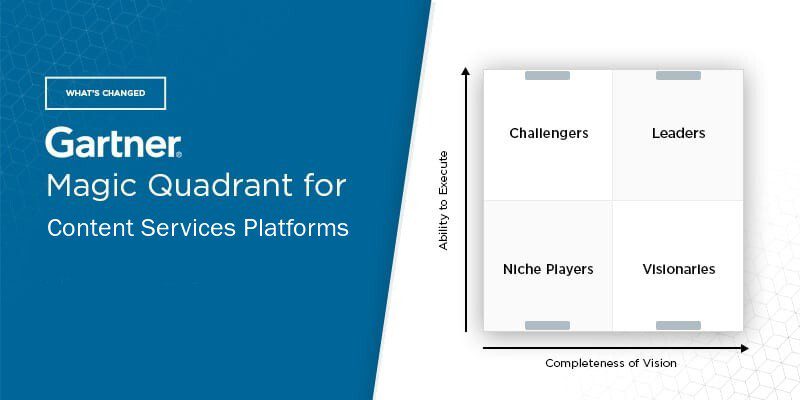 The editors at Solutions Review highlight what's changed since the last iteration of Gartner's Magic Quadrant for Content Services Platforms and provide an analysis of the new report.
Analyst house Gartner, Inc. has released its 2021 Magic Quadrant for Content Services Platforms. The researcher defines Content Services Platforms (CSPs) as "the foundational component in an organization for the management and use of content." CSPs also deliver a way for employees to retrieve and work with content in a seamless way across devices and organizational boundaries, making them an essential component of digital workplace strategies. Core capabilities of CSPs include content repository; document and content management library services; reporting; mobility; open APIs; enterprise administration; metadata, and content collaboration, among others.
The content services market is extremely mature, with a number of vendors having had products in this field for over 30 years. As a result, many core capabilities have become commodity features with minimal differentiation. Newer vendors have taken a different approach to some of these areas, making critical capabilities a blend of optional and core capabilities. Gartner's critical capabilities for CSPs include records management; process automation and app development; security and privacy intelligence; content intelligence; productivity intelligence; new work hub connectors; business role hub connectors; federation; content collaboration, and PaaS/SaaS deployment.
PaaS and SaaS deployment has seen the greatest growth in recent years. Businesses are on the hunt for modern, cloud-based solutions in a market that has primarily been populated with traditionalist technology. This is changing quickly, as many users are now focused on cloud deployments to modern existing implementations. Vendors offering native SaaS solutions are growing quickly, while long-standing providers that have previously been slow to deliver a SaaS/PaaS solution are now making more developments in that area.
Users looking to implement new content services should note that CSPs are rarely deployed as stand-alone solutions. Typically, there is some existing technology in place as well. Migration and re-platforming can be a costly process and the business application ecosystem that the CSP needs to integrate with can be a big differentiating factor. The degree to which an app can be integrated will have a significant impact on adoption.
In this Magic Quadrant, Gartner evaluated the strengths and weaknesses of 18 providers that it considers most significant in the marketplace and provides readers with a graph (the Magic Quadrant) plotting the vendors based on their Ability to Execute and their Completeness of Vision. The graph is divided into four quadrants, niche players, challengers, visionaries, and leaders. At Solutions Review, we read the report, available here, and pulled out the key takeaways.
Gartner adjusts its evaluation and inclusion criteria for Magic Quadrants as software markets evolve. As a result, Fabasoft, d.veleop, and Intalio were added to this year's report, while Axway was dropped. Gartner also occasionally lists honorable mentions that did not meet the inclusion criteria but may be of interest to their clients. This year's honorable mentions are AISHU, Macrowing Software Technology, KnowledgeLake, and Siav. Representative vendors in this year's Magic Quadrant are AODocs, Box, DocuWare, d.velop, Fabasoft, Hyland, IBM, iManage, Intalio, Kyocera Document Solutions, Laserfiche, M-Files, Microsoft, NetDocuments, Newgen, Objective, OpenText, and SER Group.
With no challengers named in this year's report, the 18 vendors are spread across the leader, niche player, and visionary categories. The leader quadrant is the most sparse this year, housing only four vendors. Microsoft is far and away the top vendor in this section of the graph, winning out in its ability to execute and its completeness of vision. The vendor's success could be attributed to Microsoft 365's continuous development and update cycle. Also a leader this year, Hyland offers three CSPs, two of which have proven to be able to scale to support billions of documents.
Box is also a leader in this year's Magic Quadrant. The vendor recently announced an expanded relationship with Microsoft and Google Cloud, along with closer integration with Microsoft 365 and Google Workspace. Box also acquired SignRequest this year. Rounding out the 2021 leaders is OpenText, which has a true global presence and a strong ecosystem of more than 600 international partners to implement and support multi-national clients.
The niche players quadrant is the most densely populated this year, holding eight vendors. NetDocuments, iManage, and IBM are in close competition. NetDocuments boasts strength in email collaboration, which has been extended to allow IT to centrally adopt and distribute ndMail capabilities. iManage differentiates itself through its flexible and powerful mechanism for defining label-based security. Additionally, IBM customers can utilize a full IBM technology stack, including infrastructure, database, and content services platforms.
The remaining niche players are Objective, Fabasoft, AODocs, DocuWare, and Kyocera Document Solutions. Objective's niche player status could be due to its focus on markets where information governance and records management are a priority. New vendor, Fabasoft places emphasis on model-driven, low-code deployment of content and business process services, which could have resulted in its niche player status. AODocs' placement is possibly because its operations are mainly based in Europe and North America. DocuWare touts a long-standing SaaS platform that has full feature parity with its on-prem solution, so users can deploy either without sacrificing capabilities. Finally, Kyocera has a strong presence in the DACH region, primarily with yuuvis, which offers a relatively complete set of CSP capabilities.
The final quadrant, the visionaries, houses the last six vendors. Laserfiche is placed closest to the X-axis. The vendor has recently continued to roll out its hybrid architecture and SaaS services, while also expanding its Microsoft 365, Teams, and Outlook integrations. M-Files, located close to Laserfiche, focuses its CSP on the automation of business administration and business operation scenarios. Also a visionary this year, SER Group provides a broad set of business role hub connectors using its Doxis4 SmartBridge service.
The final visionaries in this year's Magic Quadrant are Newgen, d.velop, and Intalio. Newgen is in close competition with SER Group, as its advanced features enable users to interact with third-party individuals and platforms. d.velop has been mainly focused on core functionality, including collaborative authoring, external file sharing, and electronic signatures for its SaaS-based platform, which is built on Elasticsearch and Amazon S3. Finally, Intalio, another new vendor, has successfully embedded AI capabilities within its CSP, delivering a rich range of cognitive services that enable content recognition and classification.
Latest posts by Tess Hanna
(see all)