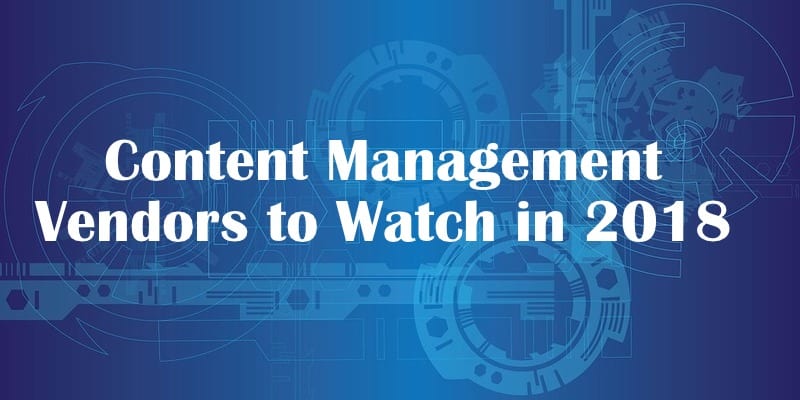 The Enterprise Content Management (ECM) market is evolving. In early 2017, Gartner announced the rebranding of its Magic Quadrant for ECM, which is now centered on Content Services Platforms (CSP). CSPs are the next stage of ECM tools, according to the tech research giant.
An ECM solution is utilized to create, store, distribute, and manage unstructured content to analyze and deliver it to users whenever and wherever necessary. On the other hand, a CSP refers to a set of services and microservices that use various content types to serve clients and their use cases. This kind of platform can be delivered as an integrated product suite or as separate applications that have similar APIs and repositories. The changes in this space represent a shift from self-contained systems and repositories to open services.
According to Gartner, it's predicted that 20 percent of major EFSS and ECM vendors will change their existing offerings into CSPs by 2020. In that same time period, 15 percent of enterprises are expected to leave their legacy ECM vendor for a provider that offers content services.
Whether you plan to implement an ECM tool or CSP, here are some vendors to keep an eye on for the remainder of this year:
Alfresco
Alfresco is headquartered in both the United States and the United Kingdom. The vendor offers the Alfresco Digital Business Platform, which features various services for content, process, integration, and more. It's an open and secure platform that accelerates business flow, according to the company. The platform simplifies building, integration, and extension for digital transformation. It features an application development framework, open extensions and integrations, process services, content services, governance services, and easy deployment.
Click here for more information.
DocuWare
DocuWare is headquartered in Germany. The provider offers DocuWare for document capture and management, DocuWare Workflow for business processing and DocuWare Intelligent Indexing for metadata management and content indexing. All of those products are available either on-prem or in a multitenant cloud built on a Microsoft Azure infrastructure. The vendor's document lifecycle management tool offers fast and transparent processes from capturing to archiving, according to the company, and documents are available for authorized users at any time and from any location.
Click here for more information.
Fabasoft
Fabasoft is headquartered in Austria. The vendor offers two on-premises CSP tools including Fabasoft Folio and Fabasoft eGov-Suite. They also provide a Europe-based cloud offering, the Fabasoft Cloud. The vendor's platform is an integrated solution and it pertains to every stage of the document lifecycle. It also supports broad integration with content and data systems for certain use cases.
Click here for more information.
Nuxeo
Nuxeo is headquartered in both Paris and New York. The global software company offers a content management platform that allows organizations to manage content while putting it to work. The Nuxeo Platform is an open-source, subscription-based CSP available on the ground, in the cloud or as a hybrid of both. It offers digital asset management and a comprehensive API. Clients of Nuxeo are able to customize the platform to meet their specific needs. The company typically works with mid-to-large size enterprises.
Click here for more information.
---
If you'd like details on additional vendors, check out our Buyer's Guide!
Latest posts by Tess Hanna
(see all)