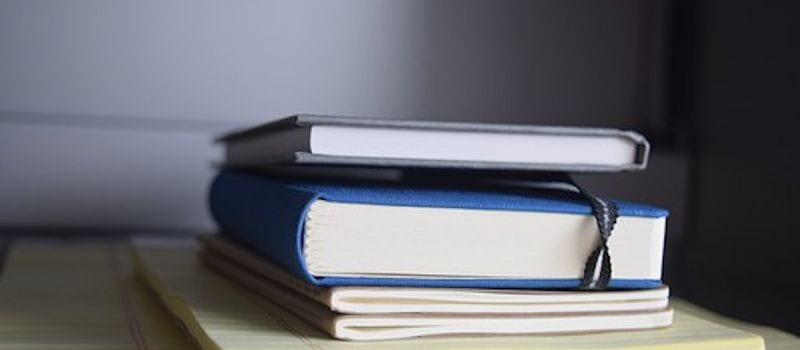 If you're a book lover and are looking to brush up on all things related to Enterprise Content Management (ECM), it's a job in itself just to find the right ones. So after taking a look at a vast array of literature on the market right now, we put together this list of the top books on Enterprise Content Management.
ECM refers to the technology organizations use to capture, manage, store, preserve, and deliver content and documents related to organizational processes. The following books share information on all facets of the space.
Note: these titles are not industry specific; they should have applications in many verticals.
---
1. Enterprise Content and Search Management for Building Digital Platforms by Shailesh Shivakumar, 2016
"Contemporary business organizations can either embrace the digital revolution—or be left behind. Enterprise Content and Search Management for Building Digital Platforms provides modern enterprises with the necessary tools to create a robust digital platform utilizing proven best practices, practical models, and time-tested techniques to compete in the today's digital world. Features include comprehensive discussions on content strategy, content key performance indicators (KPIs), mobile-first strategy, content assessment models, various practical techniques and methodologies successfully used in real-world digital programs, relevant case studies, and more."
2.Enterprise Content Management in 7 Steps: Make your information simple, secure and mobile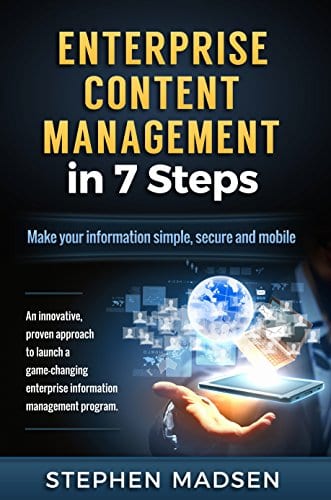 "Stephen Madsen's Enterprise Content Management in 7 Steps outlines a best-practices approach to managing an organization's vast content of documents, spreadsheets and presentations. The solution blends the worlds of Information Technology and Information Management to reinvent the enterprise content platform so that whether documents are created by a team of employees, displayed on the Intranet or Internet, an integral part of a workflow or e-form, or even accessed by another application, the content is easy to find,
manage and control."
3. Enterprise Content Strategy: A Project Guide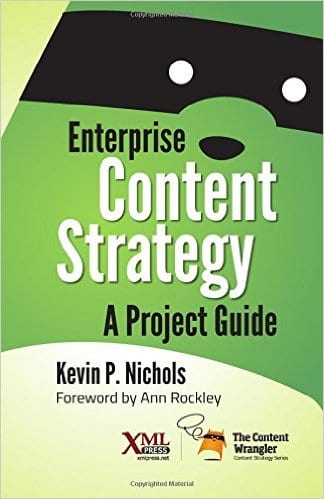 Kevin P. Nichols' Enterprise Content Strategy: A Project Guide outlines best practices for conducting and executing content strategy projects. His book is a step-by-step guide to building an enterprise content strategy for your organization. Enterprise Content Strategy draws on Kevin Nichols' experience managing one of the largest and most successful global content strategy teams to provide an insider's look at how to build an enterprise content strategy. Full of definitions, questions you need to ask, checklists, and guidelines, this book focuses not on the what or why, but on the how.
4.The Content Trap: A Strategist's Guide to Digital Change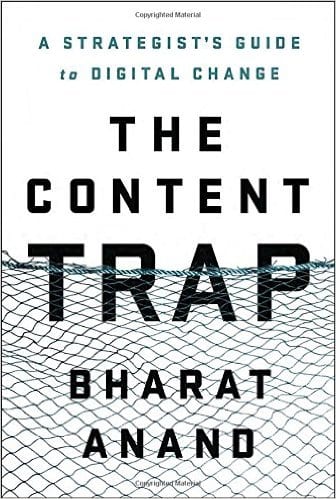 "Digital change means that everyone today can reach and interact with others directly: We are all in the content business. But that comes with risks that Bharat Anand teaches us how to recognize and navigate. Filled with conversations with key players and in-depth dispatches from the front lines of digital change, The Content Trap is an essential new playbook for navigating the turbulent waters in which we find ourselves."
5. Practical SharePoint 2013 Enterprise Content Management by Steve Goodyear, 2013
"Practical SharePoint 2013 Enterprise Content Management is the first book to guide you through planning and designing each phase of your information life cycle with SharePoint 2013. Author and SharePoint expert Steve Goodyear walks you through how to analyze and plan enterprise content management (ECM) solutions for an effective and end-to-end information design based on your organization's needs and business requirements."
6. Web Content Management: A Collaborative Approach by Russell Nakano, 2001
"Suitable for anyone with some basic programming concepts, this text aims to help the reader develop, manage, maintain, and deploy web content solutions across large-scale, enterprise sites. It also explains how to keep sites up-to-date, fluid and responsive to change."
7. Going Paperless: A must-have guide for organizations planning to go paperless and for enterprise content management (ECM) initiatives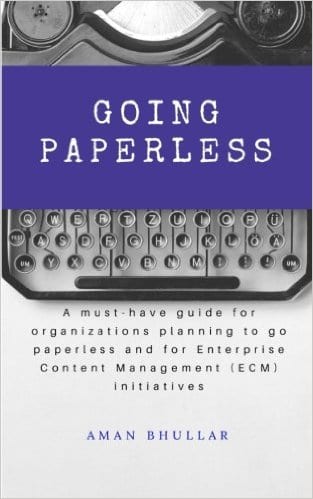 "Going Paperless – A must-have guide for organizations planning to go paperless and for Enterprise Content Management (ECM) initiatives"
8. Managing Enterprise Content: A Unified Content Strategy by Ann Rockley, 2012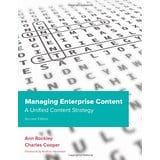 "Smartphones, eBook readers, and tablet computers like the Apple iPad have forever changed the way people access and interact with content. Your customers expect the content you provide them to be adaptive –responding to the device, their location, their situation, and their personalized needs. Authors Ann Rockley and Charles Cooper provide insights and guidelines that will help you develop a unified content strategy—a repeatable, systematic plan that can help you reach your customers, anytime, anywhere, on any device."
9. Content Strategy at Work: Real-world Stories to Strengthen Every Interactive Project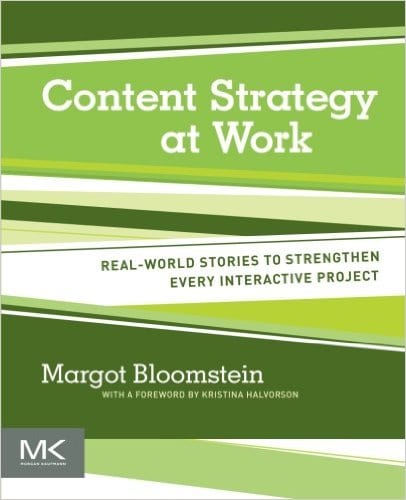 "The solution is content strategy, and this book offers real-world examples and approaches you can adopt, no matter your role on the team. Put content strategy to work for you by taking in never-before-seen case studies from teams at Johns Hopkins Medicine, MINI, Icebreaker, and more. Content Strategy at Work is a book for designers, information architects, copywriters, project managers, social media consultants, and anyone who works with visual or verbal content. If communication matters for your company or client, put content strategy to work for you. "
Looking for more information on enterprise content management and content services solutions? Consider downloading our Content Management Buyer's Guide! This free resource gives you the ability to compare the top 20 products available on the market with full page vendor profiles. The guide also offers five questions to ask yourself and five questions to ask your software provider before purchasing. It's the best resource for anyone looking to find the right content management or content services solution for their organization.
Latest posts by Tess Hanna
(see all)