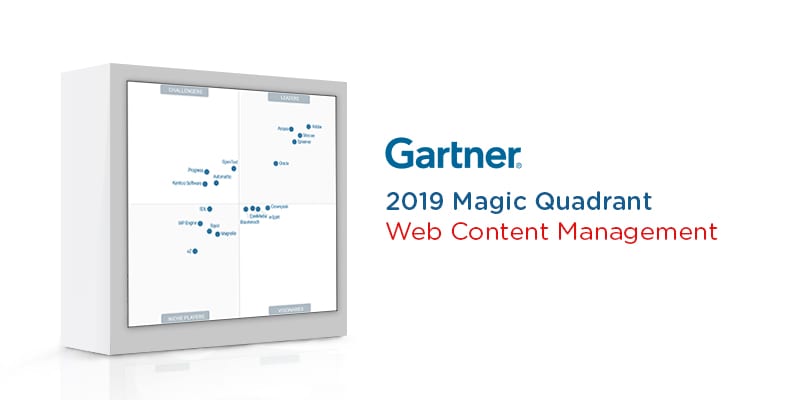 Analyst house, Gartner, Inc., has officially released its 2019 Magic Quadrant for Web Content Management. Gartner defines Web Content Management (WCM) as "the process of creating, managing, and delivering content over one or more digital channels through the use of specific management solutions based on a core repository. These solutions may be procured as commercial products, open-source tools, cloud services, or hosted services." 
In this year's Magic Quadrant, Gartner analyzed the following WCM providers: Acquia, Adobe, Automattic, Bloomreach, CoreMedia, Crownpeak, Episerver, e-Spirit, eZ, Kentico Software, Magnolia, OpenText, Oracle, Progress, SDL, Sitecore, Squiz, and WP Engine. Magnolia was the only vendor added to the report this year, and IBM was the only vendor dropped from the previous year. The quadrant breaks down into four categories: Leaders, Challengers, Visionaries, and Niche Players. Gartner arranges the providers on the quadrant based on their strengths, weaknesses, ability to execute, and completeness of vision. We looked at the report, available here, and picked out the key takeaways on the WCM offerings and their features.
Leaders
Adobe is the top provider this year, with the highest completeness of vision and ability to execute. The vendor's placement is likely due to its continued investment in artificial intelligence and machine learning, which offer capabilities such as intelligent content authoring and intelligent content delivery. Also named a leader this year is Acquia. This provider has achieved success through its comprehensive understanding of the WCM market and its vision that reflects the key market trends. Sitecore was given leader status, possibly because its platform appeals to organizations of various sizes across multiple industries.
Rounding out the leaders are Episerver and Oracle. Episerver offers advanced experience management capabilities, which could account for its placement on the graph this year. Finally, Oracle was likely named a leader due to the fact that it provides a broader range of features to augment WCM than many of the other providers.
Challengers
OpenText was at the top of the challengers quadrant this year. This is possibly due to the company's security and integration functions which allow for better support for users throughout their lifecycle. Progress also found success through its background as a provider of development and data connectivity tools. Automattic's placement could be, in part, because it is able to provide cloud self-service tools. Finally, Kentico Software's challenger status could be a result of the vendor's comprehensive native capability.
Visionaries
All four of this year's visionaries are placed quite close to each other in a horizontal line, showing an improvement in completeness of vision from left to right. Crownpeak comes out on top, likely because of its direct services and support. Next in line is e-Spirit. This provider's placement possibly suffered due to its lack of cloud maturity. CoreMedia's positioning within this section of the graph could be caused by its limited penetration of North America. Finishing out the visionary section is Bloomreach, whose placement is likely a result of the WCM market's limited awareness of the vendor.
Niche Players
SDL has the strongest ability to execute, as shown by its application of artificial intelligence and machine learning to content management and content translation tasks. WP Engine's positioning is possibly due to the fact that it lacks some of the advanced capabilities needed of a DXP. Additionally, Squiz's placement is likely caused by the vendor's limited global presence. Magnolia has the strongest completeness of vision in this section of the graph, possibly because of its compatibility with organizations with multilingual, multisite, and multiproduct scenarios involving delivery to multiple regions. Rounding out the niche players is eZ. This provider's positioning is likely a result of its overall low market presence.
Download the full Gartner Magic Quadrant for Web Content Management here.
Download our Content Management Buyer's Guide here.
Latest posts by Tess Hanna
(see all)