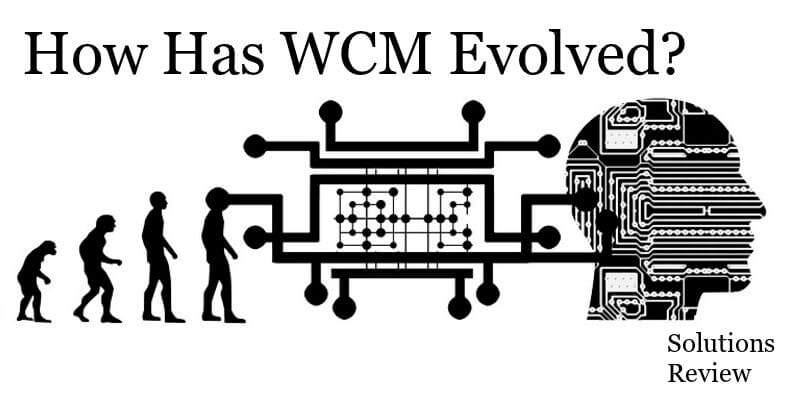 Web Content Management (WCM) tools manage and control content across an organization's digital channels. As digital content has grown exponentially and new channels have emerged, sophisticated WCM tools have become more popular.
WCM systems utilize specific management tools based on a core repository to control content for consumption over digital channels. Product functions go beyond publishing web content and include a high degree of interoperability with adjacent technologies, such as sales force automation, customer self-service, marketing resource management, digital asset management (DAM), and web analytics. In addition to this, WCM organizes and provides metadata about the content as well as libraries services such as check-in/check-out, version control, and security. WCM also enables businesses to control web content as well as performing other functions.
The Evolution of WCM
The WCM market has gone through significant changes in the past several years. Enterprises transitioned from adding content to websites without a clear goal attached to leveraging content as a means to drive revenue. The evolution of WCM stems from the way people access and consume content, services, and digital experiences.
Today's WCM needs are more dynamic, integrated, and interactive. With the maturation of digital marketing and the proliferation of channels—including mobile, email, social, digital kiosks/displays, wearables, and messaging platforms—content can no longer be tied to a specific channel. The focus has also shifted away from siloed WCM platforms to providing an end-to-end digital experience that encompasses other solutions such as analytics, personalization, and e-Commerce.
Today's consumers also behave much differently than they did years ago. Denise Douglas, product marketing manager, OpenText TeamSite & OpenText Optimost, OpenText, believes one of the biggest changes has been the shift from a traditional approach to WCM to a more holistic approach of digital experience management (DXM). "Truly forward-thinking organizations blend physical space with digital screens and experiences. These changes in consumer behavior and expectations lead organizations and businesses to develop content that not only fits many devices, channels, and audiences, but also is also consistent with the overall brand, wherever it is experienced."
Because of changing consumer behavior, there is a need for greater agility to react to customer requests. Additionally, the ability to optimize content based on measurable, data-centric goals is imperative to drive return on investment. This is something that has existed in the e-Commerce industry for quite some time and that the WCM industry is now catching up with.
Today's WCM solutions create a personal experience across all digital touchpoints and manage the data required to do so. With the increasing proliferation of enterprise technologies, each collecting massive amounts of data, WCM solutions must have the capability to operate with all these systems, collect and compile the data, and produce actionable insights on content performance and personalization across the entire digital landscape. As the amount of usable data increases, so does the need for WCM solutions to offer automation, analysis, front and back-end integrations, and a cloud infrastructure that has the elasticity and scale to manage it all.
Cloud Dexterity
In addition to increasing consumer demands, enterprises are now more comfortable with cloud solutions. Organizations want the option to move their DXM solution to the cloud, thereby benefiting from the scalability, security, and always-on capabilities to remain competitive, while also moving from a capital expenditure model to an operational expenditure model.
Normally, the first justification for a move to the cloud is based on cost savings, and then it quickly becomes apparent that agility and consequent speed to market are potentially bigger benefits. That is not to say that all cloud-based WCM offerings are equal. Some truly do exploit the opportunities of cloud-based computing and make intelligent use of features in cloud-computing services that have no analog in the traditional, on-prem data center world. However, others differ little than traditional, legacy solutions, shoehorned into a cloud environment, bringing with them all the limitations and challenges of the monolithic, legacy architecture.
When to Upgrade WCM and Why
Many organizations built a digital content strategy around specific channels. As businesses evolve and look to increase their content velocity, and brand consistency, the content strategies should enable consistent customer experiences across channels. Technology must all keep pace with the needs of their businesses and enable them to build the right rich content experience no matter the channel, or user interface technology.
Many organizations don't use WCM effectively as a strategic driver for content and digital experiences, and occasionally that is due to old technology. These WCM systems were implemented when digital was a smaller part of an organization's business strategy. Therefore, many old systems are not flexible enough to support new business models or mobile or other channels, and they aren't scalable enough to handle new sites and experiences. Once an organization realizes that digital experiences drive business, it would behoove them to upgrade to a WCM built for their current and future needs.
Some companies have caught on and have begun to invest in—and update—their WCM technology, which is often long overdue. Rising consumer expectations, in terms of the digital experience they expect from brands, is driving replacement cycles in combination with a trend towards globalization that forces brands to localize their content in more languages than ever before.
Many legacy WCM systems are not designed for true multichannel publishing or dynamic content reuse. It cannot easily support content personalization or contextual publishing and doesn't provide online editors with the ability and control they need to create and publish great customer experiences quickly. They are designed for building web pages rather than delivering seamless customer experiences.
Tying into the Customer Experience
WCM systems are the backbone of driving effective digital experiences. They need to be open, but not necessarily open source, and provide the ability for marketing to integrate various systems in order to create that 360 view to drive a more personalized customer experience.
Older systems can be somewhat difficult for marketers to use, meaning they have to get their web team involved in order to make even the simplest change. This arrangement no longer works; a modern WCM solution should enable marketing to take control of the customer experience and allow them to make changes simply and easily, without having to open a ticket with IT. Organizations today need to attract the customer, inform, teach, and convert them so they will make a purchase. This should be followed up by operations, onboarding and ongoing support.
The tie between WCM systems and digital marketing and consumer experience management is an essential enabling factor, although it is no longer the case that a WCM system is all you need. Careful selection of a variety of third-party services, such as marketing automation platforms, social media communication suites, and data enrichment services are also essential for a properly rounded digital marketing program.
Increasing WCM cannot exist in isolation from digital marketing and customer experience management. Content management systems must serve as a hub for orchestrating content from a wide and diverse set of digital repositories and combining those content assets into hybrid digital experiences that can be deployed on demand across any digital channel to any digital device. Web sites are just one of the multiple possible destinations for this content.
WCM and more importantly, content management services, need to be an integral part of the digital marketing and customer experience management technology landscape. They need to enable consistent content production processes and content delivery to the relevant channel.
WCM Evolves
WCM is defined as the process of controlling content for consumption over digital channels through the use of specific management tools based on a core source. Although product functions go beyond simply publishing web content, WCM solutions are an important tool for businesses to have in order to be successful.
A lot has changed in a relatively short amount of time, which is why it is crucial to upgrade WCM systems to keep up with ever-changing trends.
Latest posts by Tess Hanna
(see all)