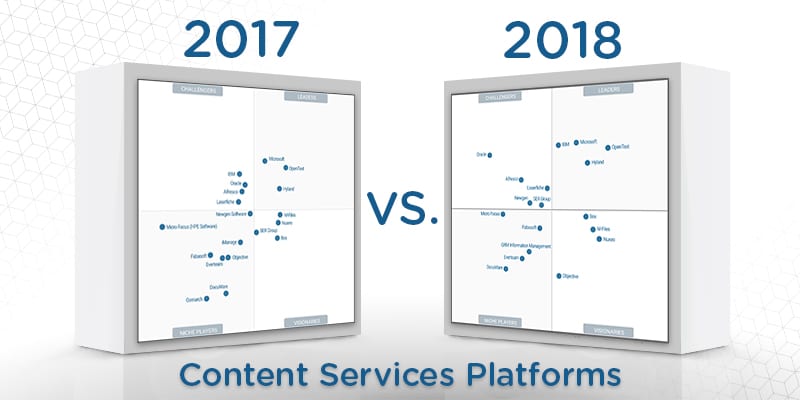 Gartner has officially released its 2018 Magic Quadrant for Content Services Platforms. According to Gartner, content services platforms (CSPs) are defined as, "a set of services and microservices, embodied as an integrated product suite and applications that share common APIs and repositories, to exploit diverse content types and to serve multiple constituencies and numerous use cases across an organization." The definition and functionality for content services have been updated this year by Gartner.
In this Magic Quadrant, Gartner evaluates the strengths and weaknesses of 18 providers that it considers the most significant in the marketplace, and provides readers with a graph (the Magic Quadrant) plotting the vendors based on their ability to execute and their completeness of vision. The graph is divided into four quadrants: niche players, challengers, visionaries, and leaders. At Solutions Review, we read the report, available here, and pulled out the key takeaways.
This Magic Quadrant for Content Services Platforms features some changeover, as a couple providers from the past year were dropped, and a new vendor was added. GRM Information Management made its debut in the niche players section of the graph. Both Comarch and iManage were dropped, however. Comarch didn't meet the 2018 geographic inclusion criteria, while iManage's focus on the legal sector was outside the scope of this years report.
The leaders of the Magic Quadrant are relatively unchanged, with the exception of IBM, which moved up from the challenger section. This jump may be due to the vendor's focus on digital transformation. The other leaders, Microsoft, OpenText, and Hyland maintain approximately the same placement as they did in the previous year.
The placement of the challengers displays more change than those in the leaders section. Oracle, Alfresco, and Laserfiche all retained their challenger status from the past year. Newgen Software is also a challenger this year, after being named a niche player in 2017. This shift could be a result of its platform, which offers users an integrated set of services that are bettered via continual investments. SER Group, a visionary last year, is also now a challenger. This change may be caused by positive reviews on Gartner Peer Insights regarding configurability, deployment, and time to implement.
There are fewer niche players in this year's Magic Quadrant. Only Micro Focus, Fabasoft, Everteam, and Docuware remain in this section of the graph, along with new addition, GRM Management. Fabasoft improved in both its ability to execute and its completeness of vision this year. This jump is possibly due to the vendor's focus on flexible and rapid deployment. Docuware, however, dropped slightly in its completeness of vision. This could be the result of integration challenges with the provider's solution.
Rounding out this Magic Quadrant are the visionaries. The vendors in this section of the graph remain largely the same, with the exception of the loss of SER Group and the addition of Objective. Objective made the shift from being a niche player to a visionary, possibly because of its plan to bring its content services to bear on other prominent repositories in its target market. The placements of Box, M-Files, and Nuxeo remained mostly the same, aside from Box's improvements in its ability to execute. This jump could be caused by the provider's support for application integration and development.
Gartner also named seven honorable mentions across four categories. The analyst house defines these vendors as "vendors that did not meet [their] 2018 inclusion criteria yet have content services qualities and capabilities that clients may find valuable." In the category of Software as a Service (SaaS) content services, ASG Technologies Group was named. AODocs (G Suite) and SpringCM (Salesforce) were categorized as honorable mentions in SaaS content services with strong product alliance. Comarch (EMEA) and d.velop (EMEA) were listed in the regional focus category. Finally, iManage (Legal) and NetDocuments (Legal) were named in the industry vertical category.
Read the full Gartner Magic Quadrant for Content Services Platforms here.
Latest posts by Tess Hanna
(see all)