What's Changed: 2018 Gartner Magic Quadrant for Content Collaboration Platforms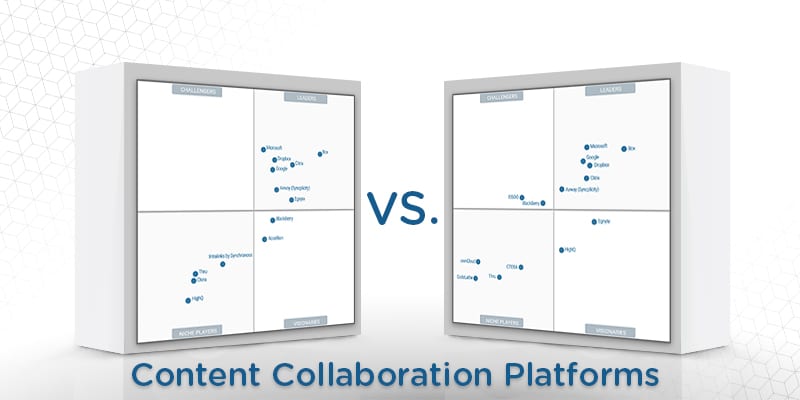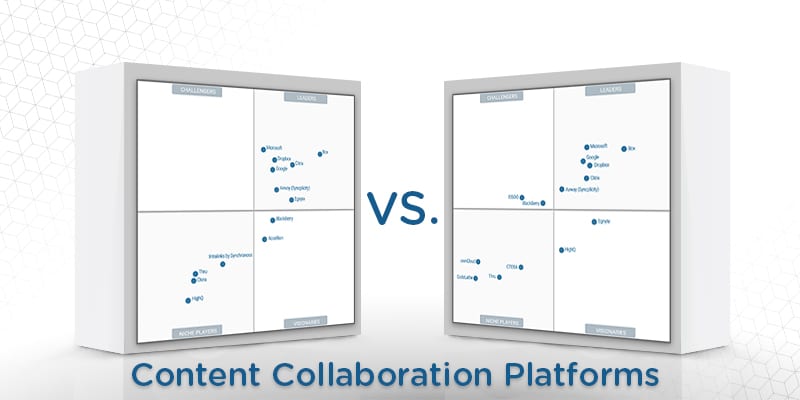 Gartner has officially released its 2018 Magic Quadrant for Content Collaboration Platforms. According to Gartner, "content collaboration platforms can transform how individuals and teams work. Inside or outside organizations, they add structure and insight when collaboration involves unstructured data." Content collaboration platforms (CCPs) are focused towards individuals and teams, outside or inside a business. CCPs also support lightweight workflow and content management use cases.
As a strategic planning assumption, Gartner believes that 50% of midsize and large businesses in mature regional markets will make use of a CCP to enforce document workflows and enhance productivity and collaboration by 2022. This speaks to the growing popularity and more consistent use of CCPs across the market.
In this Magic Quadrant, Gartner evaluates the strengths and weaknesses of 14 providers that it considers the most significant in the marketplace, and provides readers with a graph (the Magic Quadrant) plotting the vendors based on their ability to execute and their completeness of vision. The graph is divided into four quadrants: niche players, challengers, visionaries, and leaders. At Solutions Review, we read the report, available here, and pulled out the key takeaways.
This Magic Quadrant for Content Collaboration Platforms features some changeover, as a few providers from the past year were added and dropped. Accellion and Intralinks by Synchronoss no longer meet Gartner's inclusion criteria and were removed as a result. The three new vendors, CodeLathe, ownCloud, and EISOO make their debuts on the niche players and challengers section of the graph, respectively.
The leaders of the report remain relatively unchanged, with the exception of Egnyte, which dropped down into the visionary category. This seems to partly be because of the vendor's small size, creating limitations for users that are not present with the larger powerhouse providers, such as Microsoft or Google. Of the current leaders, Microsoft had the most positive movement by increasing its completeness of vision.
The most successful of the new vendors, EISOO, debuts as a challenger. The provider's solution allows for the integration of multiple content repositories through connectors and also offers security capabilities such as remediation for malware, ransomware, and viruses. In addition to this, Gartner's reference customers rated the provider's file analysis, open APIs, and integration capabilities positively. Also a challenger this year, BlackBerry has improved its ability to execute but lost out on its completeness of vision. This could be due to the fact that BlackBerry's CCP is typically deployed within the BlackBerry Enterprise Mobility Suite, while this Magic Quadrant is more focused on the stand-alone CCP offerings of vendors.
In the visionaries category, HighQ made an impressive jump from its previous classification as a niche player, increasing in both its ability to execute and completeness of vision. In addition to typical CCP features like synchronization, project management workflow, and content sharing, HighQ offers a unique capability that allows users to manage structured data and metadata within a user interface similar to a spreadsheet.
Rounding out this Magic Quadrant are the niche players. CodeLathe and ownCloud make their debut in this portion of the graph. CodeLathe is a small organization, but it has the potential for growth, as it offers users the ability to run their CCP as an own-branded service with their internet domain and reference customers reported having great experiences with the vendor. Based out of Germany, ownCloud is the largest open-source provider in the CCP market, meaning that there is a good chance they can expand outside the EU and convert fair-use users into paying users in the future.
Thru and CTERA remain niche players, with their placements in the Magic Quadrant staying relatively unchanged. Though CTERA has a consistent network of distributors and channel partners, its small size limits its resources and presence in the CCP market. Thru's lower placement is also in part because of its size, but seems mainly due to its lack of ability to invest in its products as a result of financial troubles.
Gartner also named 10 vendors as honorable mentions, which the analyst house stated, "are worthy of consideration," though they were not included in the Magic Quadrant for Content Collaboration Platforms. The vendors identified were AeroFS (Redbooth), Amazon, Boole Server, Datto, Egress Software Technologies, Huddle, IBM, TeamDrive, Tresorit, and Vaultize.
Read the full Gartner Magic Quadrant for Content Collaboration Platforms here.
Latest posts by Tess Hanna
(see all)