What's Changed: 2018 Gartner Magic Quadrant for Enterprise Video Content Management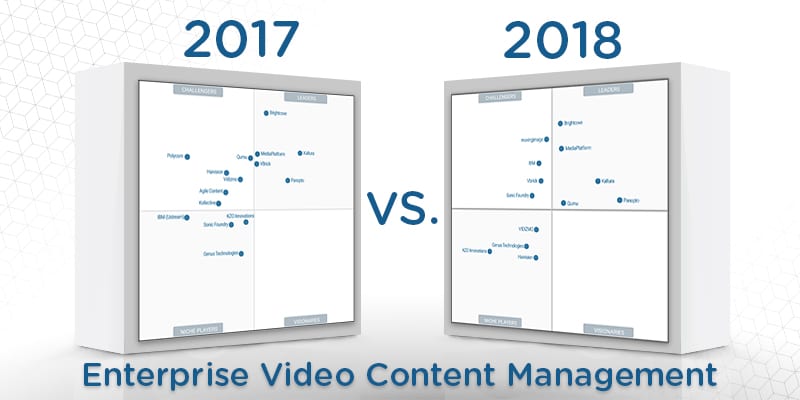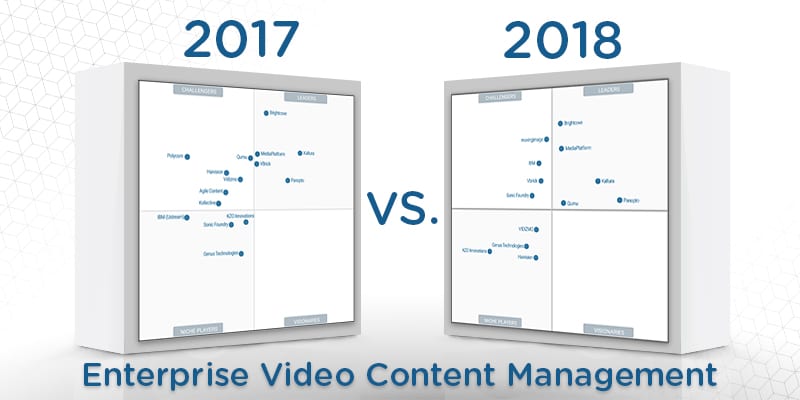 Gartner has officially released its 2018 Magic Quadrant for Enterprise Video Content Management. According to Gartner, Enterprise Video Content Management (EVCM) is defined as, "software, appliances, or SaaS intended to manage and facilitate the delivery of one-to-any, on-demand or live video across internet protocols." This software is typically used to support corporate communications, training, and collaboration, in addition to sales and marketing.
In this Magic Quadrant, Gartner evaluates the strengths and weaknesses of 13 providers that it considers the most significant in the marketplace, and provides readers with a graph (the Magic Quadrant) plotting the vendors based on their ability to execute and their completeness of vision. The graph is divided into four quadrants: niche players, challengers, visionaries, and leaders. At Solutions Review, we read the report, available here, and pulled out the key takeaways.
This Magic Quadrant for Enterprise Video Content Management features some changeover, as a few providers from the past year were dropped, and one new vendor was added. movingimage made its debut in the challengers' section of the graph. However, Agile Content, Kollective, and Polycom were all dropped, as they no longer met Gartner's inclusion criteria.
The leaders of the Gartner Magic Quadrant remain relatively unchanged. Vbrick fell slightly, moving into the challengers' section after losing out on its completeness of vision. Additionally, Qumu jumped from being a challenger to a leader. Brightcove, MediaPlatform, Kaltura, and Panopto all retained their leader status, with minimal movement within the category.
The placement of the challengers displays more change than those in the leaders' section. As mentioned above, movingimage is listed in this section. Aside from the new vendor, the remaining challengers are IBM, Vbrick, and Sonic Foundry, all of which were placed in different categories in the previous year. IBM increased its ability to execute, making the jump from being a niche player. This is likely due to the company's marketing strategy which focuses on its differentiation in AI. Sonic Foundry was also a niche player last year; its shift in placement is possibly a result of the vendor's global presence.
The niche players section of this Gartner Magic Quadrant also features some changes. While KZO Innovations and Genus Technologies stayed in largely the same placement, VIDIZMO and Haivision are new to the section this year. Both providers were previously classified as challengers, retaining their completeness of vision but reducing their ability to execute. Haivision's change in status is possibly due to its limited support capabilities for search and analytics. VIDIZMO's shift in placement is likely due to its strong dependence on Microsoft.
Normally, the Magic Quadrant would be rounded out with the visionaries section. However, no providers were listed in that category in 2017 or 2018.
Read the full Gartner Magic Quadrant for Enterprise Video Content Management here.
Latest posts by Tess Hanna
(see all)