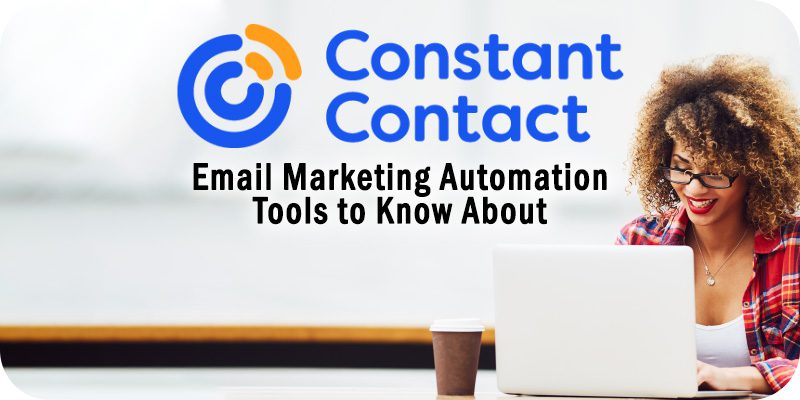 The editors at Solutions Review have compiled a list of the Constant Contact email marketing automation tools your company can use to improve its email marketing efforts. Solutions Review participates in affiliate programs. We may make a small commission from products purchased through this resource.
Email marketing automation is an excellent tool for developing and delivering consistent, timely, and personalized email campaigns that send relevant emails to contacts as soon as they take a specific action. And thanks to the simplicity of email marketing automation tools, companies of all sizes can easily take advantage of the benefits they offer. Some marketing companies and partners even provide pre-built automation tools and campaigns, saving you even more time.
Constant Contact is one of those companies. In addition to its pre-built email templates, Constant Contact also offers email marketing automation services as part of its Email Plus and E-Commerce Pro pricing package. These tools can help your company automatically welcome new contacts, nurture leads, expand your audience with various list-building tools, improve engagement, and more. 
Constant Contact Email Marketing Automation Tools
---
To help your company take advantage of Constant Contact's email marketing automation services, the team at Solutions Review has outlined some of the most valuable automation tools and functionalities the company offers. The list is organized alphabetically.
With Constant Contact's AI-powered email automation features, you can streamline your e-commerce email campaigns with pre-configured tools that automatically target customers based on where they are in the customer journey. This allows you to personalize email outreach to individual customers with little to no manual effort. Constant Contact's unique AI functionalities will also use predictive analytics to identify top products, shopping trends, revenue activity, and product recommendations, helping you generate even more effective emails.
Constant Contact users have access to hundreds of additional apps and integrations that can easily plug into or connect with the Constant Contact platform. Companies can update and share contacts between Constant Contact and integrated applications. This enables companies to send automated emails to first-time customers through Shopify, capture leads with Facebook Lead Ads, send automatic birthday messages with the MindBody integration, and more.
Setting up an automated email series, also called a drip campaign, is one of the best ways to get your email marketing content in front of the right people. Whenever a contact in your database takes a specific action (i.e., joins a mailing list, clicks a link in an email, etc.), you can automatically add them to a new series that sends relevant email follow-ups to keep their journey going. Constant Contact users can also adjust delivery settings and track relevant data like how many contacts received each email in a series, how many people are in line to receive the next one, percentages for opens, clicks, and more.
Included as part of Constant Contact's comprehensive E-Commerce Pro Plan, these pre-configured playbooks can help you get your email marketing automation strategy up and running in record time. With over 20 pre-built automation flows, all you have to do to get started is put together the content and let Constant Contact's software take care of the rest. Or, if you want more of an active hand in the process, you can create custom automation flows and dictate where you want the AI functionalities to participate.
Target the right customers at the right time with smart email segments. Also included in Constant Contact's E-Commerce Pro Plan, these email segments are available in standard and predicted models, but users can also build their own. Standard segments are based around customer data like purchase activity and site visits, while predicted segments target customers whose activity suggests they are ready to make a purchase or have not been engaging with your company. Whichever option you use, you can integrate it with e-commerce platforms like Shopify and BigCommerce and use data from those sites to better inform your segments.