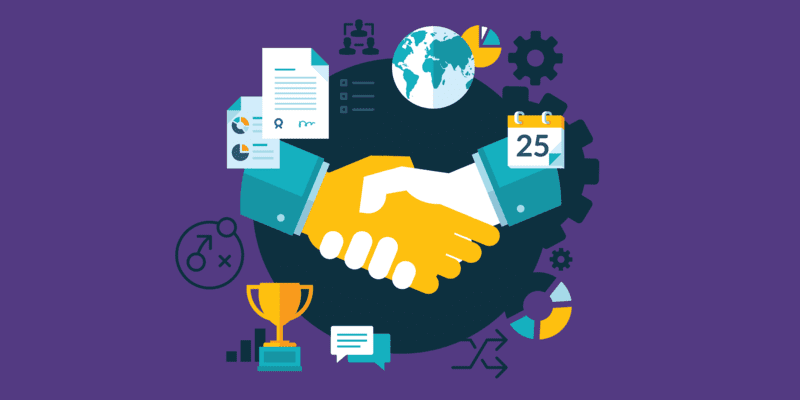 The editors at Solutions Review have read the Q2 2021 iteration of the Forrester Wave for Salesforce Consulting Partners report and compiled some of the takeaways worth knowing about.
Technology advisory firm Forrester Research recently released the latest Forrester Wave™: Salesforce Consulting Partners, Q2 2021 report, identifying thirteen of the most significant providers in the Salesforce consulting market. The report also offers analysis and comparisons of each provider so companies can select the right solution for their company's needs.
Our updated
CRM Buyer's Guide
 helps you evaluate the best solution for your use case and features profiles of the leading providers, as well as a category overview of the marketplace.
This iteration of the report highlights how vital consulting partners have become in the CRM and customer experience (CX) markets, especially as those technologies grow increasingly interconnected with other business platforms. According to the Forrester Wave report, the most valuable services and insights Salesforce consultants can offer include platform-centric strategies, industry innovations, multi-cloud expertise, and informed advice on product mixes and architecture.
The Forrester Wave: Digital Experience Platforms, Q3 2021 report segments the listed solution providers into four categories: Leaders, Strong Performers, Contenders, and Challengers. The editorial team at Solutions Review has read the report and compiled the most important takeaways and updates you should know about.
Note: The opinions described in this article belong to the researchers and editors of Forrester Wave for Enterprise Marketing Software Suites, Q2 2021.
Key Takeaways: Forrester Wave for Salesforce Consulting Partners, Q2 2021
---
Leaders
Accenture is the highest-ranked Salesforce's largest partner and has over 20,000 practitioners focusing their efforts on Salesforce projects across all of the platform's major Cloud products. While the company may not be the best fit for smaller companies or projects, Accenture's extensive Salesforce capabilities and partnering approach can help larger companies with more complex projects take advantage of the entire Salesforce ecosystem.
Deloitte is another substantial partner, as it has over 9,000 Salesforce practitioners worldwide that are well-versed in all of Salesforce's major products, especially its Industry Cloud offerings. The Forrester report spotlights Deloitte's change management, business consulting, and multi-cloud deployments as its strongest areas, making it a good choice for clients looking to change their business in more dramatic ways.
Strong Performers
IBM has expanded its Salesforce practice with various acquisitions over the last few years and is currently finding success by combining Salesforce's capabilities with its own tech services. According to the Forrester report, its best Salesforce services are ongoing support, technical knowledge, and multi-cloud deployments. The company is best suited for global deployment projects and clients looking to outfit themselves with end-to-end, multi-cloud capabilities. 
Unlike some of the leading providers listed in Forrester's report, Capgemini's consulting capabilities primarily focus on one of Salesforce's products instead of all of them. The company's end-to-end services excel at Salesforce Commerce Cloud projects. However, the report does note that Capgemini's 10,000 Salesforce experts offer a broader range of design, technology, and consulting services to European and US-based clients.
As can be expected, Salesforce also offers a suite of consultation and deployment services. Forrester notes that Salesforce is slightly behind other providers in ongoing support and innovation but sports some of the highest expertise, especially with its Industry Cloud, multi-cloud deployments, and partner ecosystem services. Salesforce is an easy fit for most clients, but recent acquisitions have given it a leading edge for US-based not-for-profit and government work companies.
Cognizant is one of the fastest-growing Salesforce partners, as it has invested heavily in its Salesforce capabilities via multiple acquisitions. The company currently has over 8,000 practitioners operating worldwide and provides consulting services for all of Salesforce's major cloud platforms. Cognizant's strengths as a Salesforce consulting partner come from its platform capabilities and expertise in Sales Cloud and Service Cloud. Forrester also notes that the company is best suited for financial services, life sciences, and healthcare.
Infosys has an impressive track record of technology implementation and support services for Salesforce and other platforms. The company excels at larger-scale projects and is well-regarded for its hybrid delivery models and technical expertise. Infosys is slightly behind Leading partners in business innovation and Marketing Cloud capabilities but is a good fit for large, global companies looking for reliable Salesforce expertise.
PwC operates at a smaller scale than other partners listed here, but that doesn't stop it from working with large and mid-size enterprises alike. Forrester cites its smart acquisition strategy, Salesforce strategy consulting services, operational executions, and expertise across the Salesforce Cloud portfolio as among its best strengths. While PwC may not have as many resources to work with, the company is well-regarded for its partnership-based approach to consulting and is a good choice for US-based healthcare, retail, and financial service firms.
Contenders
Wipro has a smaller Salesforce practice than other partners but stands out for its assets, accelerators, partnership approach, compelling acquisitions, and blended delivery model comprising local, nearshore, and offshore resources. Forrester says the company is best suited for sales and service-centric clients that want to work with a smaller firm.
Meanwhile, Tata Consultancy Services (TCS) offers a broad suite of end-to-end Salesforce services, including consultations, implementations, and managed services. It doesn't have as many resources for commerce projects but is recognized for its reliable, flexible services and innovation. The report says that TCS' services will work well with companies undergoing complex global implementations.
Dentsu is a smaller firm that has found success with B2C clients looking for a well-versed partner in Marketing Cloud and Commerce Cloud. Forrester says the company has shown a strong market vision and roadmap, even though it trails behind larger, more established partners in Sales, Service, integration, and ongoing support services.
Slalom is the only mid-sized Salesforce consultant listed in the Forrester report and is one of the newer, rising partners out there. The firm primarily serves North American Salesforce customers but has experience in Europe and is also expanding into Australia. While Slalom doesn't have the depth of resources that some clients might be looking for, the company holds its own with its transformation, strategy, Sales Cloud, Platform, and innovation services.
The final partner named in Forrester's report is NTT Data, another smaller firm that has made a name for itself with its collection of design, managed services, and implementation services for all of the central cloud and industry cloud platforms Salesforce offers. NTT DATA is best regarded for its Industry Cloud services, including ongoing support, assets, accelerators, and multi-cloud deployments. Forrester says the firm works best with small-to-midsize companies or specific divisions of larger enterprises.
---