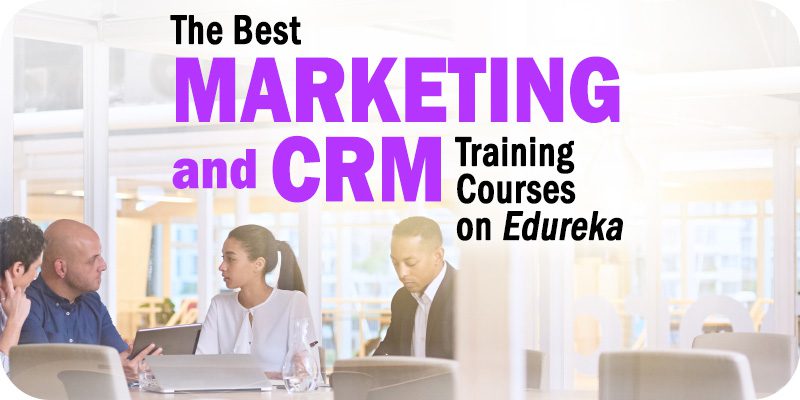 The editors at Solutions Review have compiled this list of the best CRM and marketing courses available on Edureka that marketing professionals should consider taking. Solutions Review participates in affiliate programs and may make a small commission from products purchased through this resource.
Marketing and CRM professionals are some of the most influential figures in a company's success. Their understanding of target audiences and their expertise with marketing technologies are often deciding factors for a company's brand to make a lasting impact in its market. But with that market changing in response to emerging trends and technology, it's challenging to stay on top of the most relevant development. If aspiring and active marketers want to maintain their expertise, they need to equip themselves with the most up-to-date marketing and CRM insights.
With that in mind, the editors at Solutions Review compiled a list to spotlight some of the best CRM and marketing courses on Edureka, one of the leading online learning platforms. These courses and certifications are geared toward professionals using marketing and CRM technologies in daily routines.
The Best CRM and Marketing Courses on Edureka
---
OUR TAKE: Designed to act as a "gateway" into the marketing world, this certification program will help you master marketing fundamentals and equip you with the skills you need to kickstart your career.
Description: This digital marketing training program is geared toward aspiring or beginner marketers. It can also be a refresher course for middle or senior managers looking to fine-tune their skill sets. Learners can expect to learn about relevant trends and best practices for keyword planning, on-page SEO optimization, Google Ads, email marketing, affiliate marketing, social media marketing, and Google Analytics. The course uses live lessons and has over 8,000 positive reviews on Edureka.
GO TO COURSE
---
OUR TAKE: Google Analytics is a crucial tool in a marketer's toolkit, and this course will help you learn all about the many ways they can help you generate revenue for your business.
Description: Students who enroll in this online self-paced learning course can expect to find their footing in digital data measurement, analytical decision-making, and more. Specific topics covered include the importance of website tracking, data tracking, and mobile app analysis. Learners will also become experts at the Google Ad and Analytics dashboard and learn to utilize the platform's audience reports, behavior analysis capabilities, e-commerce analytics, integrations, social media analytics, and mobile app analytics.
---
OUR TAKE: This self-paced course will teach you how to utilize social media marketing, boost conversation rates, and track the revenue it brings to your company.
Description: As a self-paced online training course, students who enroll in this top-rated program can learn about fundamental social media concepts, strategies, benefits, and insights at whatever pace works best for them. The topics covered in each module include the basis of social media return on investment (ROI), how social media improves a business' brand, developing a social media strategy, measuring the success of that strategy, and more.
---
OUR TAKE: Salesforce is one of the most popular CRM platforms on the market, and this course will help prepare you for two of the most valuable exams available on the Salesforce platform.
Description: Industry professionals developed this training to equip students with the skills and insights they need to complete and pass the Salesforce Administrator Exam (ADM 201) and the Platform App Builder (CRT 403) Exams. To that end, the topics covered in the course's live lessons include how to customize the Salesforce application, create a secure environment for the platform, maintain data, import data, develop high-value reports, set up workflow automation, and more.
---
OUR TAKE: As one of the leading data visualization platforms, Salesforce's Tableau can help you improve your marketing efforts with deeper insights. This live instructor-led course will teach students to use the Tableau platform in ways that will enhance their marketing and business strategies.
Description: Created by experts in the business intelligence industry, this instructor-led online course goes in-depth on Tableau Prep Builder, Tableau Desktop, and Tableau Online to equip learners with the skills they need to get the most value from the platform. The course uses real-life industry use cases and projects to help students learn about Tableau topics and tools, including data connection, visual analytics, making calculations in Tableau, aggregating data, dashboards, and geographic visualizations.
GO TO COURSE
---