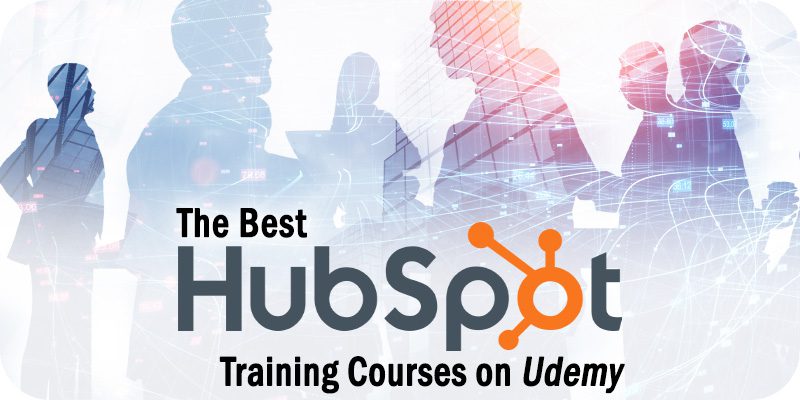 The editors at Solutions Review have compiled a list of the best HubSpot training courses that aspiring marketers should consider taking on the Udemy learning platform. Solutions Review participates in affiliate programs. We may make a small commission from products purchased through this resource.
HubSpot is one of the leading CRM platforms in the marketplace. The platform allows companies across industries to easily incorporate their marketing, sales, operations, and customer service processes on a single, easy-to-use platform and use it to improve customer relationships, generate leads, and optimize their brand. HubSpot offers a free and premium model of its CRM platform, making it an especially viable option for small and enterprise-level organizations alike.
Like any piece of software, though, HubSpot has a learning curve to it, especially if you're an aspiring marketing professional. With that in mind, our editors have collected some of the best HubSpot training courses available on the Udemy learning platform. These courses can help you learn how to use the HubSpot platform and equip you with the skills needed to be career-ready. Click on the GO TO TRAINING link to learn more about each class and register.
Note: The HubSpot training and online courses are listed alphabetically by the online learning platform name.
The Best HubSpot Training Courses on Udemy
---
OUR TAKE: Upgrade your HubSpot skills and expertise with this 90-minute video training course, where you'll learn how to use the HubSpot Ads Platform to generate leads and sales with a target audience.
Description: Developed with separate modules for beginner and advanced HubSpot users alike, this compact course uses straightforward, step-by-step lessons to help students understand the platform, get used to its features, and use them to promote their business to the right audiences. Specific tools covered in the course include HubSpot integrations, lead capture forms, ads, client deals, team activities, content management, and more.
GO TO COURSE
---
OUR TAKE: Taught by a certified HubSpot expert, this course will walk you through everything from setting up a HubSpot account to customizing the CRM, creating marketing emails, scheduling social posts, and beyond.
Description: This course is designed for anyone new to the HubSpot platform, regardless of their marketing experience. If you're a marketing manager with years of experience curious about what HubSpot has to offer, or an aspiring student looking to learn some skills before starting their career, this course can help. Instructor Thalita Milan will introduce students to HubSpot's CRM, landing page, forms, email, sales, reporting, analytics, and customer support features.
GO TO COURSE
---
OUR TAKE: Udemy's HubSpot CRM Essentials course is geared toward sales and customer service professionals who want a quick, straightforward introduction to the core features of HubSpot's CRM software.
Description: Students who enroll in this compact, ninety-minute course will learn to master HubSpot's management and automation tools and use them to streamline company sales processes. The course requires its students to have access to HubSpot, as they will use it to learn about managing contacts, working with reports, use the platform's meeting tools, and more.
GO TO COURSE
---
OUR TAKE: This one-hour course will introduce you to the steps involved in creating and optimizing HubSpot workflows and use them to automate your team's marketing and sales processes.
Description: Taught by Nancy Lambert, a co-leader of the Orlando HubSpot User Group (HUG), this training course will help students understand how HubSpot workflows work and teach them to create and utilize them in their lead nurturing efforts. Other topics covered include workflow templates, enrollment triggers, workflow actions, if/then branches, suppression lists, analyzing workflow results, and more. This course is geared at more experienced HubSpot users, as it requires you to have access to HubSpot Marketing Professional or Enterprise Software.
GO TO COURSE
---
OUR TAKE: If you're an aspiring marketing professional looking to expand your skills, this top-rated course is for you. You'll learn about all the tools HubSpot offers, how to use them, and why they're important.
Description: This course uses two hours of video lectures and a real-world case study analysis to walk students through the tools available on the free version of HubSpot. Students can expect to learn about sales funnel optimization and chatbot integrations alongside introductions to HubSpot's sales, marketing, and customer service tools.
GO TO COURSE
---