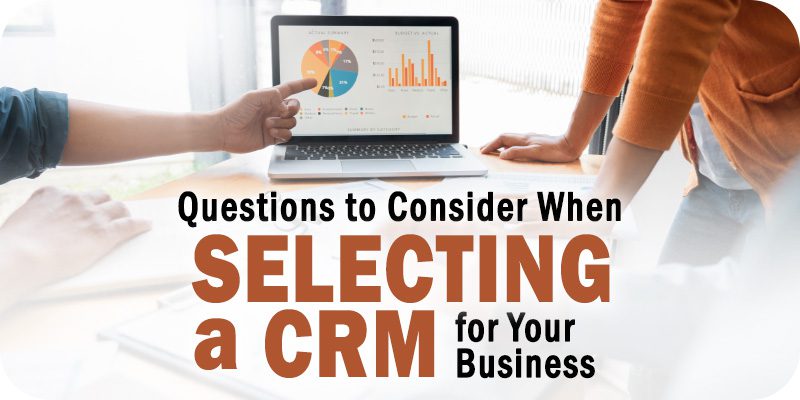 The editors at Solutions Review have compiled a list of the most important questions to consider when selecting a CRM solution for your business.
The interactions between a company and its customers drive almost every decision that marketing and sales teams make. With Customer Relationship Management (CRM) software, these teams can streamline how they develop fruitful relationships with customers and ensure their audience has a positive experience with their brand while increasing productivity and streamlining processes across departments. 
Analyst reports have described CRM as one of the largest software markets out there, which hasn't changed. The market for these solutions has been growing steadily over the past decade, especially with new software constantly in various stages of development.
However, with so many emerging trends to keep track of, selecting a CRM solution for your company can feel like a daunting task. There's no such thing as a one-size-fits-all approach to selecting a CRM, as different products will ultimately have other pros and cons.
For example, some solutions streamline the business process by providing sales and marketing automation, while others focus on data analysis and assist upper management and personnel. Another key feature of CRM is opportunity management, which focuses on qualified leads that can become tangible sources of revenue and helps users nurture and analyze these revenue opportunities. 
To help you get started, the editors at Solutions Review have compiled a list of questions to consider before and during the CRM consideration and selection process.
Questions to Consider When Selecting a CRM
---
1) What Business Needs Am I Looking to Address?

 
Every CRM solution has different strengths and weaknesses, so your team must take time to determine what functionalities are a priority. For example, an enterprise-level business might need a more advanced product with a comprehensive list of features. In contrast, a small-to-midsize business (SMB) may want a more straightforward solution that focuses on a few key areas. Figuring out your team's needs should be the first step to selecting the most appropriate CRM solution to fit your needs. 
2) What Are My Budgetary Constraints?

 
As can be expected, money is an essential consideration for CRM solutions, especially since so many platforms use different pricing models. Some CRM providers charge per month, while others use a model that scales alongside the number of users or contacts in the database. Many solutions also offer a collection of add-ons, which can help you expand your software's capabilities but increase the cost you pay. Before beginning your search for a CRM platform, make sure your company has a concrete budget to refer to once you start getting quotes from different vendors in the marketplace.
---
---
3) Can the CRM Scale Alongside My Organization?
Scalability, a solution's ability to serve organizations of different sizes, is integral to the process of selecting a CRM. Before purchasing a solution, consider how it can benefit your organization in the present (what needs do you need to meet right now?) and the future (how will those needs change when your company doubles in size?). Some vendors offer different purchase levels for organizations of various sizes, while others provide expansions you can purchase to expand the platform's capabilities.
4) How Will the Customer Data be Secured?

 
Alongside other roles, CRM software serves as a single, centralized location for all customer information a company possesses. As such, your chosen solution must offer secure data storage to protect your customer privacy. A CRM data breach could prove catastrophic for your company and its customers, so you should never close the deal on a solution until you know that your information will be safe and secure. 
5) Is the Software Easy to Use?
This is an easily overlooked question in the CRM selection process, but an important one, nevertheless. Once implemented, your company will use its CRM every day, so you will need to find a platform that your team can quickly learn to use. If your company is on the smaller side, it might benefit from a straightforward user interface. Meanwhile, a retail company will need a CRM tailored to the needs of their industry. Many CRM vendors even offer training and onboarding services to help their clients get to work as soon as possible.