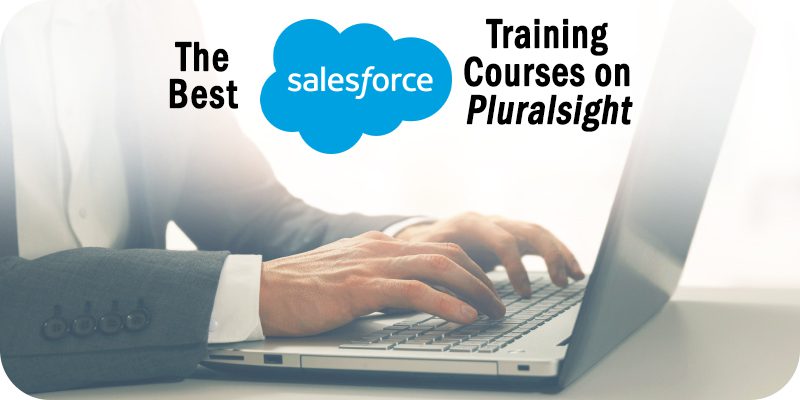 The editors at Solutions Review have compiled a list spotlighting some of the best Salesforce training courses on Pluralsight that beginner and intermediate marketing professionals should consider taking. Solutions Review participates in affiliate programs. We may make a small commission from products purchased through this resource.
Salesforce is one of the most recognizable marketing and CRM platforms in the market. As more organizations adopt the company's software, the more critical it is for their employees to get up to speed on Salesforce's capabilities. Salesforce has a range of products, though, and they're all designed for specific purposes, making it challenging to know what separates the best Salesforce training courses from the rest.
With that in mind, our editors have compiled a list of the best Salesforce training and online courses on Pluralscript. These courses are designed for Salesforce users of all experience levels who want to expand or fine-tune their platform expertise. The classes are listed in alphabetical order.
The Best Salesforce Training Courses on Pluralsight
---
OUR TAKE: Salesforce's reporting functionalities are one of its most powerful functionalities. This training course will teach you how to use Salesforce Reports, put together complex reports, and extract meaningful business insights.
Description: Geared toward "advanced" Salesforce users, this compact video walkthrough will introduce users to the more advanced reporting capabilities available on the Salesforce platform. Users can expect to learn how to create smart conditional columns, work on multiple reports with the Joined Reports and Cross Filter tools, and report on historical data with the Report Snapshots functionalities. Upon completion, learners will have the skills to compile complex reports for stakeholders and company decision-makers.
---
OUR TAKE: Kickstart your Salesforce development skills with this top-rated training course. No prior programming experience is needed, as the course will provide you with an introductory crash course on deploying, writing, and testing Apex triggers.
Description: Taught by David Liu, a Salesforce Technical Architect at Google, this two-hour training course will teach learners about Salesforce's development tools and show them how to write, test, and deploy various Apex triggers with the platform. Apex is an object-oriented programming language for the Salesforce ecosystem capable of completing flow and transaction statements, adding business logic to system events, and more.
---
OUR TAKE: This nearly four-hour video training course will introduce you to JavaScript and its role on the Salesforce platform to prepare you for the Salesforce JavaScript Developer certification exam.
Description: As JavaScript continues to become a popular language on Salesforce, there's never been a better time to get introduced to its capabilities with Salesforce. This beginner-level course will help learners leverage their knowledge of Apex and Salesforce to become JavaScript experts. Topics include learning how the user interface works, the basics of JavaScript data types, an introduction to core language features, and insights into JavaScript objects, functions, classes, common asynchronous design patterns, and more. The course is taught by Dan Appleman, an author, developer, and speaker with a wealth of experience in Apex Programming.
---
OUR TAKE: If you want to get acquainted with Salesforce Marketing Cloud Connect's features, this brief, one-hour course can help you get started.
Description: In this course, Salesforce beginners will learn how to use Marketing Cloud Connect, integrate it with Salesforce CRM, and understand the various ways it can be used to improve their marketing efforts. Other subjects covered in the one-hour video training include installing the Marketing Cloud Connect managed package, connecting it with other Salesforce platforms, and understanding the different account and user configuration options. The training comes from Zuzanna Jarczynska, a well-regarded Salesforce Marketing Cloud expert and Salesforce MVP.
---
OUR TAKE: Interested in growing your skills and becoming a Salesforce administrator? This three-hour course will outfit you with the skills and tools you need to feel confident as an admin.
Description: Alongside its CRM functionalities, Salesforce can also be used as a platform for creating business applications with tools for developing custom objects, extending Salesforce with packages and customization, configuring reports, and more. Upon completion, Salesforce admins will know how to manage users, layouts, automations and have a solid foundation for more advanced Salesforce skills. The course is taught by Scott Lee, the director of Elega Corporation, and has years of experience using Salesforce's Apex programming language, Python, C#, and other databases.
---
OUR TAKE: This compact course can be completed in a single sitting and will introduce you to Flow, one of the most under-utilized tools in the Salesforce ecosystem.
Description: As valuable of a tool as Salesforce's Flow Builder is, it's often underutilized because of the seemingly steep learning curve. Thankfully, this beginner-level course can help Salesforce users learn how to utilize the tool and improve their understanding of its structure, declarative automation capabilities, use cases, creation, distribution, and more. The program comes from Jeff Susich, a Certified Salesforce.com System Administrator, Sales Cloud Consultant, Service Cloud Consultant, Platform App Builder, and Advanced System Administrator.
---
OUR TAKE: If your company is using Salesforce in any capacity, you should take some time to become familiar with the suite of sharing and security features available on the platform. This two-hour course will give you the skills you need to perform security audits and make improvements as needed.
Description: In this training course, Salesforce users will develop a foundational knowledge of Salesforce platform security, user controls, password policies, IP login range restrictions, declarative security functionalities, writing secure code, managing permissions, and more. When completed, users should have the familiarity and skillset to audit their security protocols and make improvements that benefit the entire organization.
---
OUR TAKE: Learn more about how to use Structured Query Langauge (SQL) in Salesforce Marketing Cloud and use it to manage customer data, create targeted segments, and more, with this brief, beginner-level training course that covers
Description: Salesforce Marketing Cloud is already a versatile platform for understanding customers and personalizing their experiences. For companies looking to expand their platform expertise, this hour-long course will introduce you to the world of Structured Query Langauge (SQL) and teach you how to import data from a secure FTP, write SQL queries, automate data segmentation, create case statements, automate queries, and more. The course comes from Baneen Qazi, a marketing automation consultant with expertise in the Salesforce ecosystem.
---