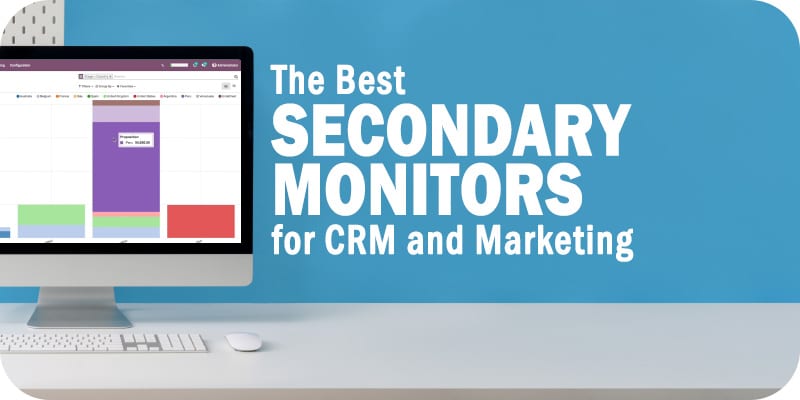 The editors at Solutions Review have researched the best products, sifted through reviews, measured the features of top sellers, and have taken what we've found and compiled it into this list of the best secondary monitors for CRM professionals.
CRM and marketing professionals juggle a lot of responsibilities. Whether it's managing contact databases, creating content, responding to customer queries, tracking conversions, or sending leads to sales, marketers are often wearing many hats at any given moment. Managing all these tasks from a single desktop or laptop can become a hassle and obstruction to productivity.
That's where a secondary monitor screen can help. Buying a secondary monitor for your office or workstation can make it easier than ever to jump between tasks, tabs, and workflows. No single setup will work for everyone, but expanding the visual space you can work in is bound to be a good thing. Whether you're looking for something you can connect with your laptop or want to invest in a 4K widescreen monitor, there's an option out there for you. And since they're available at various price points, it doesn't have to be a sizable investment if you don't want it to be.
To that end, our editors have compiled a list that spotlights some of the best secondary monitors that marketing experts can (and should) use to expand their workspace. Alongside the key features, strengths, and weaknesses of each monitor, we've also included links to each of the corresponding product pages so you can further compare devices and find the best one for your needs.
---
Acer R240HY
SUMMARY: The Acer R240HY offers a 23.8″ In-Plane Switching (IPS) display sporting solid color accuracy and gray-scale performance. The screen features 1920 x 1080 resolution, a zero frame design, a blue light filter to reduce the strain on your eyes, a -5 to 15-degree adjustable stand, and a headphone jack. While the screen does not provide USB connectivity, it does offer HDMI, DVI, and VGA ports. 
PROS
Attractive price point
Energy efficient EcoDisplay design
Zero frame design
CONS
No speakers or USB connectivity
Tilt-only stand limits adjustability
General lack of extras
OUR TAKE: While lacking in bells and whistles, the

Acer R240HY

is an affordable and well-rounded monitor with enough features to make it a suitable choice for marketers looking to expand their workspace. The zero frame design is one of its best qualities and makes it an ideal second monitor option, as it reduces the gap between the screens and makes it easier to transition between the two while working.
Dell P2719H
SUMMARY: Like the Acer monitor above, the Dell P2719H is a solid business monitor for professionals looking to expand their workspace. The 27″ LCD screen offers users a wide viewing angle backed up IPS and ComfortView technology, which improves colors and reduces the blue light emissions that can be hard on the eyes. And with the monitor's three-sided ultrathin bezel design and pre-built templates, users can easily view content across multiple screens and arrange applications and tabs as needed.
PROS
Good selection of ports
Stand supports height, tilt, swivel, and pivot adjustments
The thin profile and the compact base won't occupy much desk space
CONS
Low resolution
No audio options
Subpar color accuracy
OUR TAKE: The P2719H doesn't have the most impressive resolution, but the larger screen size and built-in organization tools make this a compelling option for marketers looking for something to grow their office setup with another monitor. The compact base makes it easy to find a place on the desk, and thanks to its adjustability, you can angle the screen in almost whichever way is most comfortable or conducive to your station.
HP 24mh
SUMMARY: The HP 24mh features an impressive FHD, micro-edge display with IPS technology, a maximum resolution of 1920 x 1080 at 75 Hz, and easy connectivity to other PCs, gaming consoles, and other peripherals, thanks to its
HDMI, DisplayPort, and VGA ports

. With an "ultra-slim" design that won't take up an excess of space on a desk, the monitor has a 100mm range of height adjustments alongside a tiltable screen with

5° forward or 23° backward tilt capabilities. 

PROS
Great price
Micro-edge screen
Height and tilt adjustability
CONS
Subpar brightness
No USB connectivity
The manufacturer's warranty is only for 1 year
OUR TAKE: The HP 24mh may be one of the best secondary monitors available at this price point. The micro-edge screen and compact base maximize usable space, and the built-in ports make it easy to link it with other devices. It also includes built-in 2-watt speakers (just don't expect them to blow you away) and solid sRGB color coverage. While the brightness isn't as crisp as it could be, and the limited warranty and lack of USB options aren't ideal, there's a lot of value to be found in the HP 24mh monitor, especially at this price.
LG 27UN850-W
SUMMARY: This 27-inch LG 27UN850-W UltraFine monitor is one of the pricier products here. Its 4K UHD, 3840 x 2160 resolution, and IPS screen make it an effective gaming computer and a powerful business tool. The monitor comes with rear-placed HDMI inputs, a DisplayPort input, an upstream USB-C port, two downstream USB 3.0 ports, and a USB port. Users can also adjust the monitor with height, rotation, swivel, and tilting capabilities. 
PROS
Height, rotate, swivel, and tilt adjustments
Sharp UHD display
Large, borderless screen
CONS
Higher price point
Color accuracy is slightly skewed out of the box
OUR TAKE: While not an ideal choice for every marketer, the LG 27UN850-W features some of the best performance and visual resolution for a monitor in this price range. If you're doing a lot of graphic design work for your marketing campaigns or want a more versatile product to expand your workspace with, LG's monitor can easily fit the bill.
LG 32QN600-B
SUMMARY: The LG 32QN600-B offers professionals a robust 32-inch screen sporting 2560 x 1440 resolution alongside LG's QHD IPS display features. Colors are especially strong, making the monitor a good choice for image and video editing purposes. While the 32QN600-B does not have USB-C ports, it does include two HDMI inputs, a DisplayPort input, two downstream ports, and a headphone port.
PROS
Large screen with sharp visuals
A 3-sided, nearly borderless design
Good feature set for price
CONS
No height adjustment
Lack of USB ports
No built-in speakers
OUR TAKE: If you like the LG brand but want something a little more accessible than the 27UN850-W, the LG 32QN600-B may be the monitor for you. It's a well-rounded product with sharp visuals and performance, making it a compelling option for visual editors, coders, and marketers alike. It's missing a few key features (USB ports, speakers), but the quality and size of the screen mean it will quickly fill the role of a secondary monitor.
Sceptre E205W-16003R
SUMMARY: If you're looking to expand your desktop's workspace, the Sceptre E205W-16003R is an easy, affordable, and reliable monitor to work with. The monitor features a 20-inch LED screen, a maximum resolution of 1,600 x 900, a 75Hz refresh rate, and a bezel-free design that maximizes the screen's usability. The I/O ports are in the rear of the monitor and face outward. They include two HDMI inputs. a CGA port, and a headphone jack.
PROS
Includes a pair of speakers
Low price point
The bezel-free design makes it an ideal secondary monitor
CONS
Lower resolutions
No height adjustments
Lack of USB ports
OUR TAKE: The Sceptre E205W-16003R 20-inch screen is smaller than other options, but the bezel-free design means you can set it up next to another monitor and have a near-seamless viewing area across both screens. The limited resolution is disappointing, but the monitor will work well for marketing professionals looking to improve their productivity and multitasking with a second monitor.
Solutions Review participates in affiliate programs. We may make a small commission from products purchased through this resource.