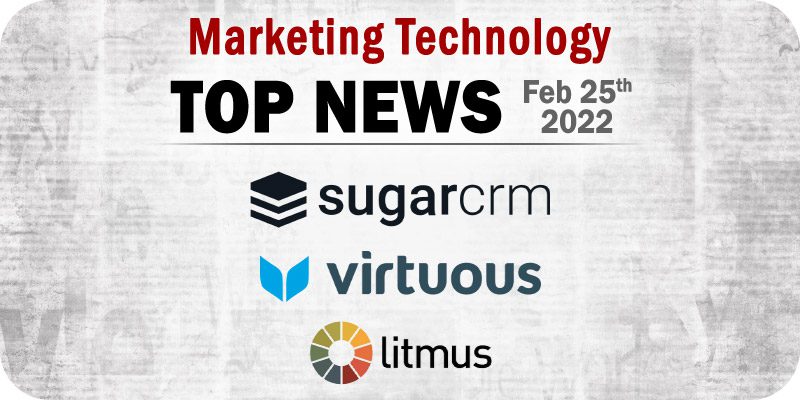 The editors at Solutions Review have compiled a list of the top MarTech News from the week of February 25th, 2022. This round-up features updates from SugarCRM, Virtuous, Litmus, and other companies in the CRM and marketing automation marketplaces.
Keeping tabs on all the most relevant CRM and MarTech news can be a time-consuming task. As a result, our editorial team aims to summarize the week's top headlines in the marketing technology landscape. The Solutions Review editors will compile a weekly round-up of vendor product news, mergers and acquisitions, venture capital funding, talent acquisition, and other noteworthy MarTech news.
Our
Free CRM Buyer's Guide
 helps you evaluate the best solution for your use case and features profiles of the leading providers, as well as a category overview of the marketplace.
Top MarTech News from the Week of February 25th, 2022
---
CloudShare, a software experience platform provider, announced a new integration with the Salesforce platform. The integration is designed to help sales representatives make data-driven business decisions that maximize efficiency, improve sales conversion rates, and boost customer retention efforts. Users can utilize the new integration to manage prospect and customer experiences via Salesforce, track customer interactions with the CloudShare-powered virtual platform, and use the resulting data to improve revenue and retention.
---
Goldcast, a purpose-built marketing platform for B2B field and event marketers hosting virtual and hybrid events, recently announced that it raised $10 million in a seed funding round led by Unusual Ventures with participation from HubSpot Ventures, Afore Capital, and others. The new capital will help Goldcast continue to develop its product and equip users with the tools they need to improve post-event follow-ups, maximize conversions, and host a range of events, from small webinars to larger conferences.
---
Litmus, an email marketing solution provider, recently launched new capabilities to help its users improve personalized brand experience and increase the efficiency of their email workflow creation efforts. The new capabilities include Litmus Personalize, enhanced ESP Sync features, a redesign for the platform's Analyze tab, and new Email Performance Indicators, which will provide users with insights into their email building, reviewing, and testing processes. Litmus Personalize is powered by the Kickdynamic solution, which Litmus acquired in late-2021, and will users improve email subscriber engagement.
---
SugarCRM, an AI-driven CRM platform provider, announced the launch of its new SugarOutfitter software marketplace, which will provide customers with streamlined, on-demand access to hundreds of SugarCRM add-ons. SugarOutfitters will act as a "curated marketplace" for certified applications and add-ons from third-party vendors. These apps can help SugarCRM users expand the platform's functionalities with SMS features, multi-factor authentication, computer telephony integrations, and more. The launch comes after SugarCRM's acquisition of the platform from Fanatical Labs.
---
Virtuous, a CRM and fundraising platform for non-profits, announced its acquisition of VOMO, a volunteer mobilization platform designed to improve volunteer experience management, recruit new volunteers, and more. The purchase will help Virtuous continue to expand its platform with the tools and insights non-profit businesses need to create a personalized, responsive experience for their supporters. Current VOMO users will have the opportunity to adopt the Virtuous platform.
---