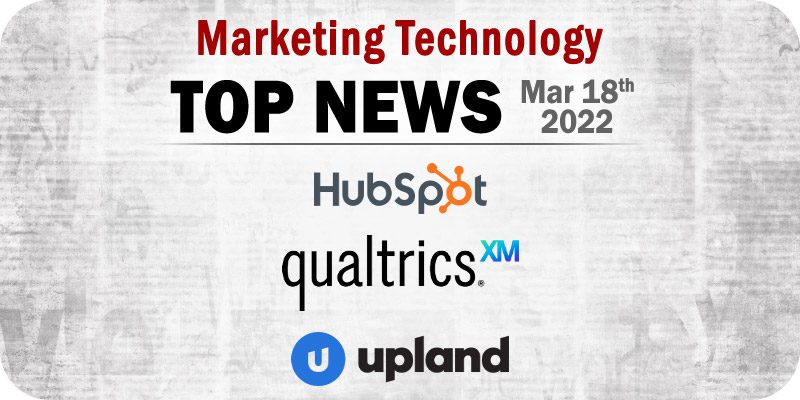 The editors at Solutions Review have compiled a list of the top MarTech News from the week of March 18th, 2022. This round-up features updates from HubSpot, Qualtrics, Upland Software, Terminus, and other companies across the CRM and marketing automation marketplaces.
Keeping tabs on all the most relevant CRM and MarTech news can be time-consuming. As a result, our editorial team aims to summarize the week's top headlines in the marketing technology landscape. The Solutions Review editors will compile a weekly round-up of vendor product news, mergers and acquisitions, venture capital funding, talent acquisition, and other noteworthy MarTech news.
Our
Free CRM Buyer's Guide
helps you evaluate the best solution for your use case and profiles leading providers in the marketplace.
Top MarTech News From the Week of March 18th
---
Botify, an enterprise software company that offers performance-driven organic search tools, recently announced the expansion of its Google Cloud partnership. As part of the expanded partnership, Botify is launching its SpeedWorkers tool on the Google Cloud Marketplace. With the SpeedWorkers tool, Botify users can ensure that more of their pages are indexed and discoverable in organic searches. This will help bridge the gap between web developers and marketers by reducing the time engineering teams have to spend on SEO tasks and increasing the time they can spend optimizing the user experience.
---
Drift recently revealed the Drift Conversation Cloud product suite, which brings the company's three core solutions together on a centralized platform. Conversation Cloud combines the three solutions—Conversational Marketing, Conversational Sales, and the newly-launched Conversational Service—on a single integrated platform for creating personalized experiences at each stage of the customer journey with chat, email, video, and artificial intelligence (AI) tools.
---
HubSpot, one of the leading CRM platform providers in the marketplace, recently announced a relaunch for a new and updated version of Service Hub. With HubSpot Service Hub, companies can improve how they invest in customer experiences from an intuitive, connected platform. The relaunched solution provides customer service teams with a customer portal, service level agreement (SLA) management tools, mobile inboxes, and a beta-version of inbound calling, letting users answer calls from a mobile device and track them from the HubSpot CRM.
---
Qualtrics, a leading provider of experience management solutions, has announced the launch of Digital Experience Metrics (DX Metrics). DX Metrics is a new and science-backed framework designed to help users measure how a customer's experience on a company's website, social channels, and mobile apps affect how much they spend. DX Metrics is built into the Qualtrics CustomerXM platform and measures three critical aspects of a customer's digital experience: emotion, effort, and success. The Digital Experience Metrics toolkit is expected to become generally available in Q2 2022.
---
Terminus, an account-based engagement platform provider, has announced details on the launch of Connected Account Experiences. The new capabilities will help businesses use first-party data to improve engagement with their target audience, improve brand awareness, use integrations to support the pipeline growth, and optimize the buying journey. Terminus customers can use these Connected Account Experiences to segment audiences, target buyers, optimize their account-based marketing strategies, and more.
---
Upland Software announced details on the Spring 2022 Release for Kapost, its content operation product. The release, which is available now, introduces cross-functional collaboration tools, dynamic content creation processes, and revenue team enablement capabilities to help B2B marketing organization manage their content operations from a centralized location. Additional features included in the Spring '22 Release include expanded content stage functionalities, new permissions and control features for Kapost admins, and enhancement to the platforms Gallery and Studio features.
---