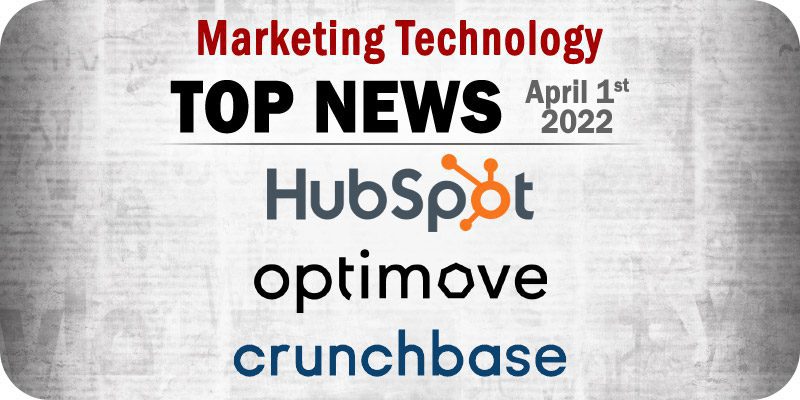 The editors at Solutions Review have compiled a list of the top MarTech News from the week of April 1st, 2022. This round-up features news on a partnership between HubSpot and Pipe, the launch of a Chrome extension from Crunchbase, and the acquisition of Kumulos by Optimove.
Keeping tabs on all the most relevant CRM and MarTech news can be time-consuming. As a result, our editorial team aims to summarize the week's top headlines in the marketing technology landscape. The Solutions Review editors will compile a weekly round-up of vendor product news, mergers and acquisitions, venture capital funding, talent acquisition, and other noteworthy MarTech news.
Our
Free CRM Buyer's Guide
helps you evaluate the best solution for your use case and profiles leading providers in the marketplace.
Top MarTech News From the Week of April 1st
---
Crunchbase—a provider of prospecting and research solutions for salespeople, investors, market researchers, and entrepreneurs—has announced the launch of a new Chrome extension. The Crunchbase Chrome extension is free to use and is designed to work on top of the websites and tools users are already using for their prospecting efforts. With the new extension, Crunchbase users can save time on research by evaluating accounts with key signals, setting activity alerts on prioritized accounts, and accessing verified contact data from their Crunchbase Pro or Enterprise solutions.
---
HubSpot recently announced a new partnership with Pipe, an alternative financing platform, to provide HubSpot for Startups customers with access to $100 million in fee-free funding. The partnership will also offer Pipe customers a thirty-percent discount on HubSpot's CRM Suite. Startups that can participate in the program include new and existing HubSpot for Startups customers, new and existing Pipe customers, and startups that apply for the program after becoming a customer of the program's affiliated partners.
---
Optimove, a CRM and marketing platform provider, has acquired Kumulos, a Scotland-based provider of a personalized mobile messaging platform. The acquisition will help Optimove continue to expand its CRM platform's native messaging capabilities for mobile applications and equip its customers with the tools they need to develop and develop personalized multichannel journeys. Additional features that the Kumulos acquisition will provide Optimize with include mobile push notifications, inbox messages, deferred deep linking tools, in-app messages, web push messaging, and automated messaging that leverages geofences and beacon technologies. Mark Petrie, the co-founder of Kumulos, will also be joining Optimove as the Director of Engineering for Mobile Services.
---
For consideration in future WorkTech news round-ups, send your announcements to wjepma@solutionsreview.com.
---