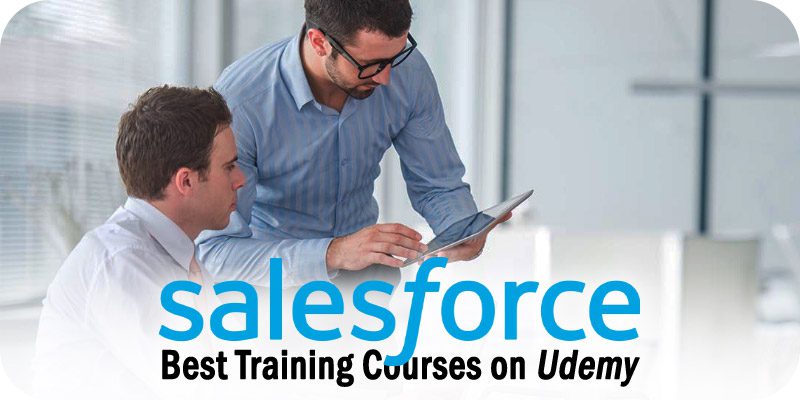 The editors at Solutions Review have compiled a list to spotlight some of the best Salesforce training courses on Udemy that marketers and Salesforce users should consider.
Salesforce is one of the most recognizable marketing and CRM platforms in the market. As more organizations adopt the company's software, the more critical it is for their employees to get up to speed on Salesforce's capabilities. Salesforce has a range of products, though, and they're all designed for specific purposes, which can make it challenging to know what separates the best Salesforce training courses from the rest.
With that in mind, our editors have compiled a list of the best Salesforce training and online courses on the Udemy learning platforms. These courses are designed for Salesforce users of various experience levels who want to expand or fine-tune their platform expertise. The classes are listed in alphabetical order.
The Best Salesforce Training Courses on Udemy
---
OUR TAKE: If you want to lead your team to success on the Salesforce platform, this four-hour course can help you get started. While several years old, the program's insights and skills will give you the foundation you need to improve your team's productivity.
Description: Marketers and business managers who enroll in this course will be given a step-by-step introduction to the Salesforce platform, guided through its interface, and taught how to use its tools to develop and maintain a custom-centric business strategy. Topics covered include crucial Salesforce terminologies and tools like Chatter, lead management, contacts, sales management, opportunities, reporting dashboards, email management, and more. The course includes four hours of video material and a downloadable ebook. It is best suited for sales professionals and account managers to improve their sales processes and customer relationship management.
GO TO COURSE
---
OUR TAKE: This bestselling course has thousands of reviews, an average rating of 4.6-stars, and will equip you with the skills and tools you need to use Apex and Lighting to become a full-stack Salesforce developer
Description: With over thirty hours of on-demand video materials, three articles, and nearly two-hundred downloadable resources, this comprehensive training course will help active and aspiring Salesforce developers improve their skills and expertise in a meaningful way. Topics and tools covered include web application development architectures, Apex programming fundamentals, Apex developing, writing triggers in Apex, Lightning component development, SOQL, SOSL, database manipulation (DML), exception handling in Apex, code nullification, order of execution, Salesforce Lightning Design System (SLDS), object-oriented programming systems, and more.
GO TO COURSE
---
OUR TAKE: Give yourself (or your team) a straightforward introduction to the Sales Marketing Cloud solution suite with this entry-level training course.
Description: Students who enroll in this beginner-level course will learn how to administer Salesforce Marketing Cloud, design data extensions, create emails in Content Builder, setup send classifications, design journeys, create automations with the Automation Studio toolkit, run marketing reports, connect Salesforce Marketing Cloud to Salesforce CRM, and more. The course has no prerequisites, so Salesforce users of all skill levels and focuses will learn something valuable.
GO TO COURSE
---
OUR TAKE: This comprehensive course includes over twenty hours of video lectures and will teach you just about everything you need to know about Salesforce integration projects.
Description: Integrating Salesforce with other applications can help organizations tap into a wealth of additional resources that improve productivity and increase operational visibility. With this course, Salesforce developers with a general understanding of Apex and Lighting development will learn when to use integrations, why integrations are valuable, integrate Salesforce with various third parties, and more. Additional topics include types of authentication used in integration APIs, integration implementations, integration design patterns, metadata, REST, SOAP, and APIs.
GO TO COURSE
---
OUR TAKE: In this course, you'll learn about Salesforce Integration APIs, how they work, and how your team can get the most value in your marketing and data strategies.
Description: Students who enroll in this bestselling course can expect to learn about fundamental Salesforce API methodologies and topics like REST APIs, SOAP UI tools, Apex, setting up Visual Studio Code, inserting large sets of data with BULK APIs, and more. The course includes ten hours of on-demand video lectures and over fifty downloadable resources to help students continue learning. It can help Salesforce developers of all experience levels improve their skills and train for Salesforce's various development certifications.
GO TO COURSE
---
OUR TAKE: Become an expert at Salesforce Marketing Cloud's email tools and functionalities with this training and certification course, which includes almost five hours of video material alongside practice tests to put your skills to the test.
Description: Topics covered in this Salesforce Marketing Cloud training course includes setting up the platform, managing subscribers, building email automations, creating reports of email tracking data, using the Journey Builder tools, managing data, and other subjects to help students prepare for Salesforce's Email Specialist Exam. Other subjects students can expect to learn about include Salesforce's marketing automation tools, data extensions, CAN-SPAM Act, email validation tools, personalization strings, triggered automations, A/B tests, data relationships, audience segmentation, and email design.
GO TO COURSE
---
OUR TAKE: Designed for absolute beginners, this program will educate you on all the fundamentals of Salesforce, its tools, and its value that you should know about.
Description: In this course, curious marketers will learn why Salesforce has become such a name in the industry and see firsthand why it's earned its popularity. Upon completion, learners will be able to use the platform with confidence and apply best practices to get the most mileage from it for their business. Some of the topics covered include Salesforce terminologies, record management, reporting, Lightning basics, communication tools, relationship management, email
GO TO COURSE
---
Solutions Review participates in affiliate programs. We may make a small commission from products purchased through this resource.