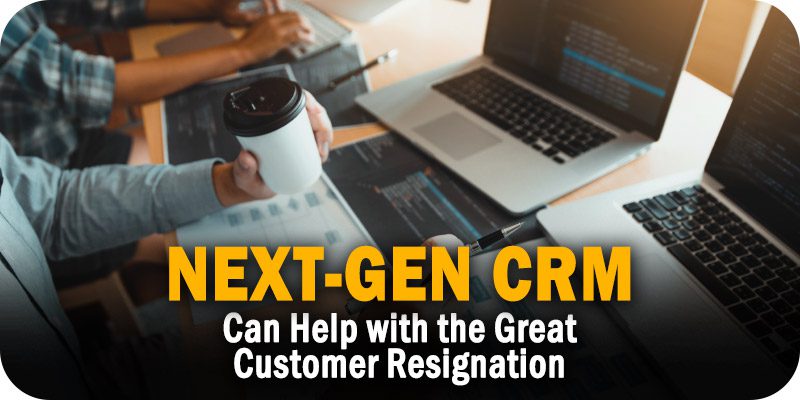 As part of Solutions Review's Premium Content Series—a collection of contributed columns written by industry experts in maturing software categories—Chris Pennington, the Chief Customer Officer at SugarCRM, shares insights on the potential "next-generation CRM" has to help businesses endure the rising customer churn rates.
In 2021, over 47 million American workers quit their jobs—a phenomenon that economists coined the Great Resignation. Today, data shows that most companies are experiencing 27-30 percent employee turnover rates, which can strain company resources and negatively affect customer experience and brand loyalty. Because the number of human resources available to support customers in the sales-marketing-service arena is dwindling, consumer demands and expectations are escalating.
When a skeleton crew tries to keep pace with rising consumer needs and requirements, the result is anything but good. It's creating another phenomenon—what we're calling the Great Customer Resignation. Faced with unmet expectations and poor customer experiences, consumers leave at great rates, and most companies are ill-prepared to counter this trend. What does The Great Customer Resignation look like? It's manifesting as an average customer turnover rate of nearly one-third worldwide. However, in the US, businesses are losing almost one out of every two customers they gain. 
We are at an inflection point where the Great Resignation meets the Great Customer Resignation. The result is a level of customer churn that's unsustainable for any business. Meanwhile, employee burnout is soaring in an overworked and overstressed workforce.  
Letting the Platform Do the Work
Organizations must find ways to deliver and support improved customer and employee experiences. And Customer Relationship Management (CRM) software can do both, helping to combat customer churn and realize more significant sales and marketing synergies and efficiencies. It starts with removing blind spots and understanding and predicting what customers needs. It eliminates busy work, makes it easier for customers to engage, and empowers employees to create the experiences customers expect. Finally, it removes roadblocks and friction points to enable brands to deliver on their promises.  
Also, by providing a centralized platform where sales, marketing, and service teams can work together in synch, organizations can have a 360-degree view of the customer with the necessary context for teams to take action earlier to serve the customer. With appropriate next steps, knowing what opportunities to pursue, and personalizing interactions, businesses can optimize experiences and grow revenue.  
Journey mapping capabilities help organizations operationalize best-practice guides and experiences for internal staff and customers. Meanwhile, the advent of low-code, no-code capabilities in CRM helps organizations improve agility and pivot as needed in the hands of non-technical business users. By letting the platform do the work, organizations can leverage the power of automation to deliver high-definition customer experiences, which are crucial to customer satisfaction across the complete customer lifecycle.  
Getting Up Close and Personal with AI 
A primary challenge for many organizations is having an incomplete view of customer activity. Three-quarters of respondents (75 percent) in a global survey say a unified view of sales, marketing, and service is critical to delivering an optimal CX. However, the lack of such a data infrastructure is fueling a customer relations crisis. AI and automation in next-generation CRM are helping organizations get up close and personal with customers, creating personalized and highly-relevant experiences and engendering customer loyalty based on understanding their struggles and aspirations.  
Leveraging automation while balancing the need for empathy is another critical element in delivering exceptional customer experiences. Artificial intelligence (AI) developments are helping brands recognize and respond in an empathic manner. This is coming at a crucial time as brands seek to elevate their customer engagement strategies. Studies show human empathy is on the decline, a reality costing the average brand $300 million every year.  
AI-driven sentiment analysis capabilities are supercharging CRM functions such as sales, marketing, and service interactions with the power of knowing each customer's and prospect's emotional state and intent. This empathic understanding of emotional state and attitude is crucial to providing exceptional experiences.  
What's more, organizations can review sentiment data to evaluate overall customer experience and journey effectiveness—providing the means for continuous improvement in meeting and exceeding customer expectations. In this way, human empathy augmented by AI in CRM is helping companies better understand and respond in context to the full range and depth of customer behaviors and emotions to serve them better. 
Rallying Against the Great Resignation and the Great Customer Resignation
Powerful headwinds and shifting dynamics are challenging organizations like never before, heightening the importance of empowering customers and employees with experiences that deliver value and efficiency. Today's next-generation CRM platforms are ready and waiting to help organizations rally and succeed. 
---