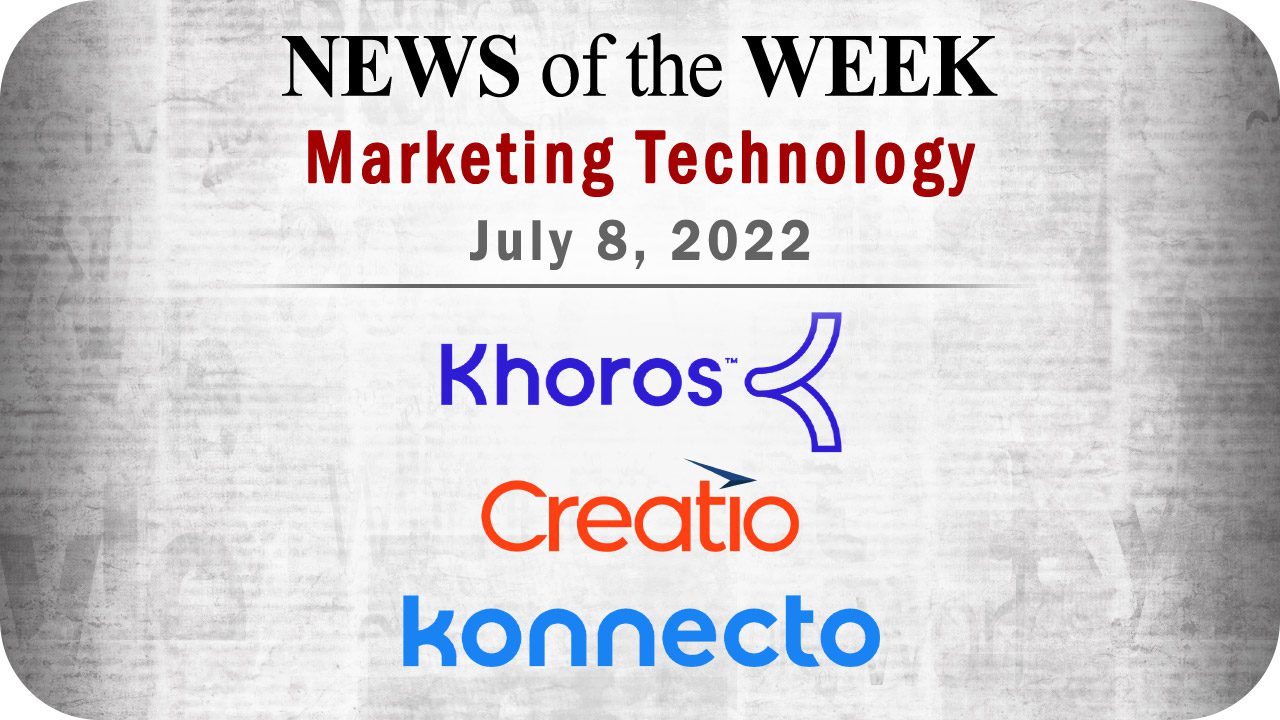 The editors at Solutions Review have compiled a list of the top MarTech News from the week of July 8th, 2022. This round-up features news and updates from CRM and marketing technology brands like Creatio, NICE, Konnecto, and Khoros.
Keeping tabs on the most relevant CRM and MarTech news can be time-consuming. As a result, our editorial team aims to summarize the week's top headlines in the marketing technology landscape. The Solutions Review editors will compile a weekly round-up of vendor product news, mergers and acquisitions, venture capital funding, talent acquisition, and other noteworthy MarTech news. With that in mind, here is some of the top MarTech news from July 8th.
Our
Free CRM Buyer's Guide
helps you evaluate the best solution for your use case and profiles leading providers in the marketplace.
Top MarTech News From the Week of July 8th
---
Creatio, a global provider of CRM and no-code solutions, has announced an update for its Marketplace, introducing twenty new connectors, applications, and add-ons developed by its partners to help companies extend the platform's functionalities. These tools allow users to simplify, automate, and accelerate everyday tasks. The new additions include the RingCentral Connector, SharePoint Integration, Vtiger Data Migration, Calculation Engine, Files Extended, and more. All twenty tools are available now on the Creatio Marketplace.
---
Khoros, a digital-first customer engagement software provider, has announced a new partnership with EveryoneSocial, an employee advocacy platform. The partnership will combine Khoro's social media management solution capabilities with EveryoneSocial's tools for helping brands engage employees and support ongoing sales, marketing, communication, and recruiting initiatives on social media. Marketers who leverage these technologies will be equipped with the tools to align their content, messaging, and campaigns with employee advocacy programs that maintain their company's reputation and improve brand awareness.
---
Konnecto, a prescriptive marketing platform provider, recently announced that it had raised $21 million in a Series A financing round led by PeakSpan Capital with participation from existing investors Mindset ventures, TPY Capital, Differential Ventures, Magna Capital Partners, and SeedIL Ventures. The company will use the funding to grow its data science and engineering teams and invest in expanding its go-to-market infrastructure and headcount to better position itself and capitalize on the rising demand for its platform.
---
NICE, a cloud-native customer experience platform provider, has announced the Summer 2022 release for its CXone platform. The update introduces several new capabilities that can enhance journey orchestration and complete performance, making it easier for users to simplify integrations with customer environments, create meaningful digital experiences, and improve openness with mobile SDKs. The release will also offer improvements to CXone's intent-based intelligent virtual agents (IVA) to provide further support to companies looking to create frictionless customer experiences.
---
For consideration in future news round-ups, send your announcements to wjepma@solutionsreview.com.
---