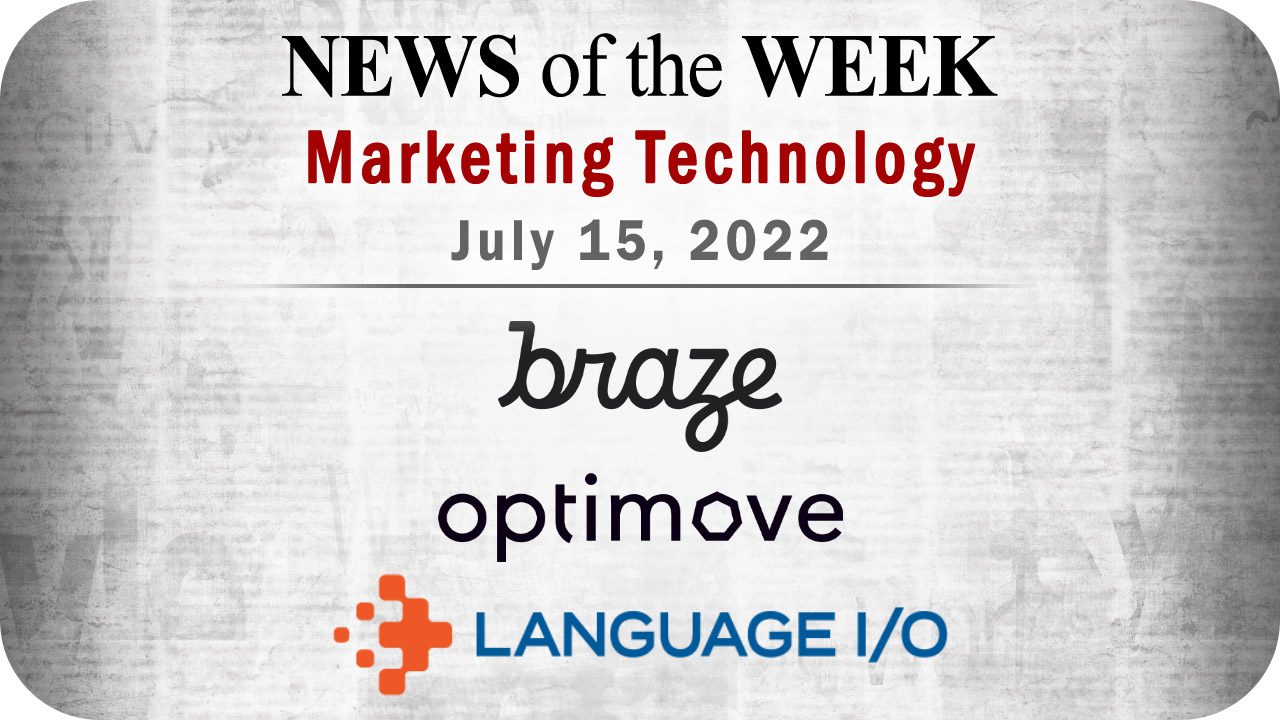 The editors at Solutions Review have compiled a list of the top MarTech News from the week of July 15th, 2022. This round-up features news and updates from CRM and marketing technology brands like Braze, Optimove, Langauge I/O, RollWorks, and more.
Keeping tabs on the most relevant CRM and MarTech news can be time-consuming. As a result, our editorial team aims to summarize the week's top headlines in the marketing technology landscape. The Solutions Review editors will compile a weekly round-up of vendor product news, mergers and acquisitions, venture capital funding, talent acquisition, and other noteworthy MarTech news. With that in mind, here is some of the top MarTech news from July 15th.
Our
Free CRM Buyer's Guide
helps you evaluate the best solution for your use case and profiles leading providers in the marketplace.
Top MarTech News From the Week of July 15th
---
Ad-Lib.io—a Smartly.io company and provider of a "next-generation" Creative Management Platform (CMP)—has released the newest version of Personalize, a cookieless platform equipped with media alignment, creative intelligence, and creative management capabilities. With Personalize 2.0, users can accelerate and scale their campaign activation efforts, maintain brand governance, and improve campaign addressability across channels. Personalize 2.0 is available now.
---
Braze, a customer engagement platform provider, recently announced Braze Canvas Flow, a new journey orchestration tool to help brands develop customer experiences across channels. Canvas Flow will expand Canvas—Braze's proprietary, no-code visual development tool—with several new features that allow users to design, visualize, and launch customer journeys from a unified drag-and-drog interface. The new features include advanced real-time orchestration features, new personalization tools, an updated user interface, and enhanced capabilities for experimentation and versioning.
---
CallRail, a lead intelligence platform, recently announced a new integration partnership with ActiveCampaign. The integration, the first call analytics solution available in ActiveCampaign's ecosystem, will help SMBs optimize and automate their marketing strategies, gather insights from inbound phone calls, and simplify omnichannel engagement. The integration will allow ActiveCampaign users to access CallRail's real-time lead intelligence data and use it to identify which ads, campaigns, and keywords are generating the highest quality leads. Customers that already use both CallRail and ActiveCampaign will also be able to turn on the integration and begin syncing their data across platforms.
---
Everflow, a partner marketing platform, announced that its solution is now available on the HubSpot App Marketplace. The new integration will allow B2B brands, agencies, businesses, and advertising networks to develop scalable partnership programs, track HubSpot leads through Everflow's sales cycles, and provide incentives for partnership loyalty. Users can also track funnel events (i.e., customer follow-ups, electronic document signing, demo signups, etc.) to monitor partnership progress.
---
Language I/O, a global provider of multilingual customer engagement solutions, has announced the launch of a new integration with ServiceNow. The turnkey integration will help global companies provide real-time multilingual support at scale and reduce the expenses often associated with global business. Language I/O Chief Technology Officer Diego Bartolome added the following statement to the press release: "After integrating with other popular platforms in widespread use, ServiceNow was the natural next integration It solves our clients' multilingual needs in HR and IT service management so they can better serve their customers."
---
Optimove, a CRM marketing platform provider, has acquired Graphyte, a real-time and cloud-based personalized platform designed to optimize the consumer web and mobile experience. The purchase will help Optimove expand its customer data platform (CDP) capabilities with Graphyte's AI-powered tools and AI-powered personalization suggestions. Companies can use these new features to personalize customer touchpoints, unify customer data, add channel-specific content recommendations, improve conversions, boost clickthrough rates, and more.
---
PandaDoc, an "all-in-one" document workflow automation platform, has launched a new integration for ActiveCampaign. PandaDoc for ActiveCampaign will allow ActiveCampaign users to utilize PandaDoc's digital document creation and management capabilities to create proposals, contracts, and tailor-made quotes from the ActiveCampaign platform. Businesses can also use the integration to track document progress with real-time notifications, upload existing documents, and add signature fields to gather legally binding signatures.
---
RollWorks, an account-based marketing platform, has announced the release of Journey Events for HubSpot, a new solution to help B2B organizations use consolidated account-level visibility to identify the activities that drive accounts through the buying journey. The new product will provide sales teams with insights into how accounts are moving, making it easier for them to pinpoint what's working, personalize outreach, and tailor messaging to drive meaningful account progression.
---
Storyblok, a headless content management system (CMS), has announced the launch of a $1.5 million Partner Fund. The fund will help the company the growth of its agency partners and develop new co-marketing activities capable of evangelizing headless architecture as a foundation for the creation and scaling of content experiences. Alongside the Partner Fund, Storyblok will provide its Certified Partners with additional benefits, including free development spaces with Storyblok's CMS, custom app building tools, a dedicated success team, and revenue share.
---
For consideration in future news round-ups, send your announcements to wjepma@solutionsreview.com.
---