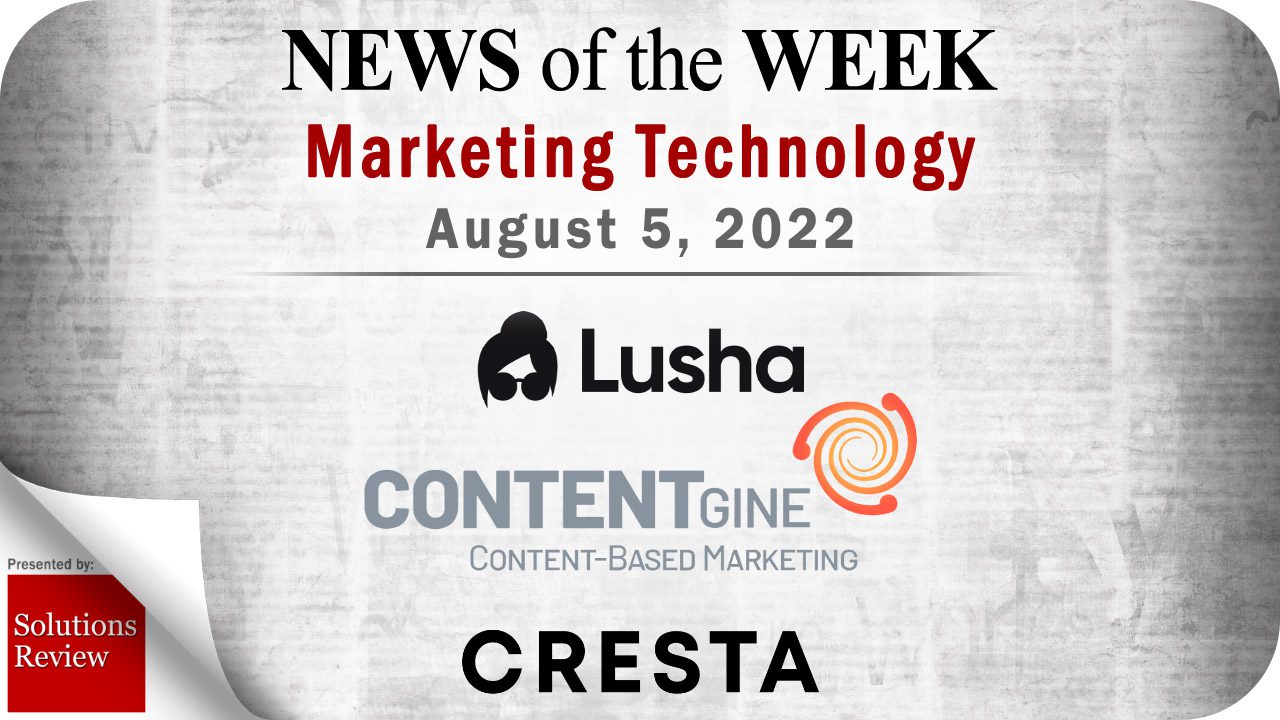 The editors at Solutions Review have compiled a list of the top MarTech News from the week of August 5th, 2022. This round-up features news and updates from CRM and marketing technology brands like Contentgine, Lusha, Cresta, and more.
Keeping tabs on the most relevant CRM and MarTech news can be time-consuming. As a result, our editorial team aims to summarize the week's top headlines in the marketing technology landscape. The Solutions Review editors will compile a weekly round-up of vendor product news, mergers and acquisitions, venture capital funding, talent acquisition, and other noteworthy MarTech news. With that in mind, here is some of the top MarTech news from August 5th.
Our
Free CRM Buyer's Guide
helps you evaluate the best solution for your use case and profiles leading providers in the marketplace.
Top MarTech News From the Week of August 5th
---
Contentgine, a content-based marketing solution provider, has launched several new machine learning and artificial intelligence (AI) capabilities for its Content Indication Platform (CIP). The new capabilities will help B2B marketers capture in-depth insights into their target audience's content consumption, use those first-party metrics to prioritize and grow target account lists, and maintain positive engagements with sales prospects. These features also help marketers identify where a specific account's content engagement activity is strongest, filter data sets by various criteria, and directly plug the insights into their marketing automation or ABM platform.
---
Cresta, a real-time intelligence provider for contact centers, has expanded its Real-Time Intelligence Platform with additional insights, chatbots, and other product features to help promote a "new era of contact center productivity." The new Cresta Insights product will help marketers better understand real-time customer conversations, while Cresta Chatbot introduces tools to help contact centers identify and automate chatbot use cases. These features can extract insights from conversational data, automate call notes for agents, provide personalized coaching plans, develop self-service chatbots to solve customer needs without the help of an agent, and more.
---
DISQO, a customer experience (CX) intelligence platform provider, has launched Outcomes Lift, a new product designed to measure cross-platform advertising campaigns' impact on marketing funnels and "future-proof" their data against potential technology disruptions. The new tool will help advertisers unlock deeper visibility into the customer experience journey, including activities like search, e-commerce activities, and site visitations across digital platforms like mobile, CTV, OLV, social sites, e-commerce sites, and more.
---
Lusha—a B2B sales intelligence platform and data community—has announced Salesforce Data Enrichment (SFDE), which provides users with an automated solution for "enriching" their Salesforce contact and company databases with relevant data. With this new solution, enterprise companies can integrate Lusha's sales intelligence platform directly into their Salesforce database. These tools can eliminate the need for manual data cleansing, ensure contacts are up-to-date for sales operations teams, discover relevant prospects, and enable users to reach every lead and prospect in their CRM database.
---
For consideration in future news round-ups, send your announcements to wjepma@solutionsreview.com.
---