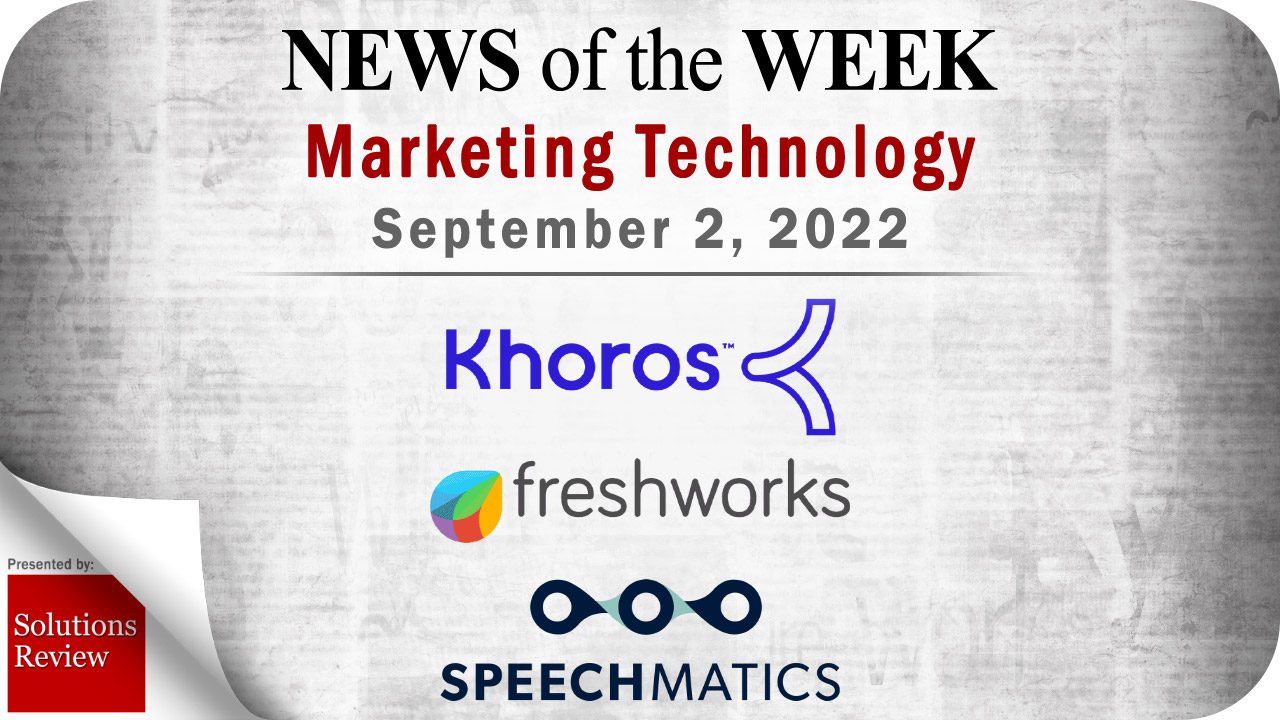 The editors at Solutions Review have compiled a list of the top MarTech News from the week of September 2nd, 2022. This round-up features news and updates from leading CRM and marketing technology brands like Freshworks. Speechmatics, Khoros, and more.
Keeping tabs on the most relevant CRM and MarTech news can be time-consuming. As a result, our editorial team aims to summarize the week's top headlines in the marketing technology landscape. The Solutions Review editors will compile a weekly round-up of vendor product news, mergers and acquisitions, venture capital funding, talent acquisition, and other noteworthy MarTech news. With that in mind, here is some of the top MarTech news from September 2nd.
Our
Free CRM Buyer's Guide
helps you evaluate the best solution for your use case and profiles leading providers in the marketplace.
Top MarTech News From the Week of September 2nd
---
Blueshift, a customer engagement platform provider, has launched a collection of over one hundred pre-built AI Recommendations Recipes for marketers. When paired with Blueshift's Recommendations Studio solution, these recipes can help marketers provide "hyper-personalized" customer engagement that enables them to improve how they recommend products, offers, and content to customers based on their individual behaviors. Additional functionalities include a drag-and-drop interface, in-depth reporting tools, and advanced recommendation analytics.
---
Freshworks recently announced that Dennis Woodside is joining its executive leadership team as President as of September 1st, 2022. In this newly created role, Woodside will help lead Freshworks' global business strategy and operations and report to Freshworks CEO and Founder Girish Mathrubootham. Woodside previously spent three years as President of Impossible Foods, overseeing the company's marketing, sales, manufacturing, operations, and supply chain functions. Before that, he spent four years as the chief operating officer at Dropbox. He will also be joining Freshworks' board of directors.
---
Khoros, a "digital-first" customer engagement software provider, has expanded its work with Amazon Web Services (AWS) by launching in the AWS Marketplace and joining the AWS Independent Software Vendors (ISV) Accelerate Program. The company's participation in AWS' ISV Accelerate Program and Marketplace will help strengthen its relationship with AWS, connect with the AWS Sales organization, and enable it to support a broader collection of customers.
---
Data Demo Day for Q4 2022 is an exclusive virtual trade show featuring an inside look at the technologies of three prominent data management and analytics solution providers. Solutions Review is hosting this online event as a way to present the latest data management and analytics tools from the comfort and safety of your own desk, and the best part? It's free to attend!
---
Speechmatics, an autonomous speech recognition technology provider, has launched new Language Identified (Language ID) capabilities for its speech-to-text engine. The new feature can automatically scan and identify the primary language in a media file and saves users time and energy by ensuring an accurate transcription. Language ID also works with pre-recorded media and can add helpful metadata about the identified spoken language to the file, making it easy for companies to analyze calls. At launch, the update works with up to twelve languages, including English, German, Hindi, French, Italian, Spanish, Dutch, Korean, Mandarin, Portuguese, and Russian.
---
For consideration in future news round-ups, send your announcements to wjepma@solutionsreview.com.
---