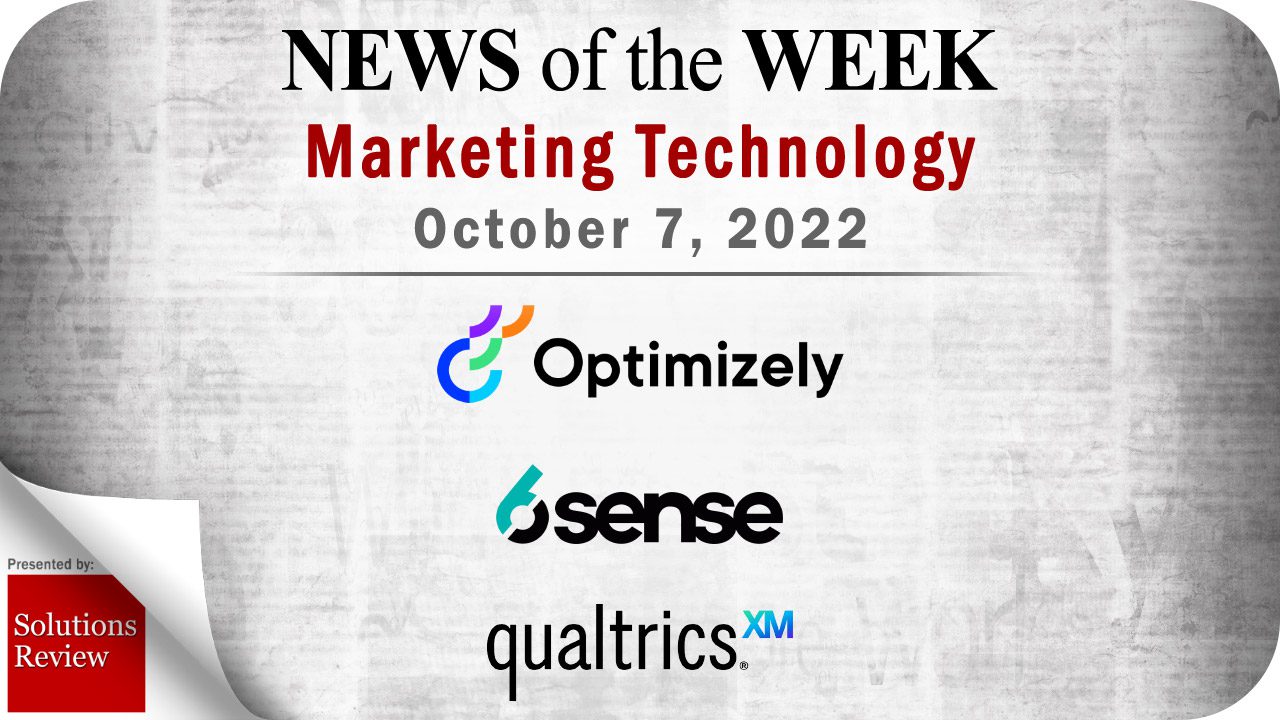 The editors at Solutions Review have compiled a list of the top MarTech News from the week of October 7th, 2022. This round-up features news and updates from leading CRM and marketing technology brands like Optimizely, 6sense, Qualtrics, and more.
Keeping tabs on the most relevant CRM and MarTech news can be time-consuming. As a result, our editorial team aims to summarize the week's top headlines in the marketing technology landscape. The Solutions Review editors will compile a weekly round-up of vendor product news, mergers and acquisitions, venture capital funding, talent acquisition, and other noteworthy MarTech news. With that in mind, here is some of the top MarTech news from October 7th.
Our
Free CRM Buyer's Guide
helps you evaluate the best solution for your use case and profiles leading providers in the marketplace.
Top MarTech News From the Week of October 7th
---
Folloze, a B2B buyer experience platform provider, has announced the Folloze Buyer Experience Platform 3.0 is now generally available. The latest version of the platform will help B2B organizations empower their marketers with the tools they need to develop personalized experiences in a no-code environment. Some of the new features included in the release are enhanced data insights for better targeting, updated experience design tools, and integration with 6sense Revenue AI to provide users with the functionalities necessary to provide a data-powered experience.
---
FullStory, a digital experience intelligence (DXI) provider, has released a new integration with Qualtrics. The integration works by implementing FullStory's session replay capabilities into the Qualtrics XM Platform, enabling cross-functional teams to understand and take action on digital experience issues identified in direct customer feedback and drive business value. FullStory's embedded session replay tools are now available to joint clients and can be used by any Qualtrics user, even if they don't have a FullStory seat.
---
Gainsight—a growth platform for customer success, product, and community teams—has announced several new product updates. The announcements, made at Evolve, the company's quarterly product launch event, can help B2B SaaS companies of all sizes and markets improve how they drive growth via product experiences, customer success, and community-led business strategies. Some of the updates include enhanced multi-product dashboards, new AI-based sentiment analysis tools for analyzing user feedback data, an improved Engagement Editor, and more.
---
As part of its Opticon event, Optimizely, a digital experience platform (DXP) provider, announced a new Real-Time Segmentation tool to help marketers improve how they segment customers and deliver personalized digital experiences. The new capability integrates with all of Optimizely's products. It uses continuously refreshed customer data to empower marketers with the insights they need to develop personalized experiences driven by customer behaviors, attributes, assets, and messaging.
---
Optimizely also announced new details on its Boundless Digital Invention offering, which uses data insights to help brands improve inclusive collaboration, increase customer foresight, boost content creation, drive new revenue streams, and deliver better customer experiences. Boundless Digital Invention aims to bring scientific data into marketing streams, allowing marketers, technical users, and digital leaders to orchestrate, monetize, and experiment with their marketing activities and executions.
---
As part of its Opticon event, Optimizely revealed its new Orchestrate solution, which combines its Content Marketing (CMP), Digital Asset Management (DAM), and Content Management (CMS) products into a single offering. The combined offering uses upstream content creation processes with downstream publishing capabilities to help marketing teams build campaign plans, create content, propose ideas, assign tasks, publish to their CMS, repurpose content, identify customer segments, test different strategies, and manage cross-channel content from a centralized platform.
---
Qualtrics has announced new contact center innovations to help agents improve productivity and provide more empathetic customer support. These innovations include new features like Automated Call Summaries and Real-Time Agent Assist tools, which use Qualtrics' natural language understanding and machine learning technology to automate post-call work, boost agent effectiveness, improve engagement, lower costs, identify customer sentiment, and maintain customer satisfaction. Automated Call Summaries and Real-Time Agent Assist are available in private beta now.
---
6sense recently revealed several new product enhancements at its annual customer conference, 6sense Breakthrough. The new updates are tailored to the needs of B2B revenue teams and include significant data enhancements to 6sense's Sales Intelligence capabilities, contextual advertising functionalities targeted at B2B markets, and the launch of 6sense Conversational Email, which uses AI models and pre-intent data to help companies deliver personalized emails that qualify and convert leads to sales meetings.
---
For consideration in future news round-ups, send your announcements to wjepma@solutionsreview.com.
---