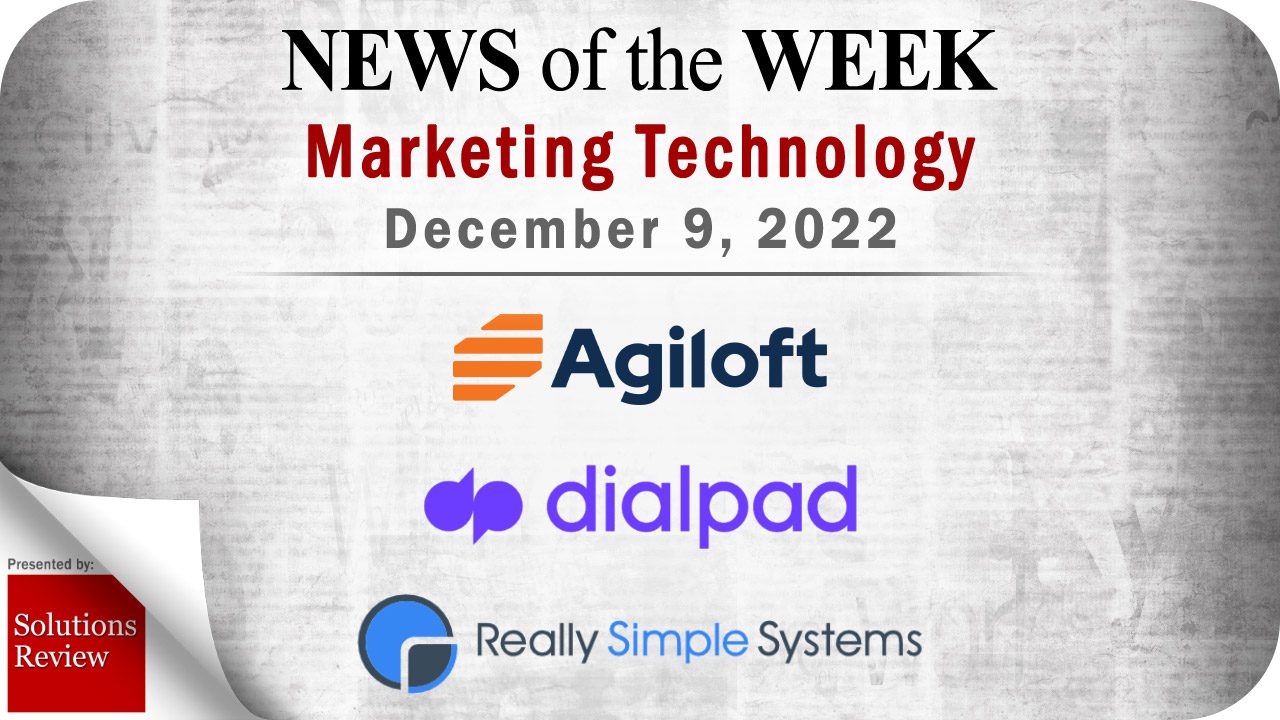 The editors at Solutions Review have curated this list of the most noteworthy MarTech news from the week of December 9th. This round-up covers announcements and updates from companies like Agiloft, Vericast, Drift, and more.
Keeping tabs on the most relevant CRM and MarTech news can be time-consuming. As a result, our editorial team aims to summarize the week's top headlines in the marketing technology landscape. The Solutions Review editors will compile a weekly round-up of vendor product news, mergers and acquisitions, venture capital funding, talent acquisition, and other noteworthy MarTech news. With that in mind, here is some of the top MarTech news from December 9th.
Our
Free CRM Buyer's Guide
helps you evaluate the best solution for your use case and profiles leading providers in the marketplace.
Top MarTech News From the Week of December 9th, 2022
---
Agiloft, a no-code Contract Lifecycle Management (CLM) solution provider, has announced the appointment of Prashant Dubey as its new Chief Strategy Officer. Dubey has over two decades of experience in the legal services market and has held various roles in the industry. In the role, Dubey will be responsible for helping advance the company's "three-year strategic plan," which focuses on continuing to capture momentum in the contract lifecycle management marketplace. Dubey will also serve as Research Chair of Agiloft Insights, the company's in-house data-driven market research program.
---
Databook, a revenue technology provider, has released a new application that embeds its strategic enablement capabilities within the Salesforce Sales Cloud solution. The integration will equip sales representatives with access to personalized insights and recommendations about the companies most likely to make a purchase. Sales reps can utilize these insights via one-click dynamic downloads and automatically generate the content needed to close enterprise deals in a competitive sales environment.
---
Dialpad has announced the launch of its new AI-powered customer intelligence platform, which combines contact center, meetings, sales, voice, and messaging tools with real-time AI capabilities. The platform is designed to harness over 3.34 billion minutes of real-time data to help businesses improve how they automate workflows, analyze conversations, drive value with predictive insights, and unify customer service, employee collaboration, and sales communication efforts. Additional features include natural language processing, built-in speech recognition, semantic search, and more.
---
Drift, a Conversation Cloud solution provider, recently announced that it became a Microsoft independent software vendor (ISV) partner. This will help the company unlock the power of its conversational marketing and sales tools, accelerate platform innovation, and provide worldwide customers with additional value. Now that Drift is an ISV partner with Microsoft, customers can utilize integrations that automatically add unique Teams conference links to sales meetings and sync leads, contacts, and chat transcripts from Drift into Dynamics 365.
---
Really Simple Systems, a cloud-based CRM platform, has launched a new no-code workflow automation feature. The new automation tool uses a simple graphical interface to help users without any coding experience create workflows in the Really Simple Systems CRM that streamline processes, remove the need for manual data input, and improve productivity. The feature is available now to Really Simple Systems customers on either the Professional or Enterprise Plans.
---
Terminus, an account-based marketing platform designed to help companies grow their revenue, has expanded its leadership with two new appointments. The appointments include Natalie Cunningham as the Chief Marketing Officer and Carter Lassy as Chief Product Officer. Cunningham and Lassy will help Terminus transform its go-to-market strategy, enhance its go-to-market positioning, and continue to support its role in the account-based marketing marketplace.
---
Vericast, a marketing solution provider, has announced the launch of a new Market Intelligence Platform, which provides users with a financial data visualization dashboard capable of delivering real-time insights that enable smarter marketing decisions and spending. The company's Market Intelligence Platform will leverage artificial intelligence (AI), proprietary technology, and multiple data sources to equip marketers with in-depth, real-time insights into customer behaviors. The platform is available now to Vericast's financial institution clients.
---
For consideration in future news round-ups, send your announcements to wjepma@solutionsreview.com.
---