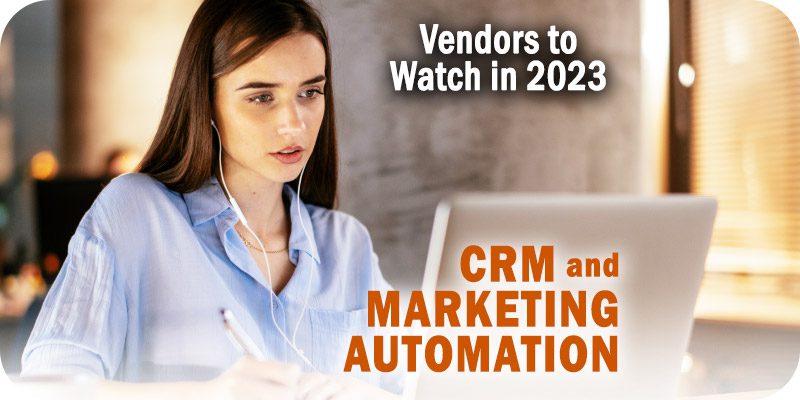 Solutions Review's Vendors to Watch is an annual listing of CRM and marketing automation solution providers that we believe are worth watching in 2023.
The process of searching, evaluating, purchasing, and deploying a Customer Relationship Management (CRM) or Marketing Automation solution is not as simple as it once was. There's no such thing as a one-size-fits-all approach to MarTech software, especially since solutions come in various flavors, and each features a particular set of capabilities, strengths, and drawbacks.
To help you keep your finger on the pulse of the marketplace, we've turned our gaze to the future of MarTech software. Whether it's inclusion in a recent analyst report, the release of an innovative new tool, or a bump in venture funding, these vendors have earned watch list status from Solutions Review for the year ahead. Companies are commonly included if they demonstrate a product roadmap aligning with our meta-analysis of the marketplace. Other criteria include recent and significant funding, talent acquisition, a disruptive or innovative new technology or product, or inclusion in an analyst publication.
The CRM and Marketing Automation Vendors to Watch in 2023
---
Description: BenchmarkONE, formerly known as Hatchbuck, is an all-in-one marketing automation and CRM software designed to help small business owners and marketing agencies streamline campaigns and execute strategies. Alongside its CRM and marketing automation offerings, BenchmarkONE also offers email marketing, pop-ups, landing pages, APIs, and integrations. Other companies BenchmarkONE's marketing solution can help include nonprofits, financial services, consultants, health, K-12 schools, higher education institutions, and more.
---
Description: Drip is a rising star in the retail marketing space. Its email and SMS marketing solution is tailored to the needs of growing e-commerce brands and can help those businesses improve how they gather and organize customer data and use it to develop personalized omnichannel customer journeys at scale. Its capability suite includes email marketing, custom forms, personalized pop-ups, marketing automation, dynamic segmentation, analytics dashboards, pre-built marketing templates, and more. These tools can also be used with zero coding skills, so anyone on a marketing team can create automated campaigns across SMS, social media, and email.
---

Description: Forsta is a global provider and developer of customer experience and research technology. The company works alongside its clients to design a solution that speaks to their unique customer experience, lead generation, customer journey, employee experience, brand insights, and product experience needs. Specific tools and capabilities available on Forsta's platform include survey design, social listening, behavioral data, centralized data hubs, mobile reporting, interactive dashboards, workflows, and integrations with leading CRM, analytics, digital marketing, and web data connector platforms.
---
Description: HCL Unica is a cloud-native, fully integrated enterprise marketing automation platform designed to provide businesses with precision marketing at scale. Capabilities include contact optimization, real-time personalization, marketing resource management, precise customer targeting, goal-based marketing, and more. Additionally, HCL Unica was listed as a Niche Player in the 2022 Gartner Magic Quadrant for Multichannel Marketing Hubs and was included in Constellation Research's 2022 Constellation ShortList for B2C Marketing Automation for the Enterprise.
---
Description: Jabmo is an "industrial-strength" account-based marketing (ABM) solution for global enterprises across the manufacturing, life sciences, and business services markets. The company's GDPR-compliant platform combines omnichannel advertising, sales enablement, and managed services to help global organizations manage complex sales cycles. In 2022, Jabmo released an updated version of its Account Data Platform and was listed as a Niche Player in the 2022 Gartner Magic Quadrant for Account-Based Marketing Platforms and as a Contender in The Forrester New Wave for Account-Based Marketing Platforms, Q1 2022.
---
Description: Klaviyo provides growth-focused e-commerce brands with a marketing automation platform designed to help drive sales with targeted and relevant email, Facebook, and Instagram marketing campaigns. The platform includes segmentation, web tracking, autoresponders, automated email flows, reporting, AB testing, email content creation, and more. Klaviyo also tracks important data from whichever e-commerce platform a company uses, thanks to its integrations with leading platforms like Shopify, BigCommerce, and Magento. In 2022, the company expanded its platform with a new SMS marketing tool, additional tools for developing customer experiences, acquired Napkin.io, and more.
---
Description: SendinBlue is a marketing platform with email marketing, SMS marketing, CRM, and marketing automation for small businesses looking to grow. With its marketing automation capabilities, growing companies can personalize every step of the customer journey, develop omnichannel outreach strategies, and convert visitors to their website into customers. Those capabilities include transactional email tools, audience segmentation, CRM integration, SMS marketing, web chats, landing pages, signup forms, Facebook ads, email marketing, and more. In 2022, Sendinblue acquired Yodel.io and expanded its leadership with a new Chief Technology Officer, Chief People Officer, and Chief Operating Officer.
---
Description: Thryv is a fully integrated and end-to-end customer experience platform for small businesses looking to reach more customers, generate engagement, and boost revenue. The platform's marketing automation capabilities are geared toward small businesses. It can help them schedule trigger-based campaigns, send automated messages with a library of pre-built templates, track engagement with analytics, and more. Thryv's pricing uses various configurations based on the number of users, add-ons, and other features. In 2022, the company expanded its leadership with a new Chief Marketing Officer and announced that its revenue exceeded expectations.
---

Description: Virtuous is a CRM and fundraising platform designed to help nonprofit businesses improve retention and increase impact at scale with responsive, customized donor experiences. The platform can unify all fundraising, donor development, and marketing activities in one place to help users reduce redundant back-office tasks and develop dynamic marketing campaigns. Capabilities include multi-channel marketing, reporting, website tracking, email marketing, SMS marketing, segmentation, and automation. In 2022, the company was named a leader in the "Nonprofit CRM" category in G2 Crowd's Fall 2022 Report and expanded its offerings by acquiring VOMO, a Volunteer Management Platform.
---