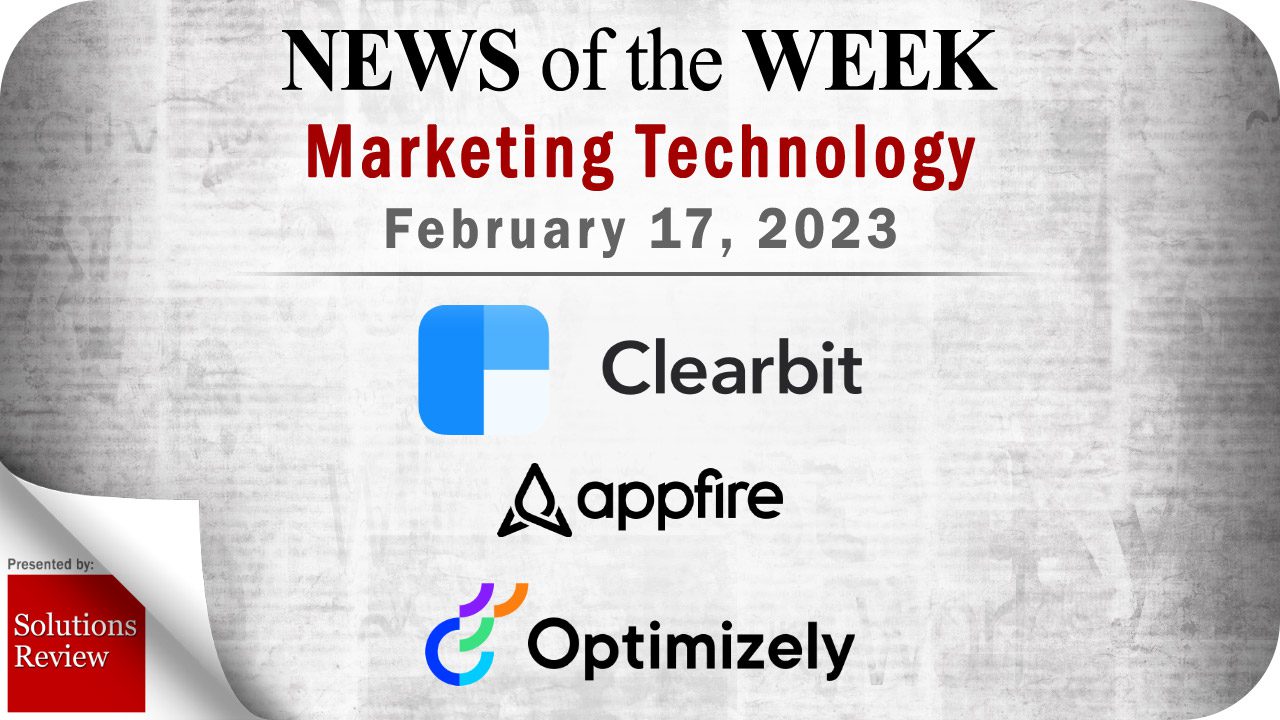 The editors at Solutions Review have curated this list of the most noteworthy MarTech news from the week of February 17th. This round-up covers announcements and updates from companies like Clearbit, Appfire, Optimizely, and more.
Keeping tabs on the most relevant CRM and MarTech news can be time-consuming. As a result, our editorial team aims to summarize the week's top headlines in the marketing technology landscape. The Solutions Review editors will compile a weekly round-up of vendor product news, mergers and acquisitions, venture capital funding, talent acquisition, and other noteworthy MarTech news. With that in mind, here is some of the top MarTech news from February 17th.
Our
Free CRM Buyer's Guide
 helps you evaluate the best solution for your use case and profiles leading providers in the marketplace.
Top MarTech News From the Week of February 17th, 2023
---
Alchemer, a global provider of experience management technology, has launched Alchemer Workflows, a new tool designed to help users close the feedback loop with customers and employees. The new tool provides users with no-code process and logic arguments that connect feedback to the system of communication, a drag-and-drop interface, logic branching functionality, connected surveys, and other features to help visualize and build closing feedback loops. Alchemer Workflow is available now.
---
Appfire, a collaboration app provider, has announced a new partnership with monday.com, a work operating system (Work OS) that helps organizations manage business processes. The new partnership will allow monday.com users to find applications that fit the unique needs of their business projects, workflows, and procedures. Additionally, Appfire plans to release multiple apps—starting with Planning Poker and Dashboard Hub—capable of optimizing monday.com user workflows and helping distributed teams plan, collaborate, visualize, deliver, and track their work.
---
Clearbit, a B2B market intelligence provider, has announced an expansion for its Powered By Clearbit program. The updates will help product teams quickly provision new customer API keys, leverage Clearbit's on-demand intelligence to provide end customers with free data credits, personalize products with real-time data, and create unique customer experiences. The addition of automated customer key management and on-demand intelligence can lessen the risk of unpredictable data usage as teams build scalable data-driven solutions.
---
Espressive, an automated digital workplace solutions provider, has unveiled new advancements for its no-code Integration Designer. The new Integration Designer tool is designed to integrate and communicate with multiple backend systems concurrently and in real-time, automating the resolution of complex business issues. Businesses can also use Integration Designer to determine the health of SaaS applications, verify the availability of on-premises applications, identify software issues, streamline the support process, and improve employee productivity.
---
Kore.ai, an enterprise conversational AI platform, has announced the integration of its AI XO platform with the Intelligent Virtual Assistant automation for Zendesk Sunshine Conversations. The integration will allow Zendesk customers to access virtual assistants through Kore.ai's XO platform, enabling them to automate front-line requests, reduce average handling times, handle multi-turn conversations, transfer to human agents when necessary, and streamline customer service processes. Kore.ai's XO Platform and SmartAssist integration for Zendesk Sunshine Conversations are available now.
---
Optimizely, a digital experience platform (DXP) provider, has revealed that it's been selected by Google to collaborate on an integration tool between Optimizely Web Experimentation and Google Analytics 4 (GA4). The collaboration between Optimizely and Google will help digital marketing practitioners leverage actionable insights to deliver personalized brand interactions, create memorable customer experiences, and empower them to execute experimentation programs at scale.
---
Expert Insights Section
---
Watch this space each week as the Solutions Review editors will use it to share new articles from the Expert Insights Series, Contributed Shorts videos, Expert Roundtable videos, event replays, and other curated content to help you gain a forward-thinking analysis and remain on-trend with changing industry expectations. All to meet the demand for what its editors do best: bring industry experts together to publish the web's leading insights for enterprise technology practitioners.
---
Coursera's marketing analytics courses and online training programs are some of the best ways to gain real-world experience and expand your skills for a career in the field. It's in this spirit that Solutions Review editors compiled this short list of top Coursera marketing analytics training and specializations for 2023. These are not Solutions Review's picks but Coursera's top picks. As a Coursera partner, we thought we'd bring them to you straight from the horse's mouth. Check them out!
---
For consideration in future news round-ups, send your announcements to wjepma@solutionsreview.com.
---