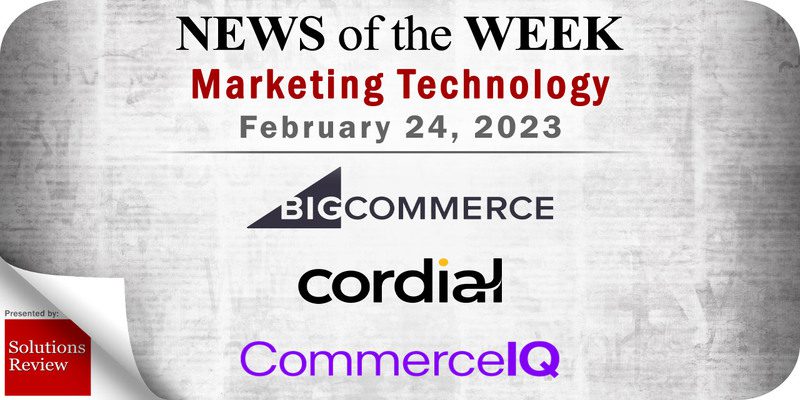 The editors at Solutions Review have curated this list of the most noteworthy MarTech news from the week of February 24th. This round-up covers announcements and updates from companies like BigCommerce, Cordial, and CommerceIQ.
Keeping tabs on the most relevant CRM and MarTech news can be time-consuming. As a result, our editorial team aims to summarize the week's top headlines in the marketing technology landscape. The Solutions Review editors will compile a weekly round-up of vendor product news, mergers and acquisitions, venture capital funding, talent acquisition, and other noteworthy MarTech news. With that in mind, here is some of the top MarTech news from February 24th.
Our
Free CRM Buyer's Guide
 helps you evaluate the best solution for your use case and profiles leading providers in the marketplace.
Top MarTech News From the Week of February 24th, 2023
---
BigCommerce, an open SaaS e-commerce platform for B2C and B2B brands, has announced a new strategic partnership with WPP, a creative transformation company. The partnership will offer omnichannel solutions to help WPP's clients drive growth and boost sales across advertising channels and marketplaces. It will also provide WPP with APIs, data sets, and priority access to new product tools on BigCommerce and Feedonomic, a data feed management platform.
---
CommerceIQ, a retail e-commerce management (REM) platform, has launched E-commerce Sales Management (ESM) Pro, a new solution to help brands plan, monitor, and execute strategies on Amazon. The solution is built on CommerceIQ's retail e-commerce automation platform and is built to integrate with CommerceIQ's Market Share and forecasting features. Businesses can use E-commerce Sales Management (ESM) Pro to consolidate tech stacks into a single source of truth to improve cost and team efficiencies.
---
Cordial, a cross-channel marketing and data management platform, has announced the appointment of Matt Howland as Chief Product and Engineering Officer and Daniel Incandela as Chief Marketing Officer. Howland has nearly six years of experience as a strategic advisor and will help Cordial continue to help brands leverage real-time data to improve message personalization, deliver sustainable revenue impact, and enhance campaign outcomes. Incandela has over twenty years of experience leading creative and digital marketing teams and will help Cordial transform its marketing engine.
---
Dealtale, a Vianai Company, has announced the development of Marketing Co-Pilot, a "ChatGPT-like feature" to help marketers ask questions about past, present, and future performance metrics. The new feature will provide answers based on data across a company's marketing and sales stack, including from platforms like HubSpot, Salesforce, Google Analytics, and various social channels. Marketing Co-Pilot will launch in Spring 2023 and be integrated directly into Dealtale's Revenue Science platform.
---
Lusha, a B2B go-to-market intelligence platform, has launched "Warm Outbound" capabilities to help its customers identify and reach market-ready prospects. The new capability suite gives users the data-driven signals they need to identify the services and products their customers are interested in, helping marketing and sales teams improve their outbound approaches and meet prospects when they are primed for a purchase.
---
Sendinblue, an "all-in-one" digital marketing platform for SMBs, has announced the integration of WhatsApp's Business Platform, which will help small and medium-sized businesses utilize one-to-one or mass marketing messages. The integration will allow Sendinblue customers to connect with their customers in real-time on a platform they're comfortable with. Steffen Schebesta, CEO of North America and VP of Corporate Development at Sendinblue, says, "We are thrilled to be able to offer our customers access to a messaging platform that will not only scale SMBs but also help them reach their customers where they're at—and that's on their mobile devices."
---
For consideration in future news round-ups, send your announcements to wjepma@solutionsreview.com.
---