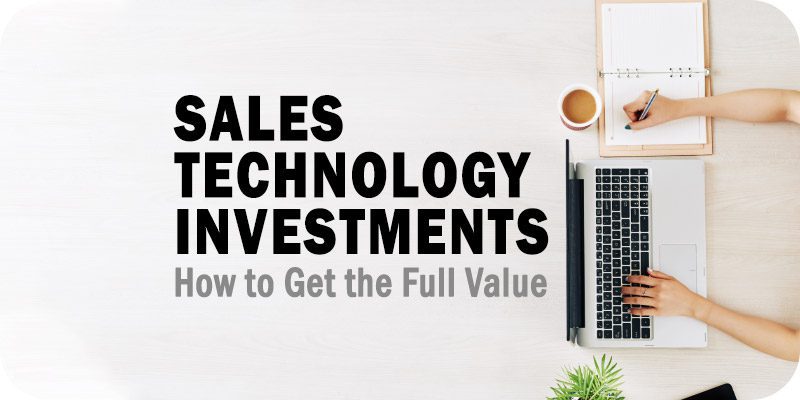 As part of Solutions Review's Expert Insights Series—a collection of contributed articles written by industry experts in enterprise software categories—Pascal Yammine, the CEO of Zilliant, outlines how companies can ensure they're getting the total value out of their sales technology investments.
Companies today are drowning in data. Having invested heavily in sales technology and processes for revenue growth, companies have amassed vast amounts of data about their customers but still struggle to use that data effectively to sell more. The growing complexity of modern commerce certainly contributes to that struggle. An atmosphere of new digital competitors, supply chain disruption, and product proliferation makes it difficult to connect revenue growth strategies to day-to-day execution in the field.
Faced with overwhelming options, businesses too often adopt a scattershot approach using discrete business intelligence tools, sales technology solutions, and spreadsheet analysis. As a result, they continue to miss opportunities to increase wallet share, see high customer churn rates and deliver an inconsistent customer experience. Forrester Research encapsulated the dilemma nicely, saying, "B2B organizations need insights that identify risks, patterns, trends, and correlations as well as the impact of these on business outcomes. Reps need guidance on what deals to prioritize and the next best actions to take."
The go-to method of running business intelligence reports, emailing spreadsheets to sales reps, and expecting action fails to yield results. Leading sales executives increasingly turn to advanced applications such as Revenue Operations & Intelligence that translate data into actionable insights. Here are three time-tested strategies for unlocking the value of your sales technology investments and creating a faster path to revenue growth. 
Infuse CRM with Revenue-Driving Actions
Some studies estimate that sales reps can spend nearly two-thirds of their time on non-revenue-generating activities such as administrative work, manual analysis, and prospecting. A company's CRM system, typically the heart of sales initiatives, often becomes another organizational tool that salespeople are expected to update rather than a sound system to focus their efforts on taking specific revenue-driving actions. 
Sales leaders know this "CRM trap," so they often rely on manual reporting to identify opportunities. Consider this statement from the sales operations director of a broadline foodservice distributor at a recent conference: "I don't want my salespeople running reports. I'd like them in front of customers, building relationships, building rapport, and selling groceries." 
Precisely. The ROI of CRM can be significantly increased by infusing the tool with revenue-driving actions. This modern approach leverages data science to mine transactional data for opportunities to grow revenue at the account level. The process begins with the data housed in an ERP—customer master, product master, and shipment history hold a wealth of insight into customer purchase patterns.
Next, the revenue optimization engine can determine a company's ideal customer based on spending patterns and the type of products purchased to create profiles that can be applied to the rest of the customer base. Each account can be matched to the closest profile to generate insights on what else a customer should buy or which products most apply to prospect accounts. It can also reveal where dips in purchase volume, which can't be accounted for by regular spending patterns or seasonality, indicate that a customer is purchasing products from competitors.
The outcome is intuitive, highly actionable insights delivered directly to sales reps versus asking them to wear the analyst's hat or spend excessive time recording their activities. This isn't possible to accomplish at scale when done manually, even with an army of analysts. Only a science-driven approach can pinpoint which products each customer should buy and enable sales reps to use those insights in a trackable manner.
Focus on the Right Things
It's not uncommon for a field sales rep to have 50 or more accounts in their territory with tens of thousands of products to sell to those customers. On top of that, salespeople are often tasked with supporting multiple corporate initiatives simultaneously. Without a clear guide on what to prioritize, it's easy to focus on the wrong opportunities. Relationships have long been a hallmark of B2B sales. Rather than sales reps calling on customers with the regular "donut drop" and "what can I get for you this week?" imagine a much more tailored approach. 
With an account-specific action plan, sales reps can be armed with the knowledge of precisely which products can drive the highest value. Then, the conversation can be transformed into "I noticed you purchased brake pads and rotors; we also provide high-quality brake shoes and master and wheel cylinders—would that be helpful to source through us as well?" Or "I noticed a dip in your AC hoses and fittings purchases, but it's still quite warm, were there any issues with our product quality or price that I can help with?" 
Another example is supply chain disruption, which leads to product availability issues or stockouts. With a manual approach, the sales team receives an email from sales operations with a spreadsheet listing which customers have purchased an SKU that will not be available. The problem? The report contains every customer in the company that has ever purchased the product. It doesn't narrow the focus for sales or tell them which customers most urgently need outreach, that the SKU is unavailable, and that your company offers a suitable alternative. 
The actions that can be generated with a Revenue Operations & Intelligence solution are only limited to your imagination—other interesting use cases include applying profiles to prospect accounts to sell to them more effectively, monitoring contract volume and compliance, recommending substitute products, or selling excess inventory. 
A more advanced approach can empower sales operations to refine the list of customers by recent purchase volume, scope that lists further to the customers that have the most significant revenue impact, place these actions higher in the priority list for sales reps, and immediately push the activities into the CRM system that sales reps use today. No more analysis and planning for the sales team; they log into CRM, see which actions will drive the highest value, and can immediately connect with customers to do what they do best: sell.
These use cases represent a significant opportunity for company leaders. Rather than keeping sales teams mired in recording their activities, increase the value of sales technology investments by surfacing customer-specific actions that tie directly to your revenue growth strategies and can be easily scaled across your business. 
Get Personal
Personalized product recommendations have long been a staple of B2C e-commerce, and B2B companies have made great strides in that area over the past few years. But a proper understanding of personalization can increase wallet share, reduce churn and deliver a more consistent customer experience across sales channels. Revenue-driving actions should be shown consistently, whether they recover lost sales, expand wallet share with new and existing customers, monitor contract volume and compliance, recommend substitute products, or push excess inventory or stockout alternatives. 
A company's systems should be integrated so that the same actions fed directly to the CRM are presented to customers on self-service digital channels and supported in marketing programs. The activities can also be integrated into any other commercial execution system, such as CPQ and ERP. Pulling from a single connected source creates a cohesive and united sales front across all channels.
It's not enough for sales teams to have voluminous customer data. It takes insights and predictive actions to make a difference in today's market. In the end, the most informed and guided sales team will win.
---