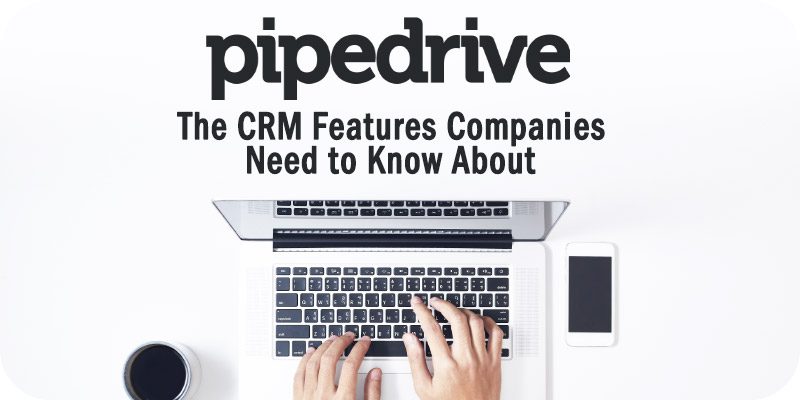 The editors at Solutions Review compiled an overview of the Pipedrive sales CRM features companies should know how to use. Solutions Review participates in affiliate programs. We may make a small commission from products purchased through this resource.
With the right sales CRM software, businesses can improve their sales processes by managing and optimizing every touchpoint with prospects and customers. However, selecting the right sales CRM software solution is easier said than done, especially for small and medium-sized businesses, where budget and functionalities are significant factors.
To help with that process, the Solutions Review editors have compiled a rundown of the sales and CRM features available on Pipedrive, a top-rated customer relationship management (CRM) solution that sales professionals and small-to-mid-sized businesses can use to track customer communications, manage leads, measure sales performance, automate tasks, and improve sales processes.
The Pipedrive Sales CRM Features Companies Need to Know About
---
Sales and Workflow Automation
Far too often, salespeople spend hours of their valuable time on repetitive, mundane tasks. Thankfully, Pipedrive's sales CRM can help alleviate that by automating tasks with AI-powered technology. For example, the platform's automation functionalities can notify users of account changes, reduce the chance of errors by automating data entry, provide personalized tips to sellers, eliminate monotonous administrative tasks, pre-quality leads with public data, and even nurture leads with personalized emails that are sent automatically whenever a deal is closed or enters a stage of the sales pipelines.
Pipeline Management
Pipelines are one of the fundamental tools sales professionals use to manage, nurture, and close deals, so the sales CRM they use must have a suite of pipeline management features. With Pipedrive, users can customize the stages to suit unique sales cycles, create pipelines specific for different teams, and filter results by team member or stage to increase visibility into the sale process. Pipedrive also provides custom sales dashboards that help users see all the priorities and statistics needed to keep leads moving down the pipeline.
Sales Reporting
Every CRM software should collect and contain company information and customer data, but using that data isn't always straightforward. To help, Pipedrive offers customizable sales reports, dashboards, goals, and forecasting tools to enable sales reps to recognize patterns, optimize campaigns, and make informed decisions. Some of the specific sales reporting tools Pipedrive is equipped with include revenue forecasting, lead reporting, custom fields, dashboard sharing, performance tracking, and more.
Communication Tracking
Like most CRMs, Pipedrive has email and communication tools to help sales reps connect with target audiences, nurture communication with prospects, and continually move leads throughout the sales funnel. Its email and communication tracking tools can also help qualify leads, schedule emails, sign documents electronically, set up meetings, manage contacts, call contacts directly from the CRM, and create timelines that track a sales rep's interactions with a lead.
Lead Management
Lead management is essential for sales teams because it helps them prioritize and focus on the most promising leads. By tracking and nurturing leads through the sales funnel, sales teams can increase conversion rates and maximize revenue potential. That's why Pipedrive's lead, deal, and pipeline management capabilities include everything from chatbots to custom web forms, lead scoring, segmentation, and workflows that nurture prospects further down the pipeline.
Customization
Companies shouldn't have to change how they operate to fit the confines of a CRM system. That's why many CRM platforms, like Pipedrive, can be customized to accommodate the unique processes and needs of companies of various sizes and industries. Pipedrive customers can personalize their sales pipelines, add custom fields, use multiple currencies for different regions, or use the Pipedrive Marketplace and open API to integrate and connect with other software.
Relationship Management
For a CRM to live up to its title, it has to provide companies with tools for managing and improving customer relationships. The Pipedrive sales CRM is industry-agnostic—so companies from all markets can easily implement it into their business—and provides clients with visual pipelines, intuitive processes, hundreds of out-of-the-box integrations, mobile access, workflow automation, and other features to help sales teams spend more time on what matters the most, like personalized customer support, deal closing, and more.
---
---