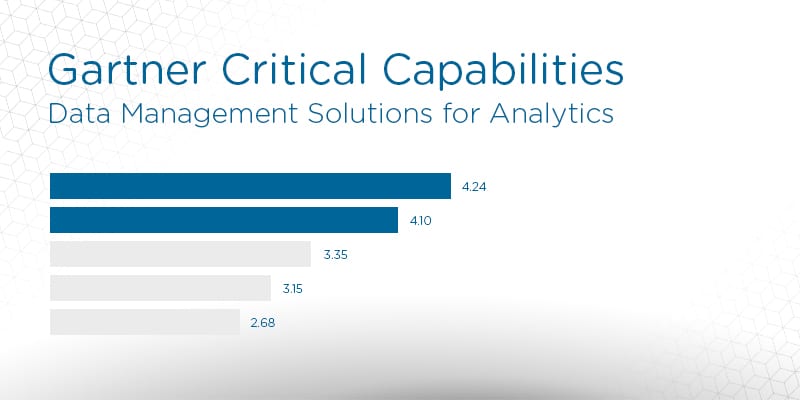 Analyst house Gartner, Inc. recently released its 2019 Critical Capabilities for Data Management Solutions for Analytics, a companion resource to the popular Magic Quadrant report. Used in conjunction with the Magic Quadrant, Critical Capabilities is an additional resource which can assist buyers of data and analytics solutions in finding the products that fit best in their organizations.
Gartner defines Critical capabilities as "attributes that differentiate products/services in a class in terms of their quality and performance." Gartner rates each vendor's product or service on a five-point (five points being best) scale in terms of how well it delivers each capability. Critical Capabilities reports include comparison graphs for each use case, along with in-depth descriptions of each solution based on the various points of comparison.
The study highlights 19 vendors Gartner considers most significant in this software sector and evaluates them against 12 critical capabilities and four use cases prevalent in the space, including:
Traditional data warehouse
Real-time data warehouse
Logical data warehouse
Context-independent data warehouse
The editors at Solutions Review have read the report, available here, and pulled out three key takeaways.
Data management for analytics isn't just data management for analytics
One of Gartner's key findings during its survey is that data management companies are increasingly adding technologies and features that aren't native to the space. The vendors in this market are commonly including capabilities like data integration, governance, and metadata management to their platforms. Gartner recommends that data and analytics leaders explore all available options against their current solutions before selecting a new tool in a specific area.
Gartner says take a cold, hard look at your use cases
Gartner recommends evaluating incumbent solutions against new and emerging use cases to determine whether existing products can do the job. This obviously helps users and organizations to reduce development times at the base layer. The researcher also suggests trying to reduce deduplication of effort by categorizing use cases with regard to target deployment platforms. In short, don't waste your money on a product that can't help you with use cases you need to solve for right now.
Teradata earned the top scores
Teradata recorded to the top scores for each of the four main use cases outlined in the report, making it the clear-cut leader in the space. The gap between Teradata and second-place Oracle in the traditional data warehouse segment was the largest between any two vendors in this report. The company earned the best reference customers scores for workload management, and fell in the upper half for 10 of the 12 total critical capabilities.

Latest posts by Timothy King
(see all)