Alation 2021.2 Features New Table View and Metadata Search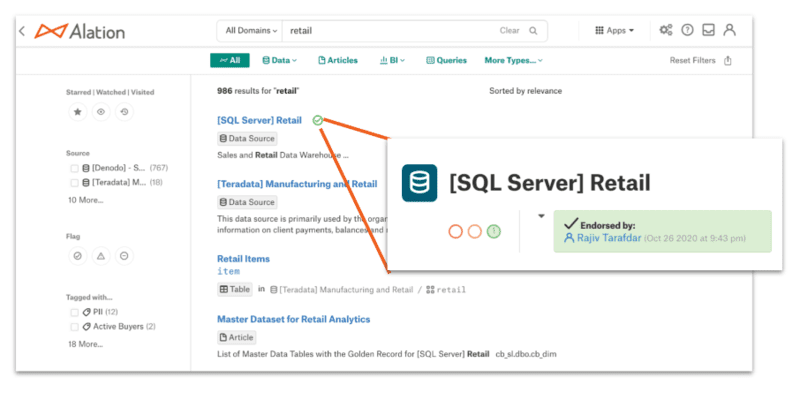 Alation recently announced the release of Alation 2021.2, the latest version of its flagship data intelligence platform. The update features upgrades to search with a ranking that weighs valuable social signals, as well as a new view that shares metadata alongside results. This functionality enables users to hunt through data domains with filters that help them spotlight the best asset more quickly. Alation 2021.2 builds upon capabilities released in February.
Alation offers a platform for a broad range of data intelligence solutions including data search and discovery, data governance, data stewardship, analytics, and digital transformation. The product features a Behavioral Analysis Engine, inbuilt collaboration capabilities, and open interfaces. Alation also profiles data and monitors usage to ensure that users have accurate insight into data accuracy. The platform provides insight into how users are creating and sharing information from raw data as well.
Alation 2021.2 leverages tribal knowledge to influences all search rankings. As a result, user-created endorsements will boost ranking scores while depreciations will penalize rankings scores. Administrators also gain the option to customize the score associated with trust flags (endorsements and depreciations) to "endorse the endorsements' to further influence rankings as a means of promoting the best assets to the right people.
The update also brings a new Search Table that lets users customize the search for metadata, including standard and custom fields to display on their personal result page. The platforms filter section is now collapsible as well so users can see more results in one view. Search Table View appears in the search results page which offers a condensed view.
Read How 2021.2 Is Remaking the Future of Enterprise Search to learn more.