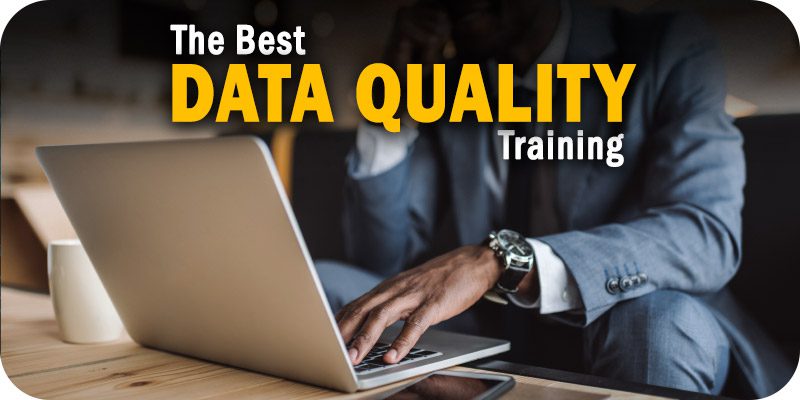 The editors at Solutions Review have compiled this list of the best data quality training and online courses to consider taking.

Data quality pertains to the overall utility of data inside an organization and is an essential characteristic that determines whether data can be used in the decision-making process. As regulations grow stricter and compliance frameworks become more common, organizations will grow increasingly interested in dedicated data quality software, ensuring that they are keeping their data in a way that safeguards it from internal and external threats.
With this in mind, we've compiled this list of the best data quality training and online courses to consider if you're looking to grow your data management skills for work or play. This is not an exhaustive list, but one that features the best data quality training and online courses from trusted online platforms. We made sure to mention and link to related courses on each platform that may be worth exploring as well.

For an in-depth breakdown of supporting data quality processes with data lineage, our editors recommend this short guide courtesy of MANTA.
The Best Data Quality Training
OUR TAKE: This course helps you learn how to segment and analyze data per segment using windowing functions and use case statements to execute conditional logic to address a data science inquiry.
Platform: Coursera
Description: This course allows you to apply the SQL skills taught in "SQL for Data Science" to four increasingly complex and authentic data science inquiry case studies. Students will learn how to convert timestamps of all types to common formats and perform date/time calculations. You'll also select and perform the optimal JOIN for a data science inquiry and clean data within an analysis dataset by deduping, running quality checks, backfilling, and handling nulls.
GO TO TRAINING
More "Top-Rated" Udemy paths: Process Data from Dirty to Clean
OUR TAKE: This course helps you learn the components of data governance, its strategic value, the roles and responsibilities of stakeholders, and the overall steps that an organization needs to take to manage, monitor, and measure the program.
Platform: LinkedIn Learning
Description: In the era of big data and data science, most businesses and institutions realize the power of data. Yet far too many fail to appreciate the legal and fiscal responsibilities and liabilities associated with it. The stakes are high, but a well-rounded data governance process can help ensure the consistent quality, availability, integrity, and usability of your data.
GO TO TRAINING
OUR TAKE: This training shares ideas on how organizations should think about managing, monitoring, and measuring their data governance efforts. It is instructed by award-winning technology leader Jonathan Reichental.
Platform: LinkedIn Learning
Description: In this course, Dr. Jonathan Reichental introduces the topic of data governance in terms that everyone can understand, and helps you discover why your organization may benefit from data governance, how it's implemented, and why it is essential in compliance and risk reduction efforts. Jonathan also covers the role of data governance in emerging technology areas such as knowledge graphs, artificial intelligence, and the Internet of Things.
GO TO TRAINING
OUR TAKE: In this intermediate-level course, Nishant Bhajaria guides students through the details of data privacy, privacy protection, and data security. This training can be completed in just under an hour and a half, and users can continue on with other courses from Bhajaria in this series.
Platform: LinkedIn Learning
Description: In this course, instructor Nishant Bhajaria steps through how to create an architecture to manage data collection and measure risk, as well as afford privacy protections relative to that risk. He also takes a deep dive into the data inventory process, explaining how to best approach it and discern whether it is succeeding. Finally, Nishant provides context on executive communication on privacy governance.
OUR TAKE: This Skillshare training provides an introduction to ETL testing, different data categories and data quality, how to build database views, and more.
Platform: Skillshare
Description: Learn the essentials of ETL data warehouse testing and data quality management through this step-by-step tutorial. This course takes you through the basics of ETL testing, frequently used data quality queries, reporting and monitoring. In this tutorial we will learn how to build database views for data quality monitoring and build data quality visualizations and reports. The course contains training materials, where you can practice, apply your knowledge and build an app from scratch. The training materials are provided in an Excel file that you can download to your computer.
GO TO TRAINING
Solutions Review participates in affiliate programs. We may make a small commission from products purchased through this resource.

Latest posts by Timothy King
(see all)