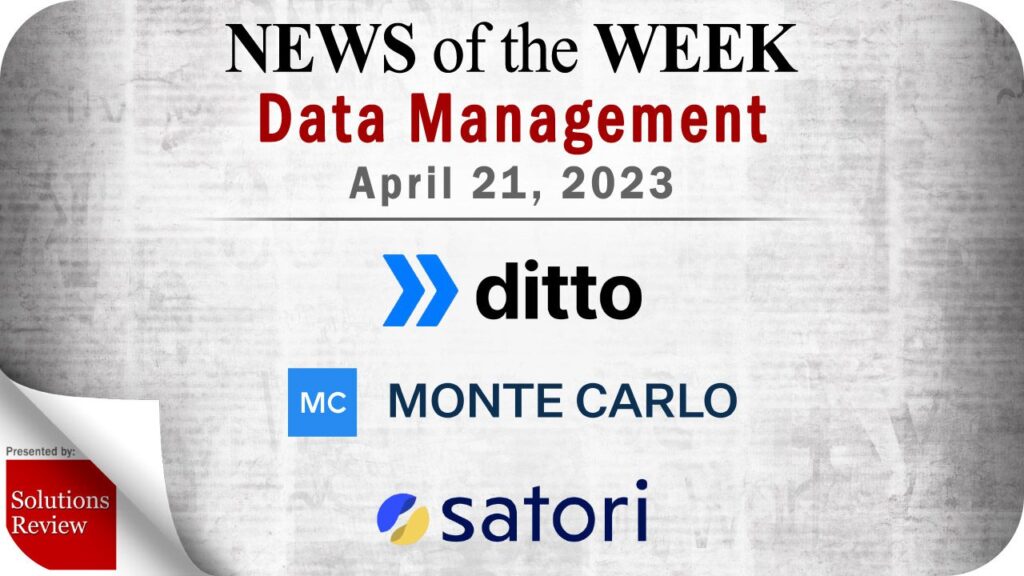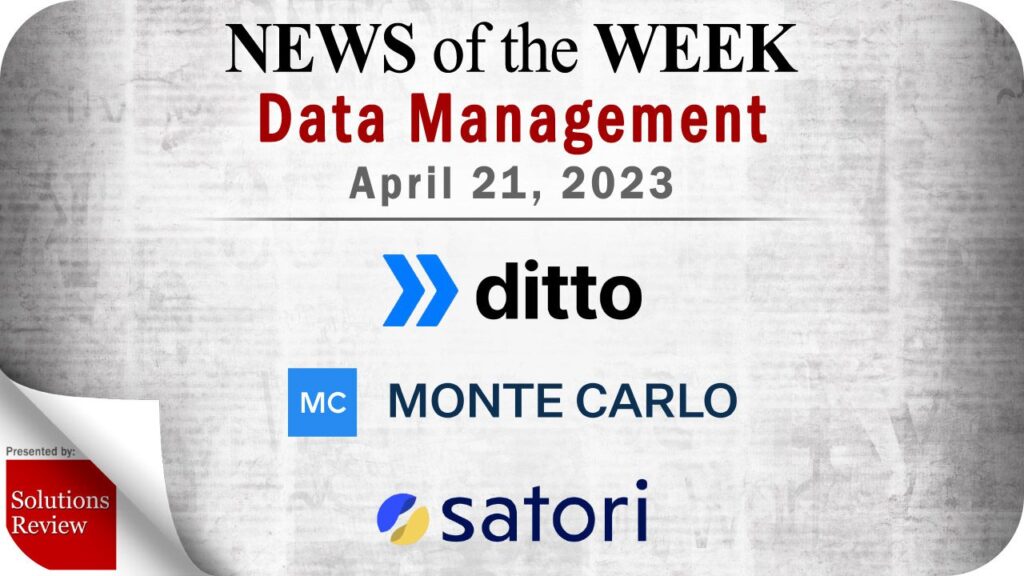 Solutions Review editors curated this list of the most noteworthy data management news items for the week of April 21, 2023.
Keeping tabs on all the most relevant big data and data management news can be a time-consuming task. As a result, our editorial team aims to provide a summary of the top headlines from the last week, in this space. Solutions Review editors will curate vendor product news, mergers and acquisitions, venture capital funding, talent acquisition, and other noteworthy big data and data management news items.
Top Data Management News for the Week Ending April 21, 2023
Fluree Raises $10 Million Series A Funding for Web3 Data Management
Fluree's graph database technology allows developers to store and manage data in a decentralized and trusted format for interoperable data exchange across distributed parties. Fluree's customer base includes commercial partners including the Department of Defense, innovative Web3 startups including Pravica, Fabric, Logosphere, and is the technology of choice for emerging verifiable credentials/decentralized ID solutions.
[hr style="single"]
Ditto Raises $45 Million Series A Funding for Distributed Database Platform
The Ditto Intelligent Edge Platform is unified real-time data sync for mobile, web, IoT, and server apps even without the internet. The Small Peer comes in the form of an SDK and was designed for resource constrained systems like mobile, web, IoT and desktop environments. Ditto Big Peer is the cloud-ready version of the platform and can handle extreme write transactions, massive volumes of data, and can always allow your application to read a causally consistent view of data.
[hr style="single"]
Qlik Adds New Capacity Pricing Model for Cloud Data Integration Product (QlikWorld)
According to a blog by Josh Good: "By selling based on the value of the data with simple tiers of capabilities, customers get to experience the full power of a solution, so everyone in the organization benefits." With data sources and targets increasing daily, customers want to connect more of the right data to downstream systems and analytics use cases.
[hr style="single"]
Rockset Announces Natrive Support for Vector Embeddings
By extending its real-time SQL-based search and analytics capabilities, Rockset now allows developers to combine vector search with filtering and aggregations to enhance the search experience and optimize relevance by enabling hybrid search.
[hr style="single"]
Satori Announces Contextual Data Access Feature
This capability allows users to obtain instant, just-in-time access to relevant data when they need it. Companies that manage sensitive data can now get time-to-value from data faster than ever before while meeting security and compliance requirements.
[hr style="single"]
Trusted Data Solutions Acquires Assured Data Technologies
TDS and ADT have worked together as partners for two years to provide tape restoration services to global customers operating in India. TDS will maintain the ADT brand in India. Director and CEO of ADT, Tarang Daptardar, has nearly 30 years of experience in information technology working for industry giants such as IBM, GBM, Wipro and Zenith Computers.
[hr style="single"]
Expert Insights Section
Watch this space each week as Solutions Review editors will use it to share new Expert Insights Series articles, Contributed Shorts videos, Expert Roundtable and event replays, and other curated content to help you gain a forward-thinking analysis and remain on-trend. All to meet the demand for what its editors do best: bring industry experts together to publish the web's leading insights for enterprise technology practitioners.
Solutions Review Set to Host Monte Carlo for Exclusive Webinar on April 27
With the next Solutions Spotlight event, the team at Solutions Review has partnered with leading reliability vendor Monte Carlo to provide viewers with a unique webinar called Architecting for Data Quality in the Lakehouse. Join us for a live tech talk and learn about architecting for data quality in the lakehouse with Delta Lake and PySpark.
The Best Udacity Nanodegree Certificates for Data Management Right Now
The editors at Solutions Review have compiled this list of the best data management Udacity Nanodegree certifications; Udacity is perfect for those looking to take multiple courses or acquire skills in multiple different areas, or for those who want the most in-depth experience possible through access to entire course libraries or learning paths.
The Best Udacity Nanodegree Certificates for Data Engineering Right Now
Data engineering is the process of designing and building pipelines that transport and transform data into a usable state for data workers to utilize. The editors at Solutions Review compiled this list of the best data engineering and big data Udacity Nanodegree certifications to consider taking this year.
For consideration in future data management news roundups, send your announcements to the editor: tking@solutionsreview.com.