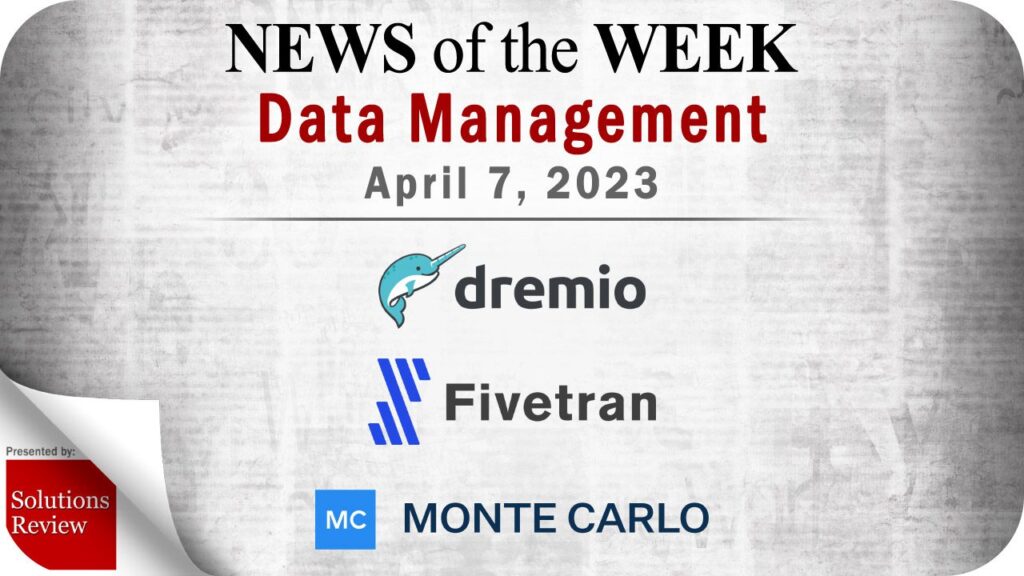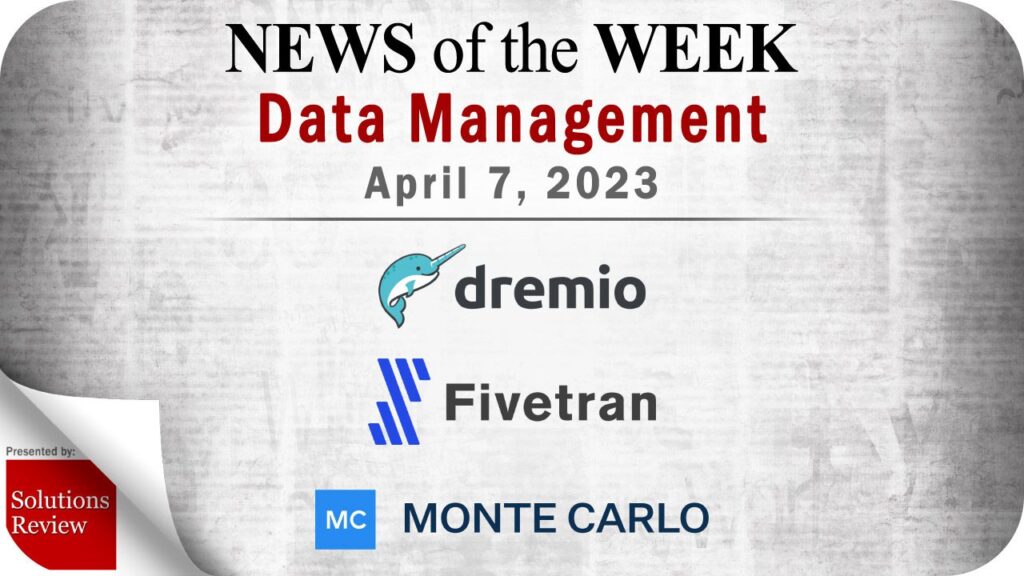 Solutions Review editors curated this list of the most noteworthy data management news items for the week of April 7, 2023.
Keeping tabs on all the most relevant big data and data management news can be a time-consuming task. As a result, our editorial team aims to provide a summary of the top headlines from the last week, in this space. Solutions Review editors will curate vendor product news, mergers and acquisitions, venture capital funding, talent acquisition, and other noteworthy big data and data management news items.
Top Data Management News for the Week Ending April 7, 2023
Alation Enhances Partnerships with Databricks and dbt
Joint customers can now easily integrate rich metadata from Databricks Unity Catalog and leverage a new connector that provides support for dbt Core and dbt Cloud in Alation. As a result, users have a better understanding of their data landscape and can view underlying data changes and transformations to power data intelligence.
[hr style="single"]
data.world Integrates with ThoughtSpot on Modern Data Cataloging
The technical integration between data.world's data catalog and ThoughtSpot's Liveboards, Answers, and Worksheets provides rich visibility into both the lineage and governance of the data needed to make decisions. With this integration, business users can more readily discover data, definitions, and metrics in ThoughtSpot, use them to inform decision making, and have greater visibility into the origins and governance of the underlying data.
[hr style="single"]
Dremio Set to Author O'Reilly's Definitive Guide on Apache Iceberg
As the only book on Apache Iceberg, the comprehensive tome will include lessons for achieving interactive, batch, machine learning and streaming analytics, all without duplicating data into many different proprietary systems and formats. To learn more about data lakehouse performance with Apache Iceberg, check out Dremio's blogs.
[hr style="single"]
Fivetran Announces Support for Amazon S3 with Apache Iceberg Data Lake Format
Fivetran support for Amazon S3 with Apache Iceberg combines large-volume, cost-effective data storage with simple access and comprehensive compliance. Fivetran is the automated data movement platform, anonymizing personally identifiable information (PII) while cleansing, normalizing and automatically loading data into the lake.
[hr style="single"]
Monte Carlo Announces New Fivetran Integration
Monte Carlo becomes the first data company to bring data observability to the entire orchestration layer, after integrations with Airflow, dbt Core and dbt Cloud were announced in 2022. As part of this news, Monte Carlo is excited to announce an official partnership with Fivetran to help joint customers improve data reliability at scale across the modern data stack.
[hr style="single"]
Oracle Database 23c Now Free to Developers
Developers now have access to innovative Oracle Database features that simplify development of modern data-driven applications, getting them ready for the planned release of Oracle Database 23c, the next Long-Term Support Release.
[hr style="single"]
OtterTune Releases Automated Cloud Database Tuning Service 2.0
With v2.0, OtterTune expands its capabilities beyond automated knob configuration tuning to include index recommendations and query tuning for MySQL and PostgreSQL databases running on Amazon Relational Database Service (RDS). The service now also provides users with an informative health score for each database displaying information about their current knob configuration, index health, workload activity, and query performance.
[hr style="single"]
Redgate Adds Support for Open-Source Software
Redgate has long anticipated this shift and two of the development teams behind SQL Monitor were tasked with adding Linux functionality to the tool. Given the differences between the Windows and Linux operating systems, this was a major task.
[hr style="single"]
TDengine Partners with Casne on Industrial IoT Use Cases
Through this partnership, Casne Engineering will integrate TDengine's time-series database technology into its existing IIoT solutions, creating a comprehensive IIoT platform for industrial customers. The collaboration seeks to help customers improve operational efficiency, reduce downtime, and increase overall equipment effectiveness (OEE).
[hr style="single"]
Expert Insights Section
Watch this space each week as Solutions Review editors will use it to share new Expert Insights Series articles, Contributed Shorts videos, Expert Roundtable and event replays, and other curated content to help you gain a forward-thinking analysis and remain on-trend. All to meet the demand for what its editors do best: bring industry experts together to publish the web's leading insights for enterprise technology practitioners.
Solutions Review Set to Host Rubrik for Exclusive Webinar on April 11
Join us and see live how Rubrik Security Cloud can organize all your business information across data centers, co-los, clouds, and hybrid architectures for centralized data management. With your data in one place, you can leverage Zero Trust Data Protection to detect and recover from ransomware, reduce sensitive data exposure, and protect cloud workloads.
What to Expect at Safe Software's FME:23 Event on April 13
Safe Software is a 'major player in enterprise spatial data integration' and has helped many global organizations maximize the value of their data. The company offers FME, an enterprise integration platform with comprehensive support for spatial data. FME helps organizations connect data and applications across systems.
For consideration in future data management news roundups, send your announcements to the editor: tking@solutionsreview.com.