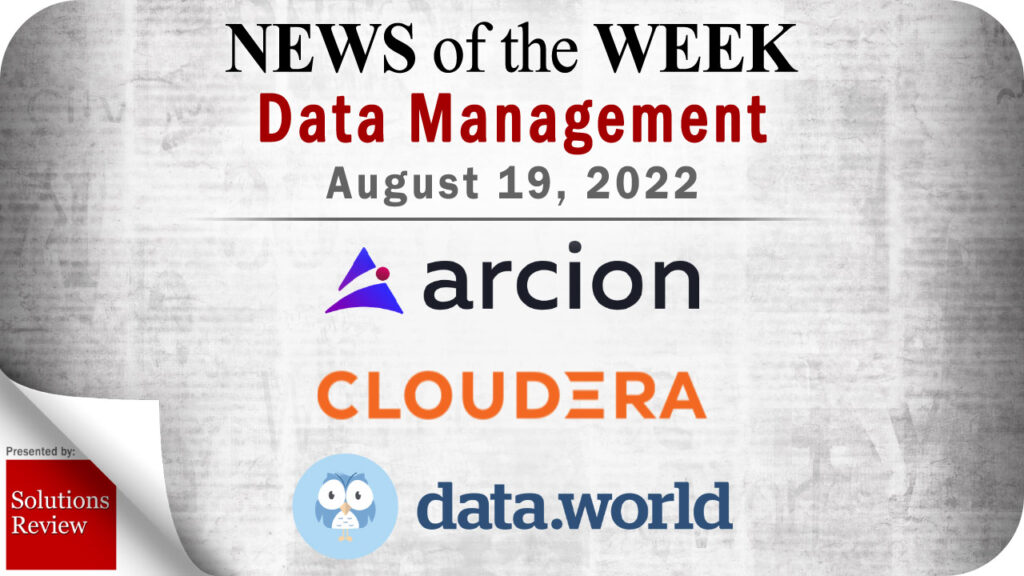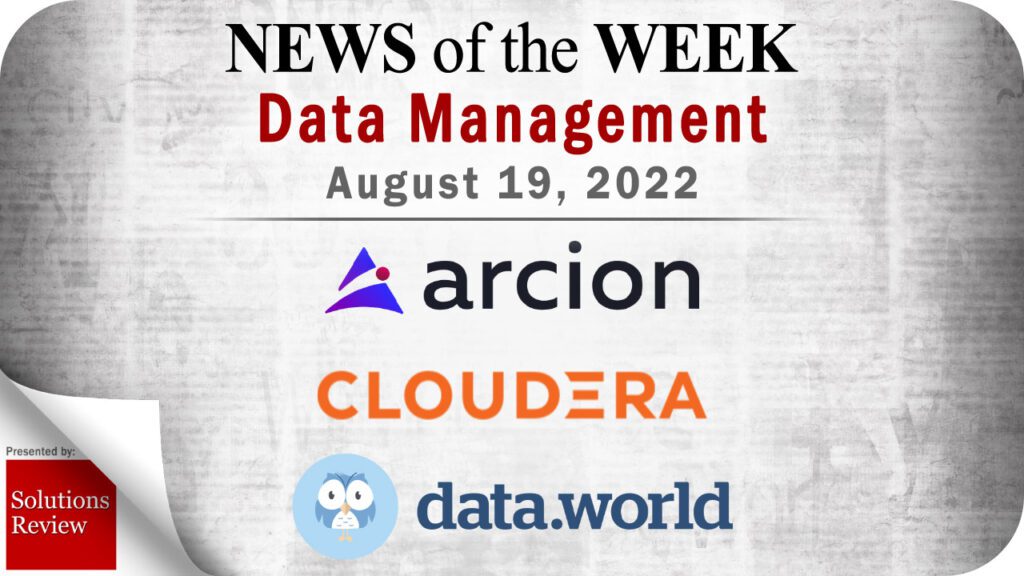 The editors at Solutions Review have curated this list of the most noteworthy data management news items for the week of August 19, 2022.
Keeping tabs on all the most relevant big data and data management news can be a time-consuming task. As a result, our editorial team aims to provide a summary of the top headlines from the last week, in this space. Solutions Review editors will curate vendor product news, mergers and acquisitions, venture capital funding, talent acquisition, and other noteworthy big data and data management news items.
Top Data Management News for the Week Ending August 19, 2022
Airbyte Unveils New Production-Ready Postgres Connector
The connector is available for production use and fully supported by Airbyte, making it possible to easily move data stored in Postgres to other destinations, especially for analysis. There are nearly 200 data connectors now available in the Airbyte Connector Catalog and the company is on track to reach 500 by the end of the year.
Arcion Adds New Capabilities to its Data Replication Solution
The release extends the platform's capabilities to include a native log reader with Oracle databases, automated DDL-based schema evolution, and streaming column transformations. Combining with the end-to-end multi-threaded architectural design, Arcion is able to bring a 10x faster log extraction experience to Oracle user. The company also has expanded its range of source and target connectivity to include BigQuery, Azure-managed SQL Server, and Imply.
Cloudera Releases "All-in-One" Data Lakehouse Cloud Service
Everyone from novice data practitioners to skilled developers can now take advantage of low-code tools, streaming data analytics and ML to perform ad-hoc, and highly customizable analysis across the full data lifecycle via one secure, centralized data platform. The launch of CDP One continues a long standing and strategic relationship with Cloudera ISV partner Talend as well.
Constellation Research Drops Constellation ShortList for Metadata Management, Data Cataloging and Data Governance
Constellation evaluates more than a dozen solutions categorized in this market. This Constellation ShortList is determined by client inquiries, partner conversations, customer references, vendor selection projects, market share and internal research.
data.world Announces New Eureka Explorer Lineage
Eureka Explorer Lineage is a new automated column-level technical lineage experience powered by data.world's knowledge graph. Explorer Lineage enables all members of an organization's data team to make data-driven decisions faster with full visibility into the modern data stack. With an easy-to-follow, interactive user interface, Explorer Lineage can show where data is sourced, how it's aggregated, and any transformations it undergoes along its journey.
MariaDB Acquires CubeWerx, Joins Open Geospatial Consortium
With the acquisition, MariaDB adds cloud-native, scalable geospatial capabilities that the company plans to offer through its fully managed cloud service MariaDB SkySQL. Through the OGC, MariaDB will work with the geospatial community to advance open geospatial standards to make information Findable, Accessible, Interoperable and Reusable (FAIR).
Pliops Raises $100 Million in Series d Funding for Data Center Processors
Pliops will continue to build out its strong semiconductor, hardware and software roadmap, while aggressively driving its vision of re-architecting the data stack and bringing ultra-scalability to data centers with customers and partners. In parallel, the company is streamlining its global operations and team of experts in recognition of a changing business landscape.
Solutions Review Live, On-Location at Safe Software's FME User Conference Next Week
Safe Software's FME User Conference 2022 will show you how to leverage your data better. The three-day event will feature the industry's top spatial data technology experts and thought leaders, providing guidance and insight. With over 100 sessions to choose from, you'll learn the best technical "how-tos", gain valuable data integration tips, and find answers to your trickiest data integration questions.
For consideration in future data management news roundups, send your announcements to the editor: tking@solutionsreview.com.