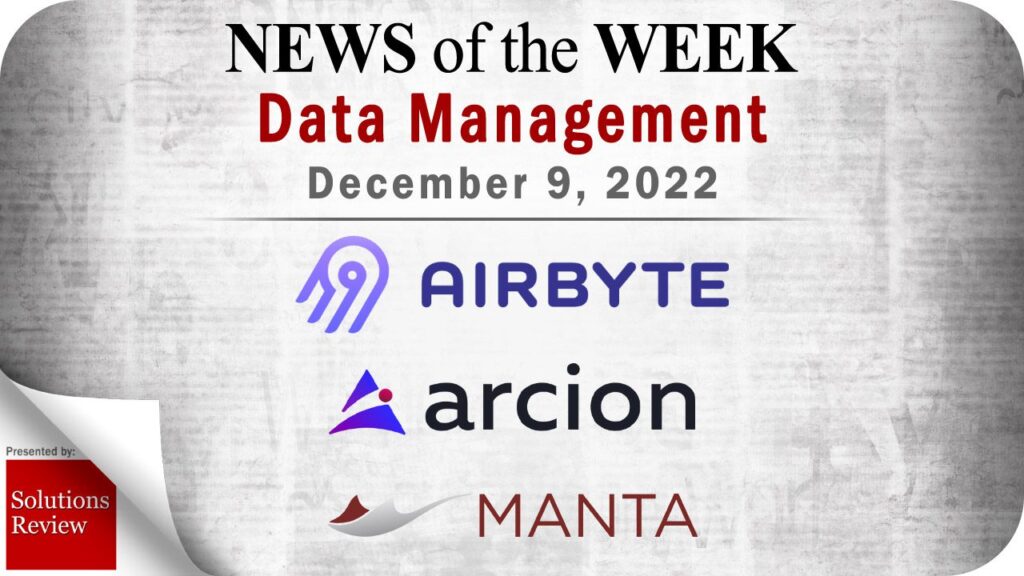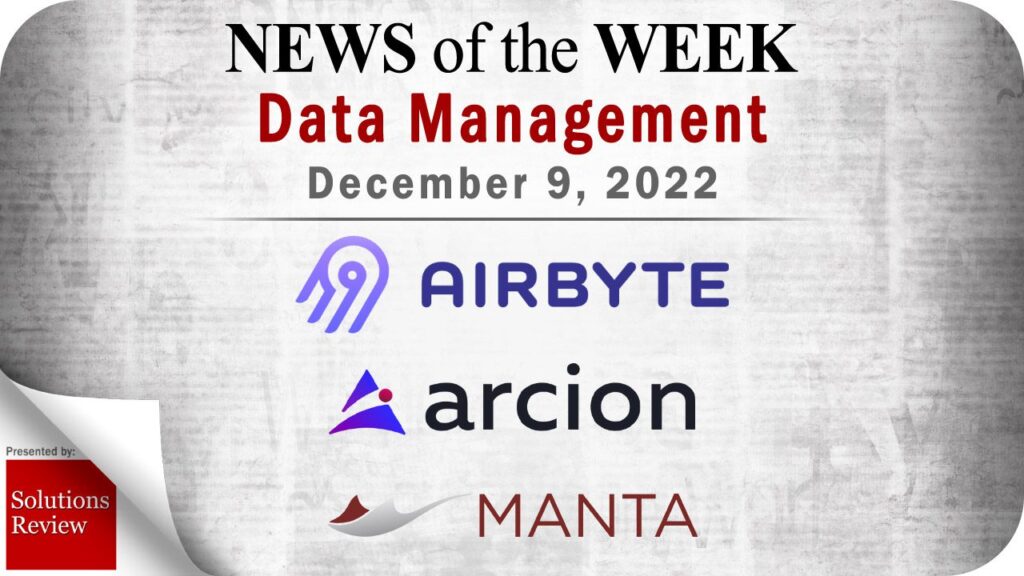 The editors at Solutions Review have curated this list of the most noteworthy data management news items for the week of December 9, 2022.
Keeping tabs on all the most relevant big data and data management news can be a time-consuming task. As a result, our editorial team aims to provide a summary of the top headlines from the last week, in this space. Solutions Review editors will curate vendor product news, mergers and acquisitions, venture capital funding, talent acquisition, and other noteworthy big data and data management news items.
Top Data Management News for the Week Ending December 9, 2022
Airbyte Announces Integration with dbt Cloud
The integration brings together two of the leading open-source products in the data ecosystem, making it simpler than ever to move and transform data, while minimizing the risk of lock-in. Airbyte helps move data from a collection of sources, and dbt helps organize that data for analysis by, for example, consistently defining key business logic or standardizing data structures.
Arcion.io Achieves SOC Type 1&2 Certification and HIPAA Compliance
These certifications validate that the company follows gold-standard security protocols and is committed to the data security of its customers, partners and other stakeholders. Arcion encrypts data both in transit and at rest, in accordance with the HIPAA Privacy Rule that safeguards patients' protected health information (PHI).
Immuta Releases Third-Annual State of Data Engineering Report
A new report from Immuta found that 89 percent of organizations report missing business opportunities because of data access bottlenecks. Immuta's third annual State of Data Engineering Survey spotlights top data engineering challenges to uncover their tangible impacts for businesses striving to be driven by their data.
MANTA Secures Strategic Investment from Alteryx Ventures
With this investment from Alteryx Ventures, MANTA will be able to bolster product innovation, expand its partner ecosystem, and grow in key markets. Alteryx's investment in MANTA furthers the company's commitment to enterprise governance, risk, and compliance and accelerates joint product integration.
Panzura Joins Forces with AWS on Cloud Data Management Tool
Hybrid architecture data management developer Panzura launched a comprehensive data management offering in conjunction with Amazon Web Services and plans to introduce a new technology aimed at preventing ransomware attacks. Under the agreement, all of Panzura's products will run on AWS or in AWS using the cloud provider's S3 cloud but also some of its compute and other applications, Stelfox said.
Satori Drops New Data Access Control with "Governed Traffic" Metric
Access Manager is a centralized place for Satori customers to manage data use and track the percentage of ungoverned traffic, which is data that is accessed without privacy policies applied, all within one screen. Access Manager combines all the settings for datasets, access controls, and security policies that exist in the Satori management console into a single view.
Solutions Review's 4th-Annual BUDR Insight Jam Speaker Lineup Set for December 15
The BUDR Insight Jam is a data protection community web event. Solutions Review editors are bringing the best and brightest minds in the industry together for a one-day social media gathering. Participants will include industry analysts, experts, influencers, practitioners, and software solution providers under the hashtag #BUDRIsightJam.
TriggerMesh Unveils Open-Source AWS EventBridge Alternative, Shaker
Shaker from TriggerMesh captures, transforms, and delivers events from many out-of-the-box and custom event sources in a unified manner. TriggerMesh's new release provides many of the same capabilities as AWS EventBridge but is open-source, can run anywhere that has Docker or Kubernetes, and is designed to capture events from all cloud providers as well as SaaS or custom applications.
Truthset Data Collective Emerges from Private Beta
The data validation-as-a-service offering Truthset has announced that its Truthset Data Collective is emerging from private beta with 20 founding members and a suite of products aimed to improving the quality of digital marketing data.
Wipro Drops New Data Intelligence Suite
Wipro Data Intelligence Suite is a "one-stop solution" for accelerating cloud modernization and data monetization focused on modernizing data estates, including data stores, pipelines, and visualizations, running on Amazon Web Services (AWS).
For consideration in future data management news roundups, send your announcements to the editor: tking@solutionsreview.com.

Latest posts by Timothy King
(see all)