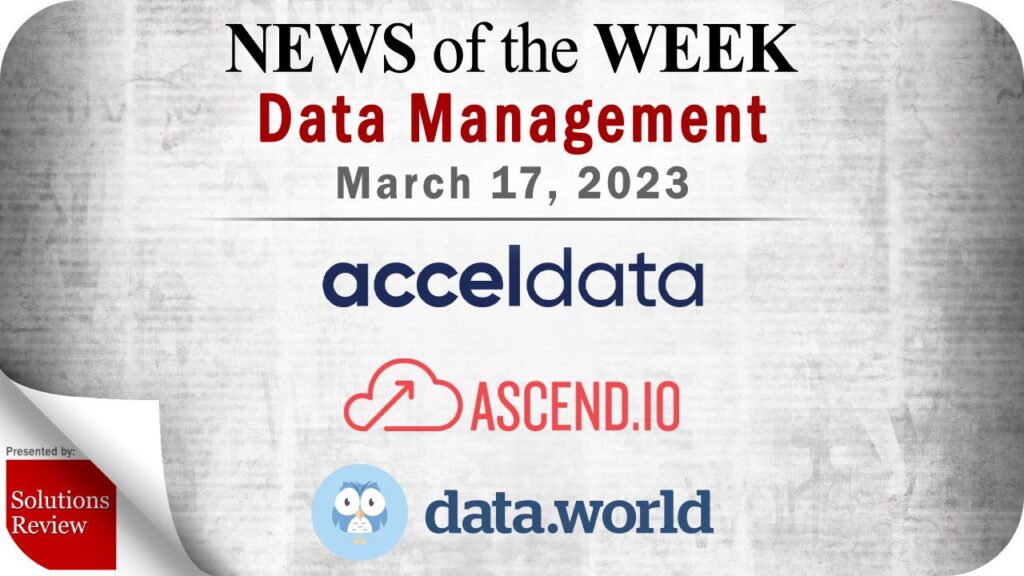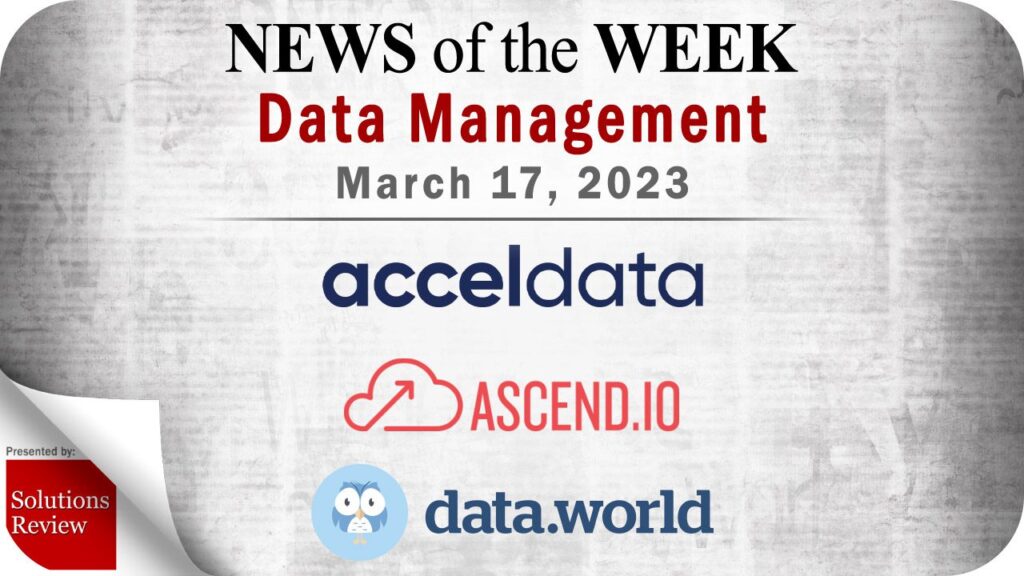 The editors at Solutions Review have curated this list of the most noteworthy data management news items for the week of March 17, 2023.
Keeping tabs on all the most relevant big data and data management news can be a time-consuming task. As a result, our editorial team aims to provide a summary of the top headlines from the last week, in this space. Solutions Review editors will curate vendor product news, mergers and acquisitions, venture capital funding, talent acquisition, and other noteworthy big data and data management news items.
Top Data Management News for the Week Ending March 17, 2023
Acceldata Expands Data Observability Platform with New Data Reliability Capabilities
Acceldata, the market leader in data observability, today announced significant enhancements to its data reliability solution, including no-code/low-code options, intelligent alerting, targeted recommendations, and self-healing capabilities to solve the most complex data reliability..
[hr style="single"]
Aparavi Transforms Data Management for SharePoint and OneDrive with new Connectors for Scan/Search, Classification, Governance, Analytics, and Cloud Migration
Aparavi, the company behind the award-winning Aparavi Data Intelligence and Automation Platform, today announced the availability of new connectors to bring Aparavi's data management tools directly to Microsoft SharePoint Server and OneDrive, helping organizations reduce costs..
[hr style="single"]
Automating Data Workloads for Success: Why I Joined Ascend.io as Field CTO
Hello everyone! I joined Ascend.io a few weeks ago and finally have my feet under me. Everyone's journey is unique so I wanted to share a little about myself and some thoughts about why I was so excited to join Ascend.io as Field CTO.
[hr style="single"]
data.world's Growth Accelerates at Anniversary of Latest Funding
data.world, the enterprise data catalog for the modern data stack, announced that the company is continuing its rapid growth trajectory one year after its Series C funding round led by Goldman Sachs Asset Management. Among the recent highlights, the company has exceeded two million members of its open data marketplace community..
[hr style="single"]
data.world Partners with dbt Labs to Deliver Greater Visibility and Discoverability of Data Transformations
data.world, the enterprise data catalog for the modern data stack, today announced that it is partnering with dbt Labs, the pioneer in analytics engineering, to deliver deeper visibility into transformation and greater discoverability into data assets built with dbt.
[hr style="single"]
Grafana Labs Acquires Pyroscope, the Company Behind the Popular Open Source Continuous Profiling Project
Grafana Labs, the company behind the world's most ubiquitous open and composable operational dashboards, today announced that it has acquired Pyroscope, the company that created the popular open source continuous profiling project of the same name.
[hr style="single"]
Syniti's Data Assessment Express Identifies Business Upside and Data Cost Savings with Accelerated Data Quality Insights
Syniti, 'a global leader in enterprise data management', announced the launch of its Data Assessment Express solution, a one-week data quality assessment specifically for businesses that use SAP® solutions to gain insight into the quality of their data and help understand its impact to their business bottom line.
[hr style="single"]
Semarchy Unified Data Platform (xDM + xDI) 2023.2 Updates
It has been an exciting start to the quarter and new year for Semarchy. In January, we launched Semarchy xDM's Data-Driven Workflows – rapidly enabling business & IT teams to collaboratively design a future-first data foundation. xDI also received a facelift with major..
[hr style="single"]
Denodo Survey Finds Government Agencies Understand the Requirements of the U.S. Federal Data Strategy But Concerns Remain on How to Get There
According to a recent survey, conducted across IT decision-makers and influencers in the federal government, seven out of ten (71%) have heard of the U.S. Federal Data Strategy (FDS) that outlines a broad, ten-year agenda and vision for federal agencies to leverage data as a strategic asset.
[hr style="single"]
Expert Insights Section
Watch this space each week as Solutions Review editors will use it to share new Expert Insights Series articles, Contributed Shorts videos, Expert Roundtable and event replays, and other curated content to help you gain a forward-thinking analysis and remain on-trend. All to meet the demand for what its editors do best: bring industry experts together to publish the web's leading insights for enterprise technology practitioners.
What to Expect at Safe Software's FME:23 Event on April 13
Safe Software is a 'major player in enterprise spatial data integration' and has helped many global organizations maximize the value of their data. The company offers FME, an enterprise integration platform with comprehensive support for spatial data. FME helps organizations connect data and applications across systems.
For consideration in future data management news roundups, send your announcements to the editor: tking@solutionsreview.com.