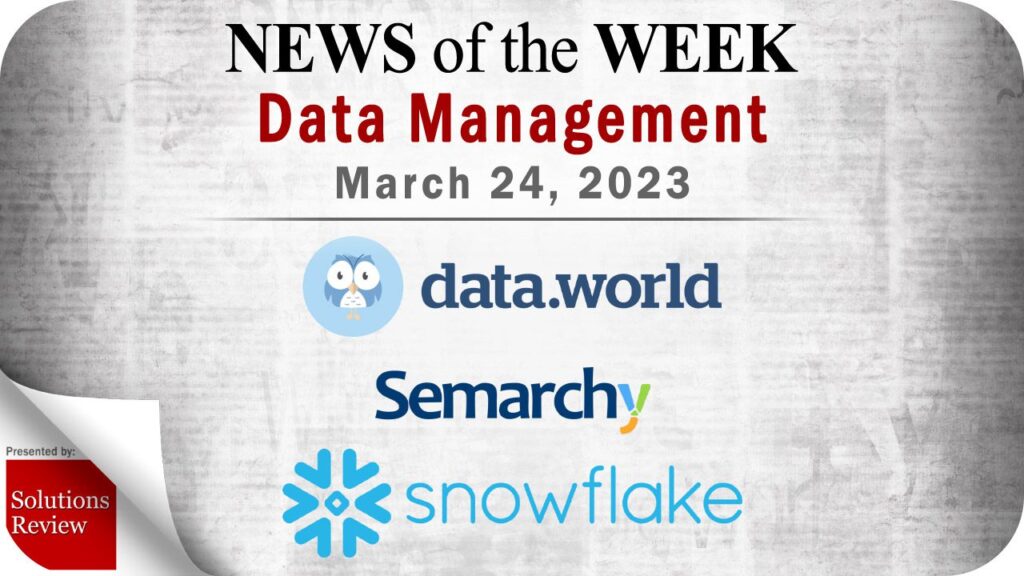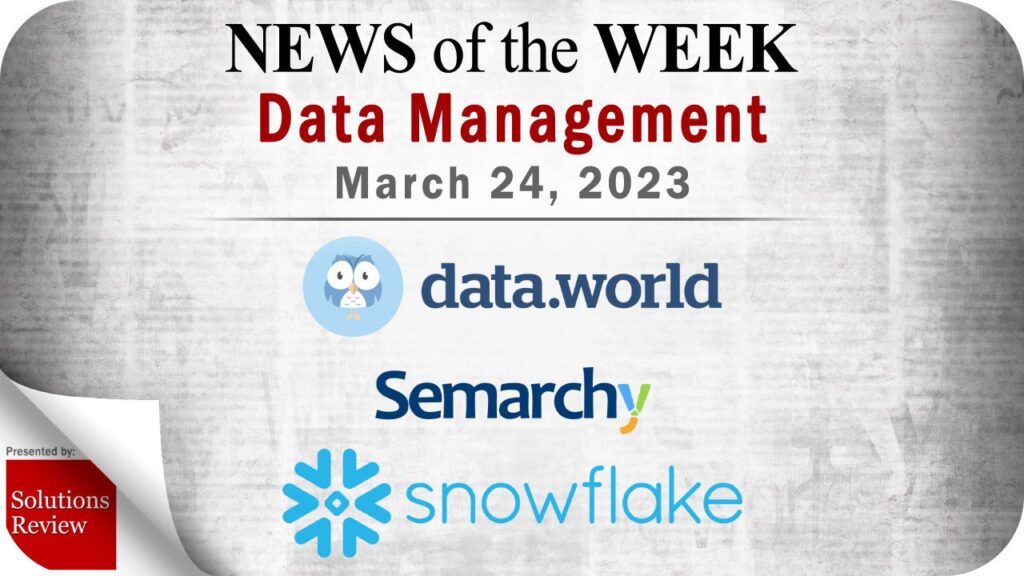 The editors at Solutions Review have curated this list of the most noteworthy data management news items for the week of March 24, 2023.
Keeping tabs on all the most relevant big data and data management news can be a time-consuming task. As a result, our editorial team aims to provide a summary of the top headlines from the last week, in this space. Solutions Review editors will curate vendor product news, mergers and acquisitions, venture capital funding, talent acquisition, and other noteworthy big data and data management news items.
Top Data Management News for the Week Ending March 24, 2023
Ascend.io Adds New Data Mesh Capabilities to Data Pipeline Automation Platform
The new data mesh features are all about helping teams package their data into products that can easily be consumed and reused across an organization with full lineage so users know the source of the information, and can check that it's current and accurate. Ascend says its platform is the first to offer this capability across multiple cloud platforms, made possible by its extensible architecture.
[hr style="single"]
data.world Adds New Integrations & Use Cases to Eureka Explorer Data Lineage Platform
Since its launch, Eureka Explorer has added new connectors and collectors, including Snowflake, the Data Cloud company, Fivetran, dbt, Denodo, SQL Server, BigQuery, Tableau, and Microsoft Power BI. These integrations make it easier for users to explore the provenance and lineage of their data, visually tracing it from source to analysis.
[hr style="single"]
Kobai Launches New Knowledge Graph to Query Data 'at Lakehouse Scale'
Built on the foundation of graph databases, Kobai's codeless platform provides a business-first approach and a collaborative environment to rapidly share insights across the entire organization. The new Kobai Saturn knowledge graph works directly with Kobai's Studio framework and Tower visualization products.
[hr style="single"]
Kyndryl Unveils New Data & AI Console for Simplified Data Management
As customers strive to become more data-driven, built with an open architecture, the Kyndryl Data and AI Console can integrate within their existing technology environment, leveraging existing investments, while continuing to support modernization.
[hr style="single"]
Ontotext Releases New Version of Metadata Studio with Text Mining Development
This sophisticated metadata management and tagging control solution allows organizations to transform content into knowledge. The latest offering enables users to utilize the taxonomical instance data in their knowledge graph in order to achieve highly explainable and customizable out-of-the-box taxonomy-driven tagging.
[hr style="single"]
Semarchy Integrates Microsoft Azure Purview for xDM Users
The xDM Platform now integrates with Microsoft Azure Purview, a robust SaaS data catalog solution. Microsoft Purview provides a unified data governance solution to help manage and govern data giving organizations end-to-end visibility of their data to help them make better business decisions.
[hr style="single"]
SnapLogic Drops Generative AI-Powered Integration Tool
The new addition to the SnapLogic platform leverages AI to quickly integrate and automate business processes using natural language prompts. With SnapGPT, IT and business users will be able to accelerate business innovation by automating and integrating data flows at speeds never seen before.
[hr style="single"]
Snowflake Launches in AWS Asia Pacific Region
With data residency legislation in Indonesia, the need to unify data across the ecosystem is now a business critical need. Snowflake customers in Indonesia will be able to mobilize data at scale and maximize the value of their data to drive innovation, business agility, and performance. Snowflake's ability to unify data across silos and enable a vibrant data ecosystem for data users will enable organizations to build a more responsive, resilient digital operation in Indonesia.
[hr style="single"]
Yellowbrick Data Partners with Panintelligence for SaaS App Embedded BI
Conceived for software as a service (SaaS) companies working in fintech, health tech, and other sectors where data sovereignty and security requirements place additional restrictions on the use of cloud, this collaboration supports secure public cloud and hybrid cloud deployments of embedded analytics and business intelligence tools across multiple cloud and on-premises datasets.
[hr style="single"]
Expert Insights Section
Watch this space each week as Solutions Review editors will use it to share new Expert Insights Series articles, Contributed Shorts videos, Expert Roundtable and event replays, and other curated content to help you gain a forward-thinking analysis and remain on-trend. All to meet the demand for what its editors do best: bring industry experts together to publish the web's leading insights for enterprise technology practitioners.
Solutions Review's Tim King Reveals Data Pipeline Automated Testing Best Practices and a Companion Resource by Broadcom
Download this Broadcom ebook for an in-depth discussion of how a data pipeline automation (DPA) strategy enables companies to automate their data pipelines end-to-end, implement continuous innovation and analytics processes, and more.
What to Expect at Safe Software's FME:23 Event on April 13
Safe Software is a 'major player in enterprise spatial data integration' and has helped many global organizations maximize the value of their data. The company offers FME, an enterprise integration platform with comprehensive support for spatial data. FME helps organizations connect data and applications across systems.
For consideration in future data management news roundups, send your announcements to the editor: tking@solutionsreview.com.