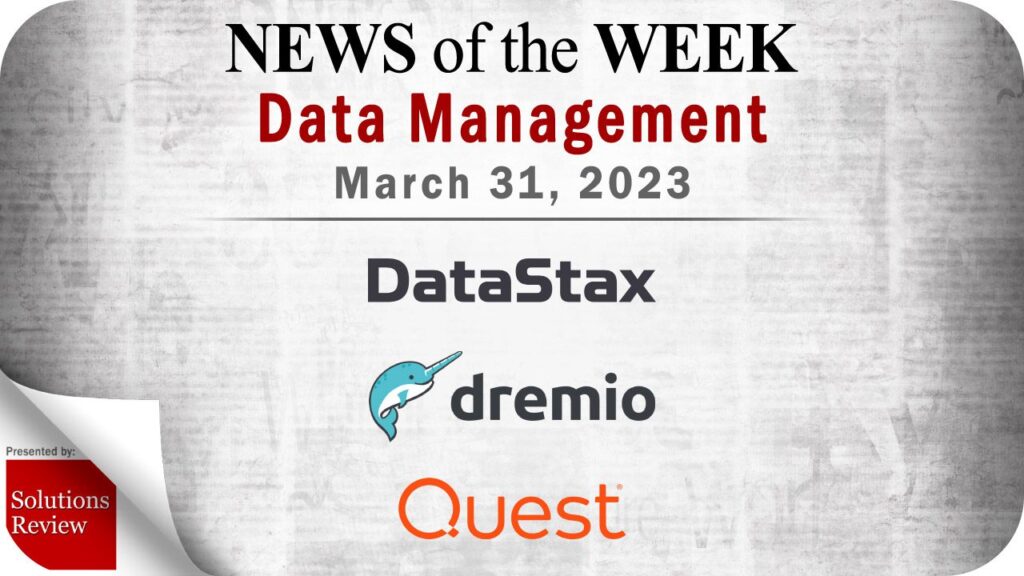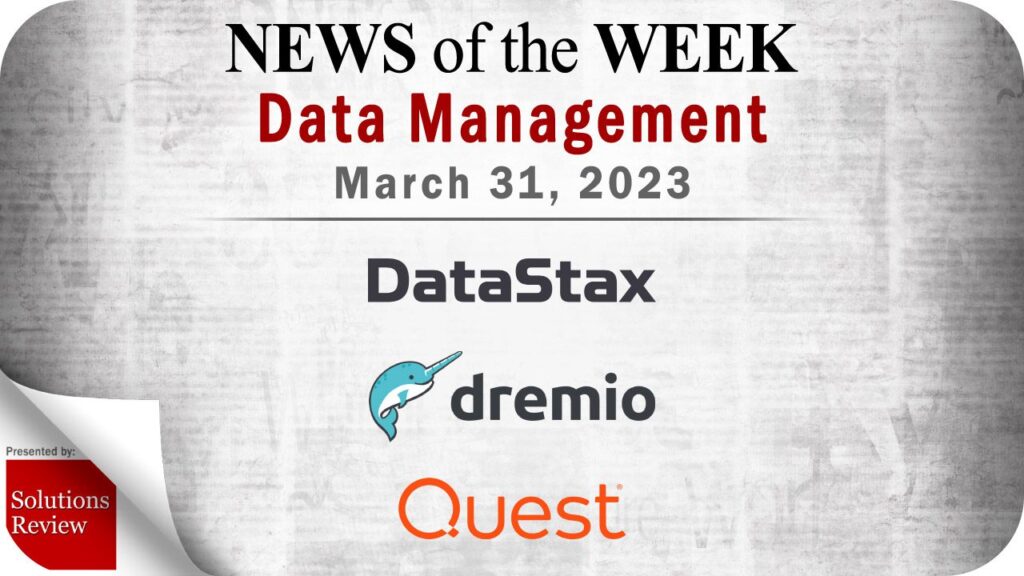 Solutions Review editors curated this list of the most noteworthy data management news items for the week of March 31, 2023.
Keeping tabs on all the most relevant big data and data management news can be a time-consuming task. As a result, our editorial team aims to provide a summary of the top headlines from the last week, in this space. Solutions Review editors will curate vendor product news, mergers and acquisitions, venture capital funding, talent acquisition, and other noteworthy big data and data management news items.
Top Data Management News for the Week Ending March 31, 2023
Airbyte Secures Google Cloud Ready – AlloyDB Designation
Google Cloud Ready – AlloyDB is a new designation for the solutions of Google Cloud's technology partners that integrate with AlloyDB. These partners have closely collaborated with Google to add support for AlloyDB into their solutions and tune their existing functionality for optimal outcomes.
[hr style="single"]
Anomalo Secures Google Cloud Ready – BigQuery and Google Cloud Ready – AlloyDB Designations
By earning these designations, Anomalo has proven its data quality platform has met a core set of functional and interoperability requirements when integrating with BigQuery and AlloyDB. These designations enable customers to discover and have confidence that the Anomalo platform they use today works well with BigQuery and AlloyDB.
[hr style="single"]
DataStax Announces Kaskada OSS
DataStax recently announced the open-source release of Kaskada – a modern, open-source event processing engine. The unique characteristics of Kaskada make it ideal for the time-based event processing required for accurate, real-time machine learning.
[hr style="single"]
Decodable Drops New Direct Snowflake Connector
Decodable's new API connector is maintained and managed by our team of data platform experts, one of many Decodable connectors that make setting up streaming pipelines simple and quick – helping organizations build and use real-time data pipelines in minutes, not months.
[hr style="single"]
Dremio Partners with Domo on Expanded Data Lakehouse Access
Through a native data integration with Domo Cloud Amplifier, joint customers can easily connect to Domo to analyze data directly on the data lakehouse. Cloud Amplifier extends the capabilities of the data lakehouse and gives more data users access to critical data to gain insights and make better data-driven decisions.
[hr style="single"]
Modak Unveils New Version of Modak Nabu Data Orchestration Platform
The highlight of this latest release is the new Dataflow Studio feature that provides a graphical, drag-and-drop interface. This allows users to create complex flows of data involving a variety of tasks such as crawling, ingestion, curation, and integration with other data tools.
[hr style="single"]
Privacera Secures Google Cloud Ready – BigQuery Designation
As part of this initiative, Google Cloud engineering teams validate partner integrations into BigQuery in a three-phase process. First, they run a series of data integration tests and then compare results against benchmarks, the last step is to work closely with partners to fill any gaps and refine documentation for our mutual customers.
[hr style="single"]
erwin by Quest Software Secures Google Cloud Ready – AlloyDB Designation
Generally available in December, AlloyDB is Google Cloud's newest fully managed PostgreSQL-compatible database service built to support the most demanding enterprise database workloads. AlloyDB database managers can use erwin Data Modeler by Quest to find, visualize, design, deploy and standardize high-quality enterprise data assets crucial to Big Data, business intelligence and analytics initiatives.
[hr style="single"]
SnapLogic is Now Available in the Google Cloud Marketplace
Google Cloud Marketplace lets users quickly deploy functional software packages that run on Google Cloud. Customers can easily start up a familiar software package with services like Google Cloud's Compute Engine or Cloud Storage, with no manual configuration required.
[hr style="single"]
Expert Insights Section
Watch this space each week as Solutions Review editors will use it to share new Expert Insights Series articles, Contributed Shorts videos, Expert Roundtable and event replays, and other curated content to help you gain a forward-thinking analysis and remain on-trend. All to meet the demand for what its editors do best: bring industry experts together to publish the web's leading insights for enterprise technology practitioners.
What to Expect at Safe Software's FME:23 Event on April 13
Safe Software is a 'major player in enterprise spatial data integration' and has helped many global organizations maximize the value of their data. The company offers FME, an enterprise integration platform with comprehensive support for spatial data. FME helps organizations connect data and applications across systems.
Data and Analytics Thought Leader Philip Russom PhD. Reports on Gartner D&A Event for Solutions Review
Independent analyst for data and analytics Philip Russom PhD. offers commentary on the Gartner view of data engineering, data fabric, and data lake and data lakehouse from the recent Gartner Data & Analytics Summit 2023. In three short posts, Russom extracts all the expert insights from the event, and, paired with Solutions Review editors, brings them to you for ease of execution.
For consideration in future data management news roundups, send your announcements to the editor: tking@solutionsreview.com.