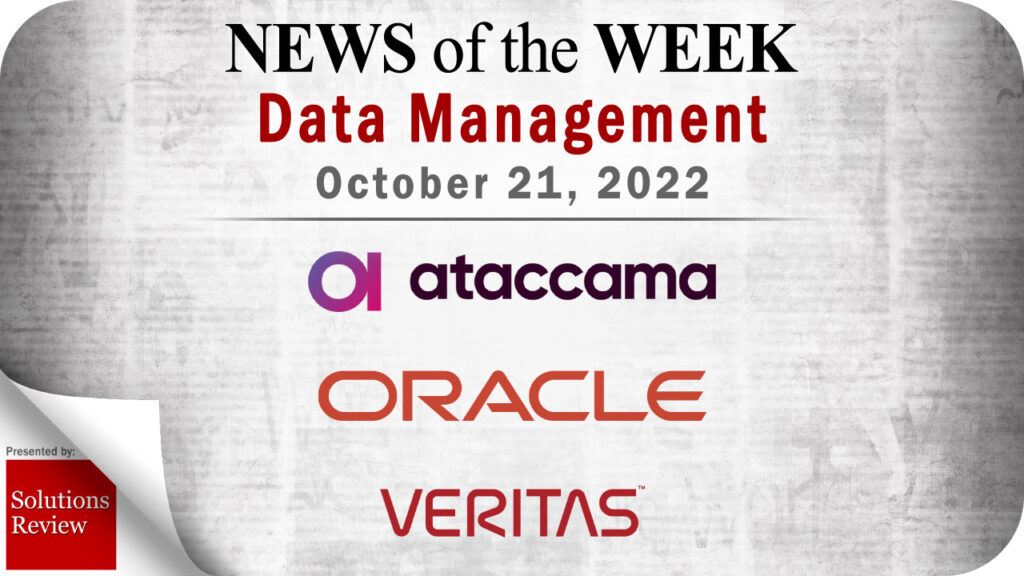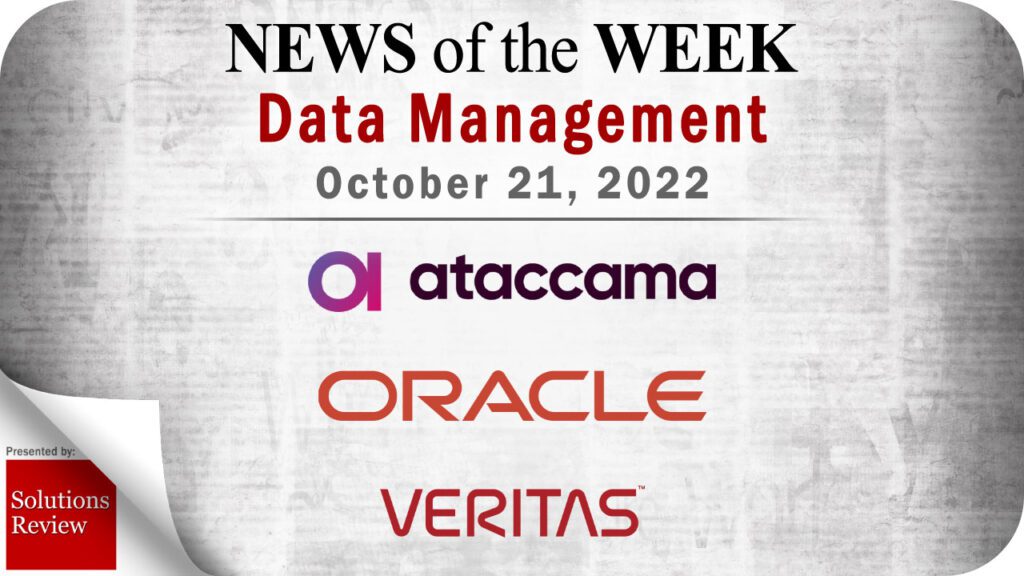 The editors at Solutions Review have curated this list of the most noteworthy data management news items for the week of October 21, 2022.
Keeping tabs on all the most relevant big data and data management news can be a time-consuming task. As a result, our editorial team aims to provide a summary of the top headlines from the last week, in this space. Solutions Review editors will curate vendor product news, mergers and acquisitions, venture capital funding, talent acquisition, and other noteworthy big data and data management news items.
Top Data Management News for the Week Ending October 21, 2022
Alation Partners with dbt Labs on Data Transformations
The integration, powered by dbt metrics and Alation metadata API, will make rich sets of dbt model and metrics data available to users beyond data engineers, build trust in data, and enable the sharing of data intelligence. By integrating dbt model and metrics data into Alation Data Catalog, data becomes visible for teams who need to share their work, ultimately allowing data consumers to find, understand, and use trusted data.
Anomalo Announces Strategic Partnership with dbt Labs
Anomalo is now a Metrics Ready Launch Partner of dbt LabsAs a Metrics Ready Launch Partner, Anomalo will now automatically start monitoring metrics that are defined in the dbt Semantic Layer. When a joint customer monitors a dbt model in Anomalo, Anomalo's Key Metric checks and default built-in data quality checks will monitor for any drift in the data that feeds dbt metrics.
Ataccama Updates Data Catalog Platform with New Observability Module
With this release, Ataccama unveils new capabilities that reinforce its strategy of providing end-to-end data management and enabling data democratization for enterprises around the globe. The platform update positions Ataccama at the forefront of a growing market consensus that modern data governance programs increasingly require a convergence of data governance capabilities that single-purpose tools are unable to fulfill.
Dremio Announces Support for DML Operations on Apache Iceberg
These features enable key data lakehouse use cases that were previously only available in database and data warehousing technologies. Apache Iceberg, an open-source table format for analytics on the lakehouse, is a core component of Dremio's open lakehouse and is used at innovative companies like Netflix, Apple and Adobe.
Fivetran Named a dbt Metrics Ready Partner
Fivetran's dbt packages complement its robust connector library by building out-of-the-box, analytics-ready data models and metrics in dbt. These data models are standalone dbt projects with packaged SQL scripts that transform raw data into analytics-ready datasets. Fivetran develops and maintains dbt packages for popular sources and is continually adding more sources.
Hevo Data Partners with Databricks on Data Lakehouse Integrations
This new partnership allows users to access Hevo Data directly in Databricks and redefines data integration at scale. With this new partnership, Hevo Data will be available as part of Databricks Partner Connect. As a validated partner that's natively integrated, Databricks customers can now easily access and deploy their ETL pipelines on Hevo Data right within Databricks.
Oracle Unveils Oracle Database 23c in Beta
With the new capabilities in Oracle Fusion Analytics across CX, ERP, HCM, and SCM analytics, decision-makers now have a prebuilt library of more than 2,000 best-practice KPIs, dashboards, and reports to monitor performance against strategic goals. New advanced composite visualizations make it easier to interpret data, and AI/ML enhancements extend the ML capabilities in Analytics Cloud with other Oracle Cloud Infrastructure (OCI) cognitive services like AI Vision to enable the processing of visual information.
Solutions Review Announces 4th-Annual BI Insight Jam 2022
The BI Insight Jam is a data management and analytics community web event. Solutions Review editors are bringing the best and brightest minds in the industry together for a one-day social media gathering. Participants will include industry analysts, experts, influencers, practitioners, and software solution providers under the hashtag #BIInsightJam.
Syniti Releases AI-Driven Matching System for Party and Operational Data
Syniti has replicated the natural intelligence humans use when forming comparisons, and with Syniti Match, can deliver that capability at scale. AI, proprietary phonetic and fuzzy matching algorithms, and context-sensitive lexicons evaluate matches contextually, allowing the software to understand data based on what it is, rather than where it resides in a table.
TigerGraph Set to Support openCypher in GSQL
Developers can now access a limited preview translation tool to learn how openCypher support will appear in TigerGraph's flagship graph query language, GSQL. Support for openCypher will give developers more choice to build or migrate graph applications to TigerGraph. The openCypher-to-GSQL translation tool is now available to the openCypher developer community
Tray.io Nets $40 Million in New Capital Venture Funding
The capital infusion will accelerate Tray.io's product development and fuel go-to-market initiatives. The Tray General Automation Platform democratizes automation and integration so anyone can transform their unique business processes into repeatable and scalable workflows.
Veritas Introduces New Cloud Data Management Platform Called Alta
Veritas Alta harnesses the benefits of the cloud to reduce costs, strengthen ransomware resiliency, and ensure data is protected, available, and compliant. Veritas also introduced Veritas Alta View, a cloud-based management console that provides a unified view and control of the entire data estate—across edge, data center, and cloud—from a single pane of glass.
This online course addresses your questions and challenges on what data governance maturity model to select, how to use and apply one efficiently, and what you can learn from the existing models out there to establish or improve your data governance program. Plus the lessons are built in such a way to make your learning experience simple, engaging, fun, and above all easy to remember.
For consideration in future data management news roundups, send your announcements to the editor: tking@solutionsreview.com.

Latest posts by Timothy King
(see all)