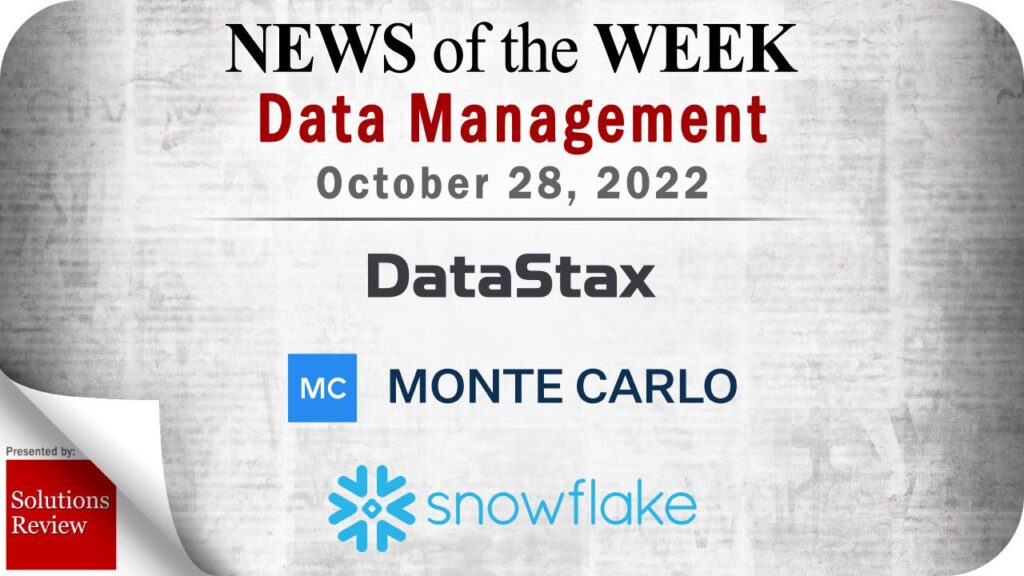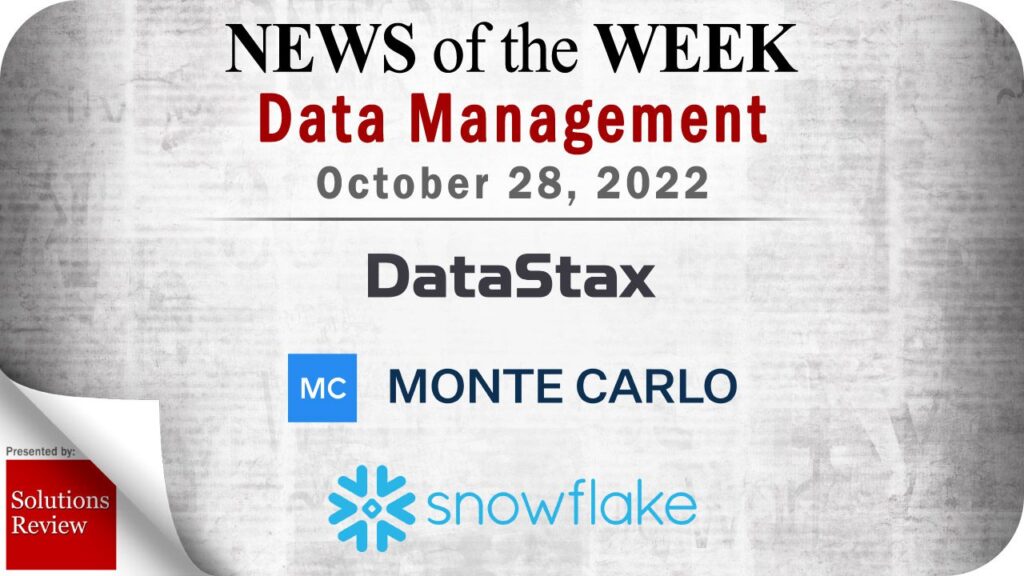 The editors at Solutions Review have curated this list of the most noteworthy data management news items for the week of October 28, 2022.
Keeping tabs on all the most relevant big data and data management news can be a time-consuming task. As a result, our editorial team aims to provide a summary of the top headlines from the last week, in this space. Solutions Review editors will curate vendor product news, mergers and acquisitions, venture capital funding, talent acquisition, and other noteworthy big data and data management news items.
Top Data Management News for the Week Ending October 28, 2022
AWS Announces New Amazon Neptune Serverless
AWS Neptune Serverless is a new serverless option for Amazon Neptune that automatically scales to support unpredictable and business-critical graph database workloads. Amazon Neptune Serverless includes Amazon Neptune's advanced capabilities for high availability, performance, and resiliency. There are no upfront commitments or additional costs to use Amazon Neptune Serverless, and customers only pay for the database resources used.
Cinchy Raises $14.5 Million in Series B Funding
This investment allows Cinchy to further capitalize on the surge in global demand for data fabric and data mesh solutions that help free the enterprise from unruly application ecosystems and regain greater control of their data. Cinchy, which enables instant visibility into organizational data, offers an out-of-the-box solution that provides immediate time to value by turning abstract data concepts into actual live dataware deployments.
DataStax Announces the Launch of Stargate v2
Stargate v2, which is available as open-source software and part of the DataStax's Astra DB database-as-a-service, now features a high-performance gRPC API that enables developers to easily scale Cassandra data to serve billions of global devices with speed, in real-time.
data.world Releases New Tools And Expands Leadership Team
data.world is expanding its support for data-driven business initiatives with its solutions: data discovery, agile data governance, data cloud migration, data mesh, dataops, and semantic layer. The company named Stephanie McReynolds as chief marketing officer, Richard Yonkers as senior vice president of sales, and Mineo Sakan as vice president of finance.
Fivetran Names Sigma Computing Business Intelligence Partner of the Year
The award was announced today at Fivetran's annual Partner Summit. The Fivetran partner awards, currently in their second year, recognize partners who went above and beyond in their contributions to Fivetran's ecosystem. Fivetran is a major player in data integration tools and is built for the cloud.
InfinyOn Announces Cloud-Based Real-Time Data Platform
InfinyOn Cloud provides a modern approach that reduces the cost and complexity of operating and managing real-time data pipelines. InfinyOn introduces a new concept of Stream, Transform and Load (STL), a fundamental paradigm shift from Extract, Transform and Load (ETL). Traditional ETL pipelines are batch driven and often consist of a fragmented architecture that is difficult to manage and includes lots of software or microservices to make data usable.
InfluxData Drops "Next-Generation" Time Series Engine
The new engine reimagines InfluxDB as a columnar real-time data platform, delivering high-volume data ingestion with unbounded cardinality, optimized for the full range of time series data. InfluxData also adds SQL language support for queries, bringing the hugely popular data programming language to InfluxDB for the first time.
Informatica Launches Intelligent Data Management Cloud for Higher Ed
The integration, powered by dbt metrics and Alation metadata API, will make rich sets of dbt model and metrics data available to users beyond data engineers, build trust in data, and enable the sharing of data intelligence. By integrating dbt model and metrics data into Alation Data Catalog, data becomes visible for teams who need to share their work, ultimately allowing data consumers to find, understand, and use trusted data.
Monte Carlo Unveils New Data Reliability Dashboard
This is the latest in a series of improvements Monte Carlo has made to help customers drive data reliability and eliminate data downtime, including Circuit Breakers, a new way to automatically stop broken data pipelines; Insights, a functionality that offers operational analytics in the health of a company's data platform; and native integrations with dbt, Databricks, and Airflow.
Reltio Expands its Global Footprint To Portugal
The new location will serve as the hub for technology innovation within the region. The Reltio team will be focused on helping companies accelerate the value of their data to maximize business impact. This has become increasingly important and critical, particularly in the current economic climate.
Snowflake Achieves HITRUST r2 Certification for Data Security
By including federal and state regulations, standards, and frameworks, and incorporating a risk-based approach, the HITRUST Assurance Program helps organizations address security and data protection challenges through a comprehensive and flexible framework of prescriptive and scalable security controls. In addition, HITRUST is a certifiable and recommended framework trusted by many health networks and hospitals to manage risk.
Soda Unveils New Self-Service Features for Data Quality
Built to empower the data consumers who are creating new products using data, and the teams responsible for producing data, Self-Serve enables the consumers of data to collaborate with data producers and owners to create data quality agreements that define and align expectations for the use of high-quality, reliable data, and ensures that it is always fit-for-purpose.
What to Expect During the 4th-Annual Solutions Review BI Insight Jam on December 15
The BI Insight Jam is a data management and analytics community web event. Solutions Review editors are bringing the best and brightest minds in the industry together for a one-day social media gathering. Participants will include industry analysts, experts, influencers, practitioners, and software solution providers under the hashtag #BIInsightJam. This year's event theme is Cloud Data Architectures: Best Practices for Managing, Analyzing, and Governing Data in the Cloud.
Syncari Brings Data Automation to Application Ecosystems
With Syncari Embed, customers can now deliver self-configurable integrations, reusable automation, and no-code syncs as part of their own product offering. This drives market expansion, competitive differentiation, and faster product adoption.
For consideration in future data management news roundups, send your announcements to the editor: tking@solutionsreview.com.

Latest posts by Timothy King
(see all)