4 Data Management Strategy Optimization Techniques to Know
Solutions Review's Expert Insights Series is a collection of contributed articles written by industry experts in enterprise software categories. In this feature, Exasol SVP of Product and Innovation Jens Graupmann offers key ways to do data management strategy optimization given current conditions.
As the amount of data created and consumed explodes — with data volumes expected to almost double in size between 2022 and 2026 — it's time for enterprises to reevaluate and evolve their data management strategies and practices. Across industries, companies have navigated unprecedented uncertainty over the last few years. But in the midst of ongoing chaos and change, one thing that remains true and universal is that data is every business's most valuable asset — which means that successfully managing and harnessing that data is critical and should be a top priority in 2023.
A robust data management strategy is needed to support business goals and initiatives and empower data teams and leaders. However, IT teams are increasingly realizing that many data management approaches that worked in the past no longer suffice in today's data-driven environment, leading to missed business and digital transformation opportunities. In a business landscape where data is power, organizations should look to adopt new data management strategies, architectures and tools to better leverage the influx of data.
In this article, we'll look to the future of emerging data analytics trends, solutions, and approaches and how companies can optimize their data management strategy today to future-proof for 2023 and beyond.
Mastering Data Mesh Amid the Hype
The modern enterprise is evolving its approach to data management, with businesses considering how they manage, distribute, and consume data with their teams. As such, companies are shifting from traditional, monolithic processes to embracing new technologies and strategies to become more data-driven. For example, we're seeing the adoption of a data mesh architecture, which many organizations view as an answer to their challenges around ownership, quality, governance, and access. Data mesh advocates the shift to a more decentralized and distributed architecture that fuels a self-serve data infrastructure and treats data as a self-contained product.
In 2023, we anticipate even greater pressure on organizations to move faster and build resilient, agile data architectures that will push data teams toward data mesh implementations. However, despite the growing enthusiasm around data mesh, we do expect that many implementations will hit roadblocks due to misinformation and overhype around the concept. Businesses should approach data mesh thoughtfully and with a willingness to learn and better understand the concept and how to execute it.
In order for businesses to successfully adopt data mesh at scale, the first step is to eradicate misinformation. There has been much discussion and confusion about how to prevent data mesh from exacerbating data silos, and whether or not data mesh and data fabric are actually the same thing. To overcome these challenges and move beyond any debates or uncertainties, companies must take responsibility for educating themselves to strengthen their understanding of what a data mesh is and how it can optimize their data management strategy.
Moving to a Metadata Mindset
In addition to data mesh, metadata is emerging as another critical piece to the data management puzzle as organizations look to accelerate the time to value of their data, optimize costs, and comply with the ever-evolving landscape of industry and governmental regulations. As organizations continue cloud migration efforts, the role of metadata in the data ecosystem will continue to grow. At the same time, a heightened interest in data discovery, governance, virtualization and catalogs, and the need to speed up data delivery through data pipelines and warehouse automation are fueling metadata demand.
Despite its usefulness, metadata is still often overlooked and understated in data analytics and data management. Businesses should take heed, as this alone could sabotage your data management strategy. Metadata is the foundation of high-quality data. It provides information about other data so that it can be more easily understood and used by the organization. It answers the who, what, when, where, why, and how questions for data users, and is crucial in building a robust data management strategy.
Metadata management also plays a large part in supporting data governance programs. As we look ahead, modern enterprise teams should embrace a metadata mindset — and expect for metadata-based data management to emerge from the shadows as a focal point in the market.
Avoiding a Deluge of Data with Edge Analytics
Our digital-first world is reshaping the way business is done. As data volumes increase, it's impossible to analyze the critical components of an optimal data management strategy without assessing the capabilities of centralized data storage infrastructure. Today, the volume of data created pales compared to the bandwidth available to process and evaluate this abundance of data.
The future of data is at the edge — a type of decentralized data analytics — where data can be analyzed at the source (i.e., the "edge" of the information network). By allowing raw data to be analyzed at its source, edge analytics avoids the need to transfer data back to a central system while still bringing all the insights together for centralized decision-making. This is the solution for businesses looking to increase their speed to data, and support higher-quality analytics with lower latency, and scalability. Additional benefits of decentralizing and adopting edge analytics include improving decision-making and business outcomes. And with the push for businesses to become more data-driven, shying away from exploring all options could be costly.
Driving ROI Through Effective Data Management
Data management tools are proven to yield positive results — 58 percent of companies utilizing these tools are more likely to beat their revenue goals than non-data-driven companies. And data-driven organizations have an even greater chance of surpassing their revenue targets than non-data-driven organizations. Today's modern businesses understand that data is their greatest asset. Looking ahead, they will continue to rely more heavily on real-time access to their data and analytics, especially as businesses restructure to ensure universal access to data across the organization. As we move through 2023, the organizations that embrace a data-driven mentality and invest in effective data management strategies will now be best prepared for success.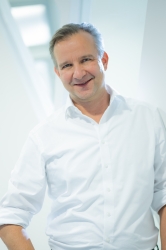 Latest posts by Jens Graupman
(see all)