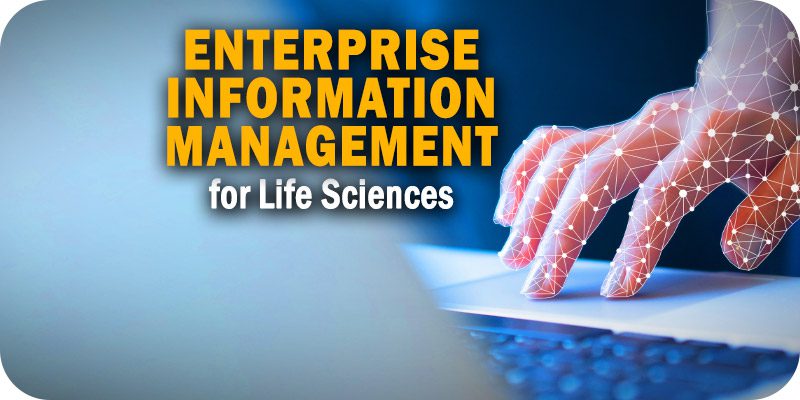 Solutions Review's Expert Insights Series is a collection of contributed articles written by industry experts in enterprise software categories. In this feature, Global Head of Offerings for IQVIA Human Data Science Cloud Katie Laughlin offers key factors to consider when developing an EIM for Life Sciences strategy.
As the post-COVID world moves from a pandemic to an endemic environment, individuals are learning to live with the ongoing presence of the coronavirus. This factor, combined with the pivot to virtual communications in medicine and other arenas, points to an ongoing and greater reliance on digital transformation.
To adapt successfully, life science companies need sophisticated enterprise information management (EIM) systems purposefully built to meet their distinctive requirements and challenges. When developing an effective EIM strategy, companies must consider five primary factors.
EIM for Life Sciences
The Enterprise Data Environment
Many life science companies invest vast sums of money in healthcare data. To properly utilize and benefit from these assets, management needs a clear grasp of the company's data environment. This includes understanding their information, where it's stored, and how best to utilize it. They require meticulous processes to access the raw data, analyze and convert it into viable business intelligence, and apply these insights to the organization.
As data quantities continue to expand, capturing, engaging, and optimizing data becomes ever more challenging. Artificial intelligence (AI) and machine learning (ML) applications offer tremendous promise in this respect. Strategies such as cloud migration, developing data lakes, and bridging data silos across organizations all help to promote consistency, continuity, and quality. Increased data literacy and tools such as healthcare dashboards, as well as data cataloging, data governance and forecasting solutions enable teams to maintain a bird's eye view of their assets.
Healthcare Data Governance Requirements
Healthcare data management demands unique governance protocols due to the information's high value for all stakeholders. Accurate, secure, and high-quality data affects patient outcomes and impacts care delivery, as well as offers enrichment opportunities for fraudsters.
An EIM system purpose-built for the life sciences industry needs a robust governance framework that specifies user rights and responsibilities, accountability, and entrenched data management practices. Such a framework must also outline the rules applied to data acquisition and management, and the impact of any changes to business processes.
Demanding Data Quality Management
According to the EIM Institute, data is considered high quality only if it matches the intended usage and is accurately represented. To enable life science companies to rely on their analytics, it's vital for their data governance to incorporate quality assessments and procedures to improve data across all datasets.
A purpose-built EIM enables companies to deploy stringent quality management practices that give users confidence in the reliability of their data. The assurance that data assets are complete and up to date allows for faster decision-making and more effective strategic initiatives.
Comprehensive Data Acquisition Methods
Incorporating data acquisition methods into a purpose-built EIM is an important step toward transparency and strong governance. Some of the methods life science companies employ to acquire data include:
Capturing first-party data through customer interactions and touchpoints, such as new purchases, newsletter subscriptions and social media.
Transformation of existing healthcare records to a universal format, and importing these into an EIM.
Exchanging data with healthcare providers and life science companies, or buying datasets from vendors.
Life science companies must establish guidelines for data acquisition, roles, and responsibilities for the process. They should follow best practices to reduce the risk of duplicate and obsolete acquisitions.
By constructing a well-defined process for data acquisition that includes approvals, timely policy updates, and preferred vendors, companies can streamline the inflow of data and lessen their chances of purchasing outdated information.
Meaningful Data Privacy Assurance
Health records are now the most valuable commodity sold on the dark web, beating credit card information to first place. If that wasn't enough to make data privacy top of mind, a recent bipartisan federal privacy bill tabled for consideration should do so. The American Data Privacy and Protection Act (ADDPA), released in June 2022 for review, presents a position on various state privacy laws and the European Union's General Data Protection Regulation (GDPR).
For life science companies considering the implementation of a purpose-built EIM, ensuring the solution complies with current privacy legislation is vital. Since data privacy regulations fluctuate from one country to another, companies operating in global marketplaces need specific guidelines to ensure they adhere to international, national, and regional requirements.
Final Thoughts
An effective EIM strategy will improve life science companies' productivity and reduce operational costs. Benefits include better procurement efficiencies, improved customer service and experience, and faster, more accurate decision-making. All of these factors combine to increase an enterprise's competitive advantage.
In the life science environment, data is used to design and deliver new solutions to address patient challenges and improve outcomes. Managing data across a siloed enterprise is demanding, but with a fit-for-purpose EIM system, life science organizations can optimize their business intelligence and ultimately deliver better outcomes for the patients they serve.
Latest posts by Katie Laughlin
(see all)