The Coolest Data Management and Big Data CEOs of 2021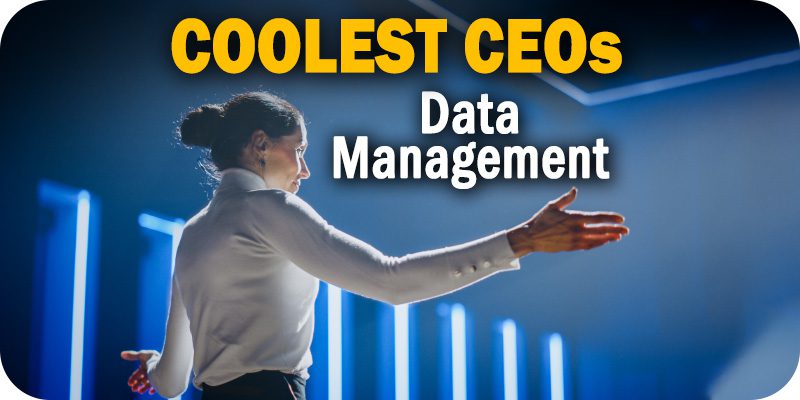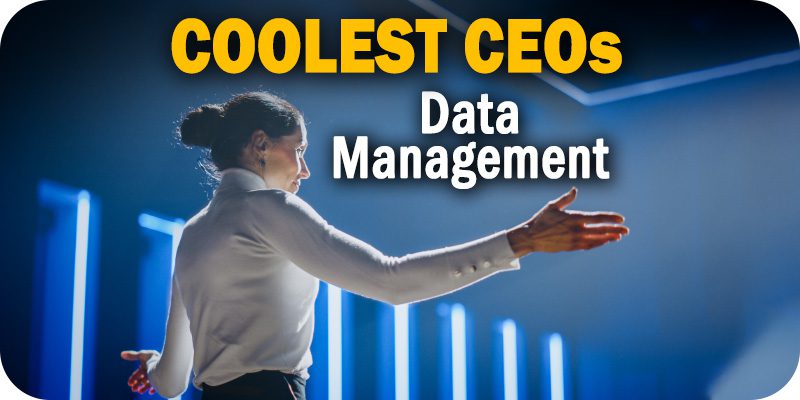 A list of the coolest data management and big data CEOs making a difference in what has become the most competitive global software market.
Data management can sometimes prove to be an overwhelming process. There are inherent risks in moving, mixing, and matching data to meet the needs of an enterprise. The data management market offers a broad spectrum of products that can be used to analyze data from disparate and increasingly diverse sources. Traditional data warehousing techniques are slowly being phased out with the adoption of data lakes, and cloud connectivity has emerged as a differentiating factor in a growing number of deployments.
The chief executive officer (CEO) is the highest-ranked executive in a company. The CEO has many responsibilities, ranging from setting strategy and direction to configuring the company's culture, values and behavior. The chief executive is also responsible for building an executive leadership team and allocating funds to match the company's goals and priorities. Some CEOs have even more on their plate, especially those at the head of startups. Oftentimes they are responsible for more than just the traditional duties and can include anything from brewing coffee to marketing their product.
Solutions Review has compiled this list of the 10 coolest data management CEOs based on a number of factors, including the company's market share, growth trajectory, and the impact each individual has had on its presence in what is becoming the most competitive global software market. Some of the top data management CEOs have been with their respective companies since day one while others are serial entrepreneurs. One thing that stands out is the diversity of skills that these chief executives bring to the table, each with a unique perspective that allows their company to thrive.
Note: CEOs are listed in alphabetical order.
The Coolest Data Management CEOs
Andy Youniss, Rocket Software
Andy Youniss has been the guiding force behind Rocket Software since he co-founded the company in 1990. He has led the company's growth across 10+ countries, 10,000+ customers and partners, and 1500+ Rocketeers. A renowned innovator and business leader, Andy has been recognized as New England Technology Entrepreneur of the Year by EY and is one of the world's foremost experts on creating legendary impact in the world through innovation in legacy technology. Rocket Software acquired data management firm ASG Technologies in August.
Barr Moses, Monte Carlo

Barr Moses is the CEO and co-founder of Monte Carlo, the data reliability company. Monte Carlo is the creator of the industry's first end-to-end Data Observability platform. With $101M in funding from Accel, ICONIQ Growth, GGV, Redpoint, and Salesforce Ventures, Monte Carlo is on a mission bring trustworthy and reliable data to companies everywhere. In 2021, Monte Carlo was recognized as an Enterprise Tech 30 company, a CRN Emerging Vendor, and an Inc. Best Workplace as well. Monte Carlo raised $60 million in Series C funding in August.
Billy Bosworth, Dremio
Billy Bosworth serves as CEO of Dremio. As a technology leader with more than 30 years of experience, Bosworth has held various roles and leadership positions during his professional career. He witnessed firsthand the rise and fall of some of the biggest shifts across enterprise software and got his start right as the relational database explosion was taking off. As CEO of Dremio, Bosworth is responsible for the overall strategy, direction, and growth of the SQL lakehouse company. Dremio nabbed $135 million in Series D funding in January.
Eldad Farkash, Firebolt
Eldad Farkash is a serial entrepreneur, investor, and big data thought leader. Prior to Firebolt, he founded Sisense Inc, a high-growth analytics unicorn, was sitting on its board of directors, and served as its CTO for 14 years. Eldad is a World Technology Awards fellow and won the award in 2013 for his In-Chip technology invention. Firebolt raised $127 million in Series B funding in June.
Emil Eifrem, Neo4j
Emil Eifrem sketched what today is known as the property graph model on a flight to Mumbai in 2000. As the CEO and Co-Founder of Neo4j and a co-author of the O'Reilly book Graph Databases, he's devoted his professional life to building and evangelizing graph databases. Prior to founding Neo4j in 2007, I was the CTO at Windh Technologies, a media asset management (MAM) solutions provider. Neo4j raised $325 million and launched its latest graph database product in June.
Patrick Nichols, Quest Software
Prior to joining Quest, Patrick was CEO at Corel Corporation, where he cultivated a results-driven culture and delivered a strong product suite focused on design, collaboration, and knowledge worker software for 100 million customers. Under Patrick's leadership, Corel dramatically improved its growth rate with a successful shift in business focus that resulted in increasing recurring revenue and enhanced profitability. Additionally, Patrick was responsible for numerous successful acquisitions that strengthened Corel's portfolio offerings. Quest acquired data management firm erwin in January.
Paul Salay, Syndigo
In his role as CEO, Paul is responsible for overseeing Syndigo's strategic direction, acquisitions and market positioning while delivering innovation for the future. Paul joined the company then known as Gladson in 2017, from Cision, where he led the alignment and growth of the Sales, Services and Marketing departments while playing a lead role in company acquisitions. Prior to that he was president of Market Track, where he oversaw a significant period of growth and expansion of the organization. Syndigo acquired MDM provider Riversand in June.
Raj Verma, SingleStore
Raj Verma is CEO at SingleStore and has more than 25 years of global experience in enterprise software and scaling operations. Raj helped grow TIBCO software to over $1B revenue as CMO, EVP Global Sales, and COO. He was also COO at Aptus Software and Hortonworks. Raj holds a Bachelor's degree in Computer Science from BMS College of Engineering in Bangalore, India. SingleStore raised its second $80 million dollar funding round in 10 months in September.
Satyen Sangani, Alation
Satyen is the CEO of Alation and a co-founder. In founding Alation, he aspired to help people dispassionately observe the world around them, empowering them to passionately work to improve it. Before Alation, Satyen spent nearly a decade at Oracle, where he ran the Financial Services Warehousing and Performance Management business. Prior to Oracle, Satyen was an associate with the private investment firm, Texas Pacific Group and an analyst with Morgan Stanley & Co. Alation raised $110 million in Series D funding in June.
Yu Xu, TigerGraph
Dr. Yu Xu is the founder and CEO of TigerGraph, the world's first native parallel graph database. Dr. Xu received his Ph.D in Computer Science and Engineering from the University of California San Diego. He is an expert in big data and parallel database systems and has 26 patents in parallel data management and optimization. Prior to founding TigerGraph, Dr. Xu worked on Twitter's data infrastructure for massive data analytics. Before that, he worked as Teradata's Hadoop architect. TigerGraph raised $105 million in Series C funding in February.