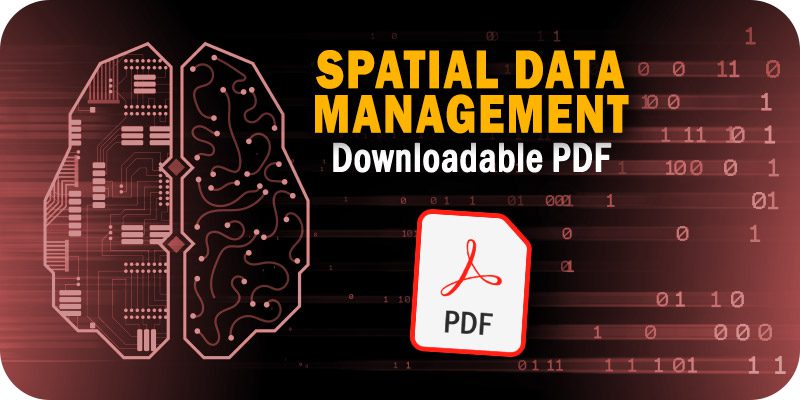 Solutions Review editors offer up the essential spatial data management PDF for beginners if geospatial is on your roadmap this year.
Today, geospatial data is everywhere – from utility smart meters to insurance company in-vehicle trackers. Data centers are stuffed with disparate sets of spatial data. Combining data from multiple sources multiplies the insight available. However, an abundance of different and disparate data sets, nestled in siloes across the organization presents challenges too. Thankfully, the essential spatial data management PDF for beginners enables your organization to make data smarter.
Geospatial data is increasingly recognized as a valuable corporate asset, and organizations are taking a more structured approach to stewardship. Data management is being treated as an ongoing process rather than a one-off exercise so that valuable data is available for continued interrogation. As a result, dedicated geospatial data integration and data management technologies have emerged to solve for many use cases.
Cost-effective spatial data management is difficult to achieve but is highlighted in detail in this essential spatial data management PDF from 1Spatial. The starting point for effective spatial data management is to establish a good understanding of both the current state of data and what is required of the data. Unsurprisingly, few firms have a good view of the current state of their geospatial data.
Once those details are confirmed, organizations can move on to considering how to incorporate data validation, data cleansing, and data enrichment. Companies also need to build out and maintain data quality through automation. An automated approach with user-defined and user-managed rules can run in the background right across the enterprise and all its data, from inception to obsolescence.
Spatial data is increasingly important for competitive advantage. However, that data is frequently held in different places, in different formats, and with different degrees of accuracy. Data integration, or conflation, takes the best of every data set and combines it into a consistent and reliable whole data set. It lets you re-use existing data investments by matching disparate data sets and taking the best of each. We believe the spatial data management PDF linked below is a great first step to success with your next geospatial project.

Latest posts by Timothy King
(see all)