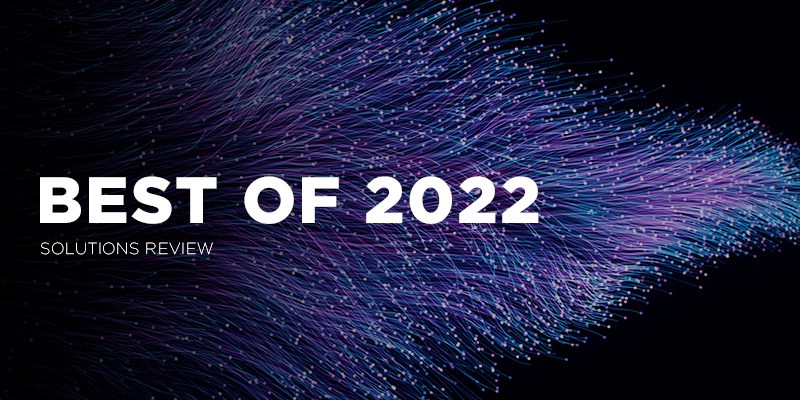 Solutions Review's listing of the best geospatial data integration tools is an annual mashup of products that best represent current market conditions, according to the crowd. Our editors selected the best geospatial data integration tools and software based on each solution's Authority Score; a meta-analysis of real user sentiment through the web's most trusted business software review sites and our own proprietary five-point inclusion criteria.
The editors at Solutions Review have developed this resource to assist buyers in search of the best geospatial data integration tools to fit the needs of their organization. Choosing the right vendor and solution can be a complicated process — one that requires in-depth research and often comes down to more than just the solution and its technical capabilities. To make your search a little easier, we've profiled the best geospatial data integration tools and software providers all in one place. We've also included platform and product line names and introductory software tutorials straight from the source so you can see each solution in action.
Note: The best geospatial data integration tools are listed in alphabetical order.
The Best Geospatial Data Integration Tools, Platforms, and Software
Platform: 1Integrate
Related products: 1Data Gateway, 1Integrate 3D, 1Integrate for ArcGIS
Description: 1Spatial offers a variety of spatial data tools for enterprise use cases, including its flagship integration offering, 1Integrate. The solution acts as a rule engine for your firm's location data, and it delivers automated data validation, cleaning, transformation, and even enhancement. Key features include integrating and conflating captured or existing siloed data into single datasets and wide-ranging support for industry-standard formats like ArcGIS and Google BigQuery, and more.
Platform: Informatica Intelligent Data Platform
Related products: Informatica PowerCenter, Informatica PowerExchange, Informatica Data Replication, Informatica B2B Data Transformation, Informatica B2B Data Exchange, Informatica Big Data Integration Hub, Informatica Data Services, Informatica Big Data Management, Informatica Big Data Integration Hub, Informatica Big Data Streaming, Informatica Enterprise Data Catalog, Informatica Enterprise Data Preparation, Informatica Edge Data Streaming, Informatica Intelligent Cloud Services
Description: Informatica's data integration tools portfolio includes both on-prem and cloud deployments for a number of enterprise use cases. The vendor combines advanced hybrid integration and governance functionality with self-service business access for various analytic functions. Augmented integration is possible via Informatica's CLAIRE Engine, a metadata-driven AI engine that applies machine learning. Informatica touts strong interoperability between its growing list of data management software products.
Platform: Matillion ETL
Related products: Matillion Data Loader
Description: Matillion offers a cloud-native data integration and transformation platform that is optimized for modern data teams. It also features built on native integrations to popular cloud data platforms like Snowflake, Delta Lake on Databricks, Amazon Redshift, Google BigQuery, and Microsoft Azure Synapse. Matillion uses an extract-load-transform approach that handles the extract and load in one move, straight to an organization's target data platform, then using the power of a cloud data platform's processes to perform transformations once loaded.
Platform: Precisely Data Integrity Suite, Precisely Connect
Related products: Precisely Data Integrity Suite Data Integration Module, Precisely Ironstream
Description: The data integration module of the Precisely Data Integrity Suite is one of seven SaaS modules that ensure data is accurate, consistent, and contextual. It is complemented by Precisely Connect, an on-prem data integration solution that supports a broad range of source and target systems. Both solutions leverage Precisely's deep expertise in mainframe and IBM i systems to integrate complex data formats into modern cloud platforms like Snowflake and Databricks. Precisely Ironstream also integrates mainframe and IBM i machine and log data into IT platforms like Splunk and ServiceNow for IT operations management, analytics, and security.
Platform: FME Data Integration
Related products: FME Desktop, FME Server, FME Cloud
Description: Safe Software is a major player in enterprise spatial data integration and has helped many global organizations maximize the value of their data. The company offers FME, an enterprise integration platform with comprehensive support for spatial data. FME helps organizations connect data and applications across systems, streamline operations with automated workflows, and deliver speed to insights. Safe Software serves customers in diverse industries, including Government, Utilities, Energy, AEC, Telecom, and Transportation.
Platform: Talend Open Studio
Related products: Talend Data Fabric, Talend Data Management Platform, Talend Big Data Platform, Talend Data Services Platform, Talend Integration Cloud, Talend Stitch Data Loader
Description: Talend offers an expansive portfolio of data integration and data management tools. The company's flagship tool, Open Studio for Data Integration, is available via a free open-source license. Talend Integration Cloud is offered in three separate editions (SaaS, hybrid, elastic), and provides broad connectivity, built-in data quality, and native code generation to support big data technologies. Big data components and connectors include Hadoop, NoSQL, MapReduce, Spark, machine leaning and IoT.