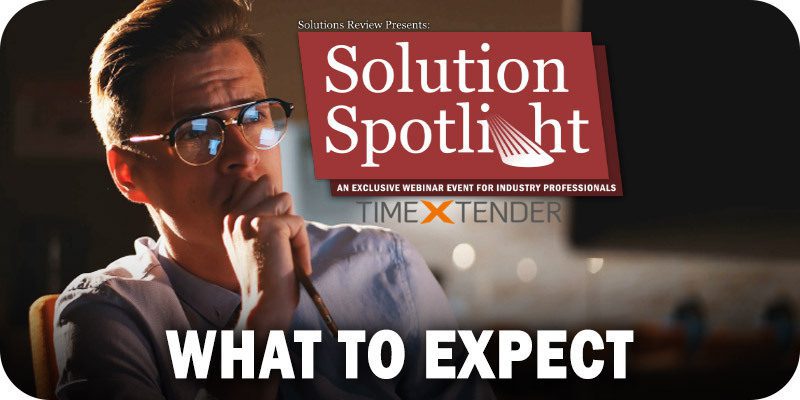 Solutions Review's Solution Spotlight with TimeXtender is an exclusive webinar series for industry professionals across the enterprise.
What is a Solutions Spotlight?
Solutions Review's Solution Spotlights are exclusive webinar events for industry professionals across enterprise technology. Since its first virtual event in June 2020, Solutions Review has expanded its multimedia capabilities in response to the overwhelming demand for these kinds of events. Solutions Review's current menu of online offerings includes the Demo Day, Solution Spotlight, best practices or case study webinars, and panel discussions. And the best part about the "Spotlight" series? They are free to attend!
Why You Should Attend
Solutions Review is one of the largest communities of IT executives, directors, and decision-makers across enterprise technology marketplaces. Every year over 10 million people come to Solutions Review's collection of sites for the latest news, best practices, and insights into solving some of their most complex problems.
With the next Solutions Spotlight event, the team at Solutions Review has partnered with leading data ingestion and preparation provider TimeXtender to provide viewers with a unique webinar featuring an inside look at the vendor's unique platform for integrating siloed data into a data lake, modeling a data warehouse, and defining data marts for BI and analytics software. Alongside a live product demo, the Spotlight event will also feature an interview about the product with a member of TimeXtender's team.
Speakers
Joseph Treadwell, Head of Solutions Specialists

:

Joseph has been part of TimeXtender's team since 2015 and has been leading the company's efforts to evangelize, implement and execute hundreds of projects around data warehouse automation and building modern data estates.
About TimeXtender
TimeXtender offers an integrated data management platform called Discovery Hub. The solution allows organizations to merge data from a wide variety of sources and automate data models so users can easily understand data. Discovery Hub can be deployed on-prem, in the cloud or via a hybrid model, and there is no need to manually migrate data schemas or metadata. TimeXtender is a Microsoft Gold Certified Partner and touts more than 3,000 customers around the globe.
FAQ
What: TimeXtender webinar: A Solution Spotlight Event
When: Wednesday, May 11, 2022, at 12:00 PM Eastern Time
Where: Zoom meeting (see registration page for more detail)

Latest posts by Timothy King
(see all)