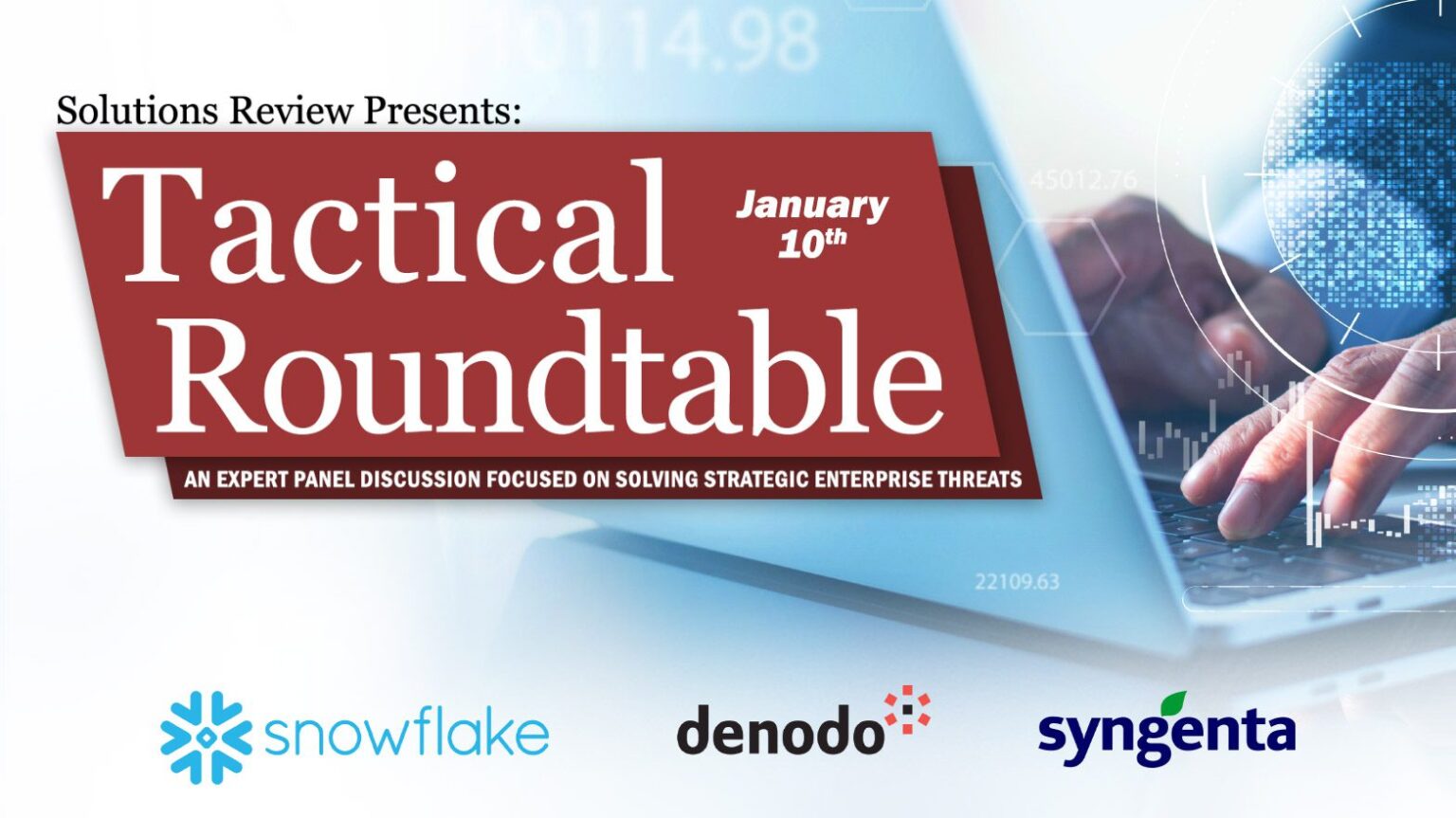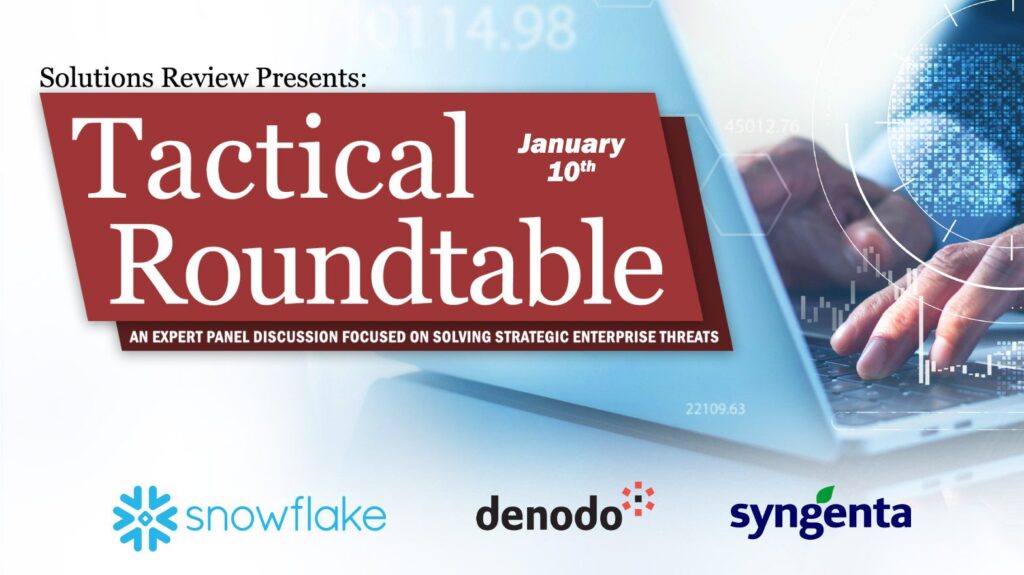 Solutions Review's Tactical Roundtable: Modern Cloud Data Architectures will feature a panel of experts from Snowflake, Denodo, and their mutual customer Syngenta to explore key considerations for modernizing your company's data architecture.
What is the Tactical Roundtable: Modern Cloud Data Architecture?
Data architecture is more relevant than ever today because so many user organizations are migrating data to the cloud, modernizing analytics and data warehouses, deploying data lakes and lakehouses, and adopting new practices for data virtualization, sharing, monetization, and marketplaces.
Featuring an in-depth panel discussion amongst four industry experts, the Tactical Roundtable is an expert panel discussion focused on solving strategic enterprise threats. The 60-minute virtual event is moderated by an independent industry analyst, with a topic introduction hosted by Solutions Review – all broadcast live to an audience of registered attendees. Learn more about the latest technology software and solutions from the comfort of your own desk!
Join the largest data management practitioner community
Solutions Review Data Management and Analytics is the largest data software buyer and practitioner community on the web. Our Universe of Influence reach is more than 7 million business and IT decision-makers, as well as C-suite and other top management professionals. Our readers primarily use us as an enterprise technology news source and trusted resource for solving some of their most complex problems.
Our collection of vendor-agnostic buyer's resources aims to help data management and analytics practitioners during the research and discovery phase of a buying cycle. This critical stage of information gathering is where buyers narrow down the field of solution providers to a short-list they plan to engage. The mission of Solutions Review is to make it easier for buyers of data management and analytics software to connect with the best providers.
Featured Panelists
Philip Russom is a well-known figure in data management, data warehousing (DW), data integration (DI), big data, and analytics, having worked as an industry analyst for 25 years, producing over 650 research reports, magazine articles, speeches, and webinars. He covered data management for Gartner, TDWI, Forrester Research, Giga Information Group, Hurwitz Group, and his own private analyst practice.
Scott is a Product Marketing Manager at Snowflake, focused on data lakes and data governance. Prior to Snowflake, he worked for Tableau where he held various roles in marketing, focused on growth and strategy for Tableau Public. Scott holds an industrial engineering undergraduate degree and an MBA from the University of Central Florida.
Paul is Senior VP of Data Architectures and Chief Evangelist responsible for product management and solution architecture at Denodo. He works with customers to help them understand the benefits of data virtualization and advises them on how the Denodo Platform fits into their information architecture. Paul has over 30 years of experience with enterprise middleware technologies with leading software companies such as BEA Systems and Progress Software.
Jim Mellon Head of Architecture, Technology, and Data operations at Syngenta. He is also a Syngenta Science and Technology Fellow. Jim is currently focused on modernizing the Seeds research application and data landscape from a legacy, monolithic application ecosystem to a modern digital architecture utilizing domain-based data platforms. Prior to that, Jim held many other IT roles over the last 35 years spanning both the Crop Protection and Seeds business units in R&D, E-commerce, and other functions.
Featured Companies
Snowflake offers a popular cloud data warehouse. The solution loads and optimizes data from virtually any source, both structured and unstructured, including JSON, Avro, and XML. Snowflake features broad support for standard SQL, and users can do updates, deletes, analytical functions, transactions, and complex joins. The tool requires zero management and no infrastructure. The columnar database engine uses advanced optimizations to crunch data, process reports, and run analytics.

Denodo is a major player in the data virtualization tools marketplace. Denodo offers high-performance data integration and abstraction across a range of big data, enterprise, cloud, unstructured, and real-time data services. Denodo also provides access to unified business data for business intelligence, data analytics, and single-view applications. The Denodo Platform is the only data virtualization tool to be provisioned as a virtual image on AWS Marketplace.

Sygenta AG is a provider of agricultural science and technology, particularly seeds and pesticides. Syngenta was founded in 2000 by the merger of the agrichemical businesses of Novartis and AstraZeneca. Its business units are Syngenta Crop Protection, Syngenta Seeds, Adama, and Syngenta Group China. In 2020, the Syngenta Group was formed, bringing together Syngenta, Adama, and the agricultural business of Sinochem under a single entity.
FAQ
What: Solutions Review's Tactical Roundtable: Modern Cloud Data Architecture
When: Tuesday, January 10, 2023 at 12:00 PM Eastern
Where: Zoom meeting (see registration page for more detail)
Pre-read: Cloud Data Architecture Principles: An Introduction to the Modern Cloud Data Architecture

Latest posts by Timothy King
(see all)